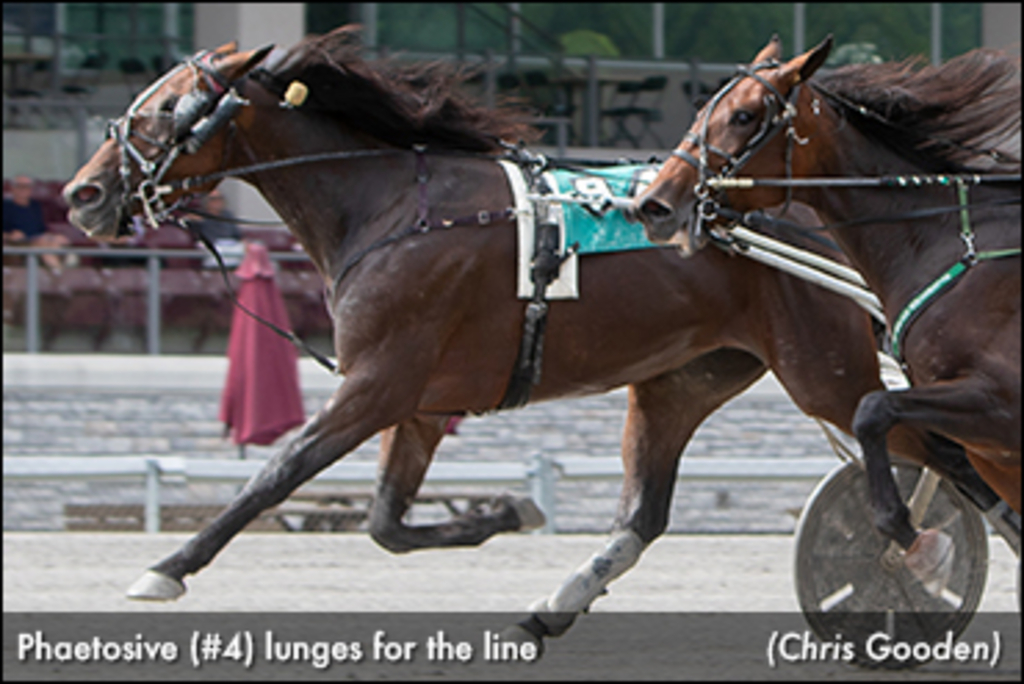 Published:
August 21, 2018 08:11 pm EDT
Nearly scratched after tying up Monday (Aug. 20), Phaetosive turned in a gritty first-over performance that carried her to victory in Tuesday's (Aug. 21) $165,038 Pennsylvania Sire Stakes at The Meadows.
The event for three-year-old trotting fillies, known as the Meadow Bright, was contested over two divisions, with Miss Jubilee Hill taking the other split.
Following her second-place finish in the Hambletonian Oaks, Phaetosive was recovering nicely. Trond Smedshammer, who trains and drives the daughter of Explosive Matter and Phaeton, reported over the weekend that she was training well. That all changed Monday morning.
"She tied up pretty bad," Smedshammer said. "She was supposed to come here yesterday afternoon, but I decided to get her loosened up and turn her out in the paddock until midnight. We put her on the truck at 4 a.m. and shipped up.
"If she didn't feel normal warming up, I planned to scratch her. She felt okay, but she wasn't herself in the race. It's a big relief right now. I think I aged two years in one day."
Even at less than full strength, Phaetosive engaged Hey Blondie down the backside and finally lunged ahead of the game leader at the wire, defeating her by a neck in 1:54 over a good surface. The victory lifted her career bankroll north of $500,000 and propelled Phaetosive into the $252,000 PASS championship to be held on Sept. 2 at Pocono.
Even with a win Tuesday, Miss Jubilee Hill couldn't reach the final; she hadn't garnered a PASS point all season. But the daughter of Muscle Hill and Miss Majestic earned a fat check and a lot of respect when she followed the live cover of 2-5 favourite Seviyorum and blew by in the lane to score in 1:55.1 for Tim Tetrick and owner-trainer Mark Steacy. Megadolce rallied for second, half a length back, while Seviyorum saved show.
"They said she's a little goofy behind the gate, and she was — she seems claustrophobic and changes her gait," Tetrick said. "But I got to follow good cover, and she cleared and held off the others."
$60,000 Pennsylvania Stallion Series — Three-Year-Old Filly Trot
Tuesday's card also featured three divisions of the Pennsylvania Stallion Series, with wins going to Bella Glos, Follow Streak and Worldly Hanover.
Bella Glos was the fastest winner, collecting a front-end victory in 1:55.3, half a length better than the fast-closing Msnaughtyashill. Front Circle rallied for show.
"I just wanted to keep her out of trouble, not do anything too quick," said winning driver Dave Palone. "I thought I had the best horse. When she was able to get her own numbers, I never thought she was in any trouble at any time."
Jimmy Takter trains Bella Glos, a daughter of Cantab Hall and Global Desire, for Black Horse Racing.
Follow Streak attacked Mighty Macko first over, cleared near the three-quarters and went on to a comfortable three-quarter-length victory over Perfect Image in 1:56.2. First Class Act completed the ticket.
"She seems a little better when she's chasing horses. She likes to pass them," said Andy Miller, who piloted the daughter of Donato Hanover and Streak — now a $100,000 performer — for trainer Julie Miller and owners Andy Miller Stable and Lawrence Dumain. "She has a couple other stakes for PA-breds, but I'm not sure where we'll go after the Stallion Series final."
Worldly Hanover gave Bryce Brocklehurst his first career stakes victory when she moved smartly down the backside and held off the Lightning Lane charge of Fish Is Fish to defeat her by a neck in 1:59.2. Rainbowinthewest rallied for show.
"I thought she was competitive in here," Brocklehurst said. "She doesn't have a lot of gate speed, but she has a lot of kick on the end of it. She'll keep racing here, maybe go to a couple fairs."
Harold Brocklehurst conditions the daughter of Donato Hanover and Wherley for Double R Farms, David Obley and Richard Williams.
In the $20,000 Fillies and Mares Preferred Handicap Pace, Divas Image made it two straight — and four in her last five — with a front-end triumph for Tetrick, trainer Jennifer Bongiorno, and owners Joe Bongiorno, Howard Taylor, Thomas Lazzaro and J&T Silva Stables. The five-year-old daughter of Bettors Delight and Rocknroll Diva now boasts a lifetime bankroll of $518,917.
Stakes racing at The Meadows continues Wednesday (Aug. 22) with a pair of events for sophomore trotting colts and geldings — the Hickory Smoke, a $167,288 Pennsylvania Sire Stakes, and a $40,000 Pennsylvania Stallion Series event. First post is 1:05 p.m.
(The Meadows)