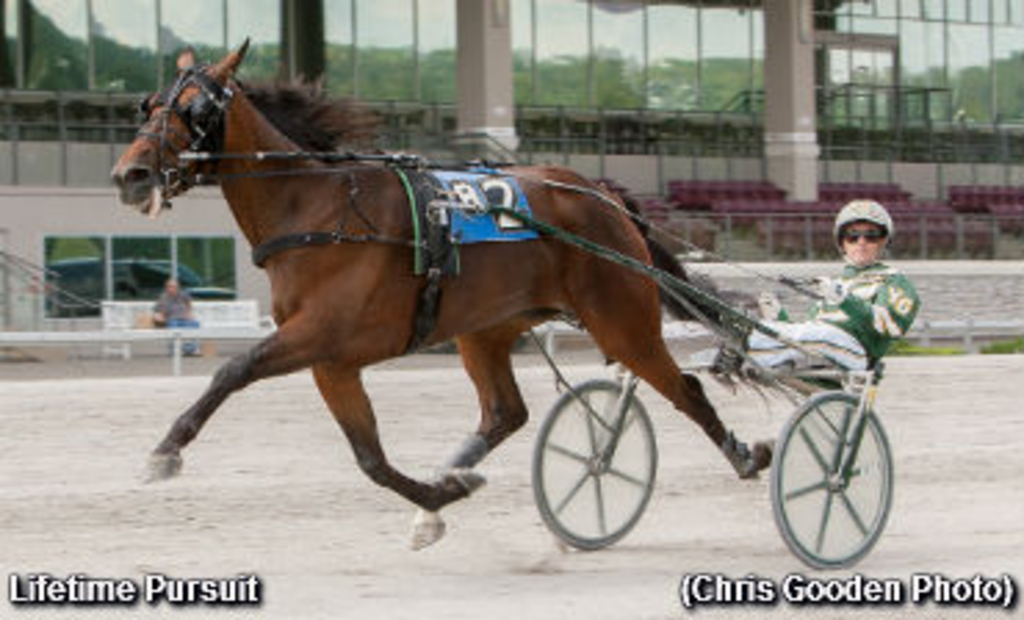 Published:
August 20, 2014 03:19 pm EDT

Lifetime Pursuit is bringing happiness to driver Yannick Gingras.
The three-year-old female trotter heads to her division of Friday's (Aug. 22) Casual Breeze Stakes at Mohawk Racetrack off world-record performances in her most recent two races.
First, she trotted the fastest mile ever by a three-year-old filly, 1:50.4, to win the Hambletonian Oaks on Aug. 2 at the Meadowlands. Next, she equaled the three-year-old filly world record on a five-eighths-mile track, capturing a division of the Pennsylvania Sire Stakes in 1:51.3 on Aug. 12 at The Meadows.
For the year, Lifetime Pursuit has won four of nine races and earned $387,243 for breeder/owner Brittany Farms and trainer Jimmy Takter.
"She was always consistent, but played bridesmaid quite a few times," Gingras said. "Certainly, she's stepped up her last couple starts.
"I've been racing her a little more aggressively her last couple starts and it looks like it's paying off, too."
Gingras always thought highly of Lifetime Pursuit, but until recently the filly played second fiddle to stablemate Shake It Cerry, who received the 2013 Dan Patch Award for best two-year-old female trotter.
Lifetime Pursuit (Cantab Hall-Queen Of Grace) has won 10 of 20 career starts, with three second-place finishes and two third-place efforts. Two of her seconds came to Shake It Cerry and the other came to world champion Designed To Be. She also finished third behind Shake It Cerry and Designed To Be in the Hambletonian Oaks prep.
Two weeks prior to the prep, she was a fast-closing fourth from post 10 in the Delvin Miller Memorial, which was won by Shake It Cerry.
"She was getting stronger and stronger, even before the Hambletonian Oaks, but things just weren't working out," Gingras said. "But she was strong. I could tell maybe three or four starts back, in the post parade she felt a little more alive. She would always trot to the wire very good, but it just wasn't working out.
"Jimmy took the shoes off (for the Hambletonian Oaks) and I thought she was ready for a big mile, but not quite that big. It was really impressive. Last week she came back with the shoes on and she was just as good.
"She was confident going into the Oaks. Her feelings hadn't been getting hurt, it was just a matter of getting the right trip. Last week she did all the work herself and still was really strong at the wire. I think she's better with a trip, but she proved last week she can do the work too."
Lifetime Pursuit's $101,296 division of the Casual Breeze also includes Designed To Be, Miss Liv, Muscle Babe, Cantabs Fortune, Belgravia, Chivaree Hanover, Tosca, and Margie. Lifetime Pursuit will start from post seven.
Muscle Babe, trained by Dave Menary, earlier this year won the Standardbred Breeders of Ontario Association championship, with Miss Liv finishing in a dead heat for second.
The other division is Miss Aultsville, White Becomes Her, My Inspiration, Riveting Rosie, Mayberry, Donatella Hanover, Danica, Demanding Sam, and Sweetie Hearts.
White Becomes Her, trained by Benoit Baillargeon, won the Canadian Breeders Championship, with Margie finishing second and Mayberry third.
Gingras is hopeful Lifetime Pursuit, whose family includes 1990 Dan Patch Award winning filly Me Maggie as well as stakes-winners The Chancellor and Beer Summit, can continue her roll in Canada.
"If I go back to last year, early on, no, it doesn't surprise me," Gingras said about the filly's current form. "But she kind of plateaued for the longest time; where she was good, but not quite as good as the top two. She's kind of turned the table on them the last two starts. Hopefully she keeps it going. I'm not shocked, but I am certainly happy she took over from them, for now anyway."
---
This story courtesy of Harness Racing Communications, a division of the U.S. Trotting Association. For more information, visit www.ustrotting.com.