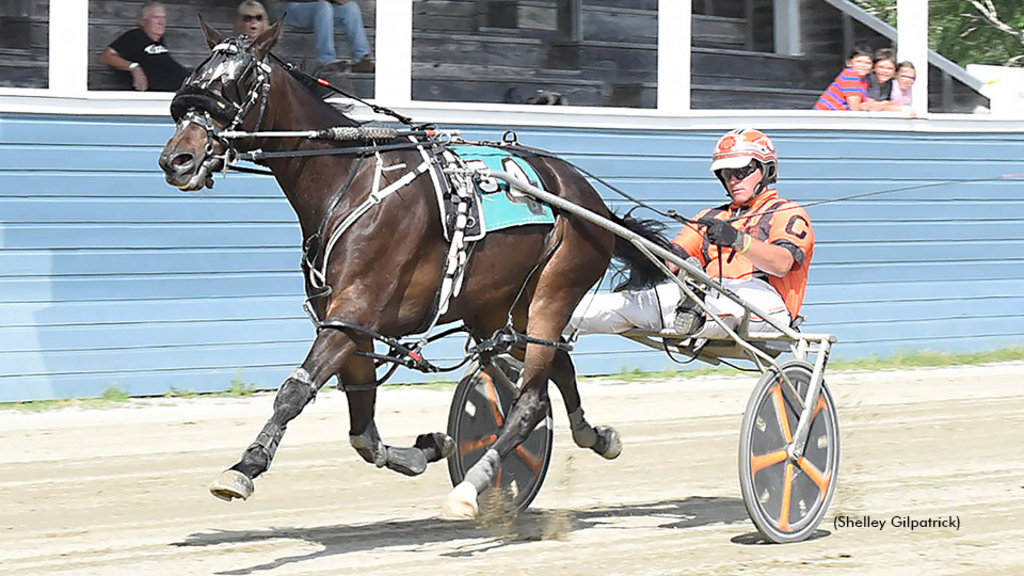 Published:
August 2, 2022 02:45 pm EDT
On the heels of the largest purse increase in the history of the Maine Breeders Stakes, the three-year-old pacing colts and geldings, otherwise known as the glamour boys division, invade historic Bass Park on Wednesday (Aug. 3). Otherwise known as Hollywood Casino Hotel & Raceway at Bangor, the horsemen and women who compete in the Maine-sired series are pleased with the new purse structure.
"We never complain about racing for more money!" stated veteran horsemen Heath Campbell.
Campbell and his partner Valerie Grondin have a horse in nearly every division of the Maine Standardbred Breeders Stakes (MSBS).  For them, the increase comes at a time when everything else costs more, so the boost will certainly help defray some of the costs of "living in the truck all summer long."
Active participants in the entirety of the Maine program, Heath Campbell does the race driving and some of the truck driving, while Valerie Grondin is the listed trainer.  But their commitment to racing in the Pine Tree State does not end there. Grondin is also the co-owner and the breeder of Bandolito Blaze, one of their two colts that are in-to-go on Wednesday at Bangor.
"[Bandolito Blaze] raced good at Union.  He was a little short because of a foot abscess in the middle of the July," noted Campbell. "He had to be scratched from Cumberland, but he bounced back well and should be better now that he is a little tighter."
Fresh off a victory at the Union Fair last Wednesday (July 27), Bandolito Blaze (by Western Maverick) scores from post four in the second $18,227 non-wagering MSBS for three-year-old pacing colts at geldings at Bangor.
In the first $18,227 MSBS division, the team of Campbell and Grondin send Use Yah Blinkah into traffic from post one.  The homebred son of Western Maverick won his first leg of the series at Bangor in June, and has been knocking on the door ever since.
"[Use Yah Blinkah] was loaded last week [at Union] and we got boxed in," noted driver Heath Campbell.  "He should be good this week."
Owned and bred by David Thibault, Paul Vacca, Ed Nowak Jr. and Jim Hardy, the horse has $70,431 in lifetime earnings and has been 1-2-3 in 16 of 18 career outings.
Turn signals notwithstanding, all Maine-sired roads lead to Bangor this week, and then return once again for all of the three-year-old MSBS divisional finals on Oct. 15.
There are two non-betting races on Wednesday's (Aug. 3) card at Bangor, post time 2 p.m., with each division competing for an increased purse of $18,227. The complete fields are listed below.
Non-Betting Race 1
Post - Horse - Driver - Trainer
1. Use Yah Blinkah - Drew Campbell - Valerie Grondin
2. Stormin Maverick - Andy Harrington - Marc Tardif
3. Daughtry - Ron Cushing - Heidi Gibbs
4. Ugotaearnyrstripes - Dave Ingraham - Steve La Casse
5. Deal With It Roman - Kevin Switzer Jr. - Marc Tardif
Non-Betting Race 2
Post - Horse - Driver - Trainer
1. CBF Squirt Gun - Nick Graffam - David Crochere
2. Ranaldi - Ron Cushing - Heidi Gibbs
3. Storm Artist - Walter Case Jr. - Marc Tardif
4. Bandolito Blaze - Heath Campbell - Valerie Grondin
5. Moose Crossing - Aaron Hall - Christine Holt
Next week, the series transitions over to Topsham for five days of racing beginning Sunday (Aug. 7) and continuing through Saturday (Aug. 13).
The remaining Maine Breeders Stakes will be raced on the following dates at the Maine fairs listed below:
Showhegan, Aug. 14 – 20
Windsor, Aug. 27 – Sept. 5
Farmington, Sept. 18 – 21
Cumberland, Sept. 28 – Oct. 1 (two-year-old finals)
Fryeburg, Oct. 6 – 8
(Maine Breeders Stakes)