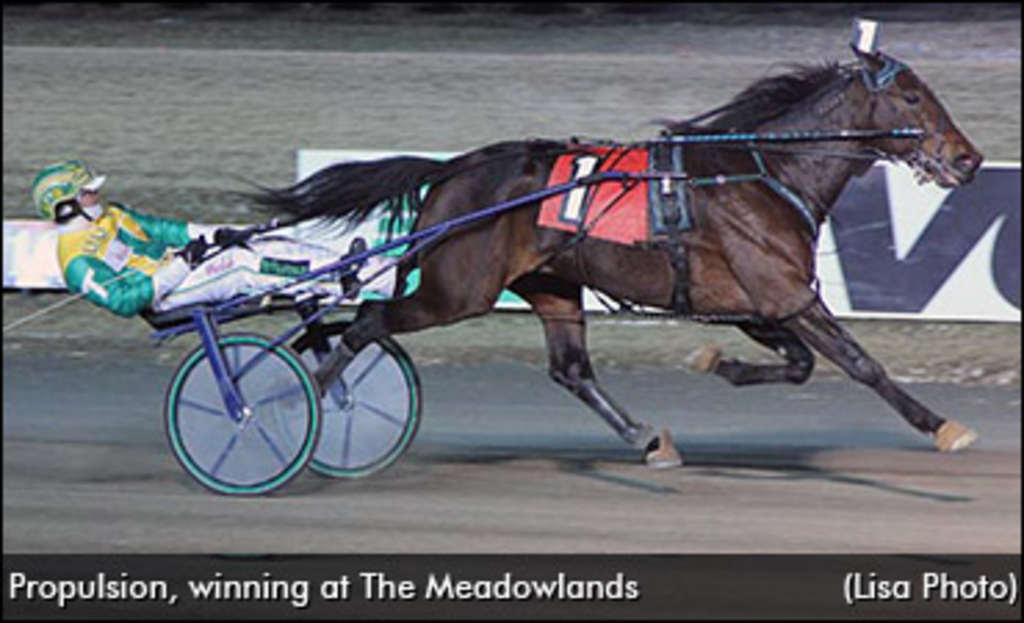 Published:
August 2, 2015 08:24 pm EDT
Four-year-old trotter Propulsion topped the Meadowlands Summer Mixed Sale held on Sunday, Aug. 2 in East Rutherford, New Jersey, selling for six-figures to Swedish interests.
Consigned by agent Preferred Equine, Propulsion was purchased for $210,000 by Daniel Reden and Brixton Medical Ab of Orsundsbro, Sweden.
The son of Hambletonian champion Muscle Hill and Oaks winner Danae made his race debut as a three-year-old and has won eight of his 21 starts, including a pair of Super Bowl Series events, while earning $86,738 racing from the Tony Alagna stable. He earned back-to-back 1:52.1 victories in his last two starts in July at The Meadowlands.
Propulsion was a $250,000 yearling purchased from the Lexington Select Sale by Brittany Farms, Marvin Katz, Al Libfeld, Sam Goldband, Joe Sbrocco and Little E LLC. He is a half-sibling to the 2014 Muscle Hill Trot champion Dorsay, a career winner of $441,883 with a mark of 1:51.4 taken as a four-year-old in the Ima Lula Series Final at The Meadowlands.
Sophomore pacer Oneisalonelynumber also garnered a six-figure bid at the sale, selling for $132,000 to Nick Surick, agent for Howard Schniedler of Freehold, New Jersey.
A $62,000 Lexington yearling purchase, Oneisalonelynumber was previously campaigned by Casie Coleman for the West Wins Stable and Adriano Sorella. A New York Sire Stakes winner at age two, he has won three of his 17 races lifetime while banking $75,653. The Bettors Delight-No One Is Alone gelding took his mark of 1:50.1 this past Spring at The Meadowlands.
A total of 128 horses sold for $3,175,800, resulting in an average price of $24,810.
To view the complete sale results, click here.