Published:
August 2, 2013 01:40 pm EDT

This is our eighth feature profiling our Heart of Harness Racing calendar photographers.
The Heart of Harness Racing calendar's August photo features a candid moment in the lives of the MacInnis Family and two of their standardbreds, Farmers Little Guy and Pannacotta at Creignish Beach, Nova Scotia.
Taking your horses to the beach and swimming with them isn't an option for most of us, but there are a handful of places in our country where this is commonplace.
This unique summer shot was submitted by Ross MacInnis, of Antigonish, Nova Scotia. The horses are a hobby for the marine engineer who works in the town of Port Hawkesbury. His wife, Maude, is a family doctor and they have four children, Theo (4) twins Rebecca and Maelle (3) and Sarah (11months). Needless to say, they have a very busy household, and Ross' quiet time is when he's jogging the horses.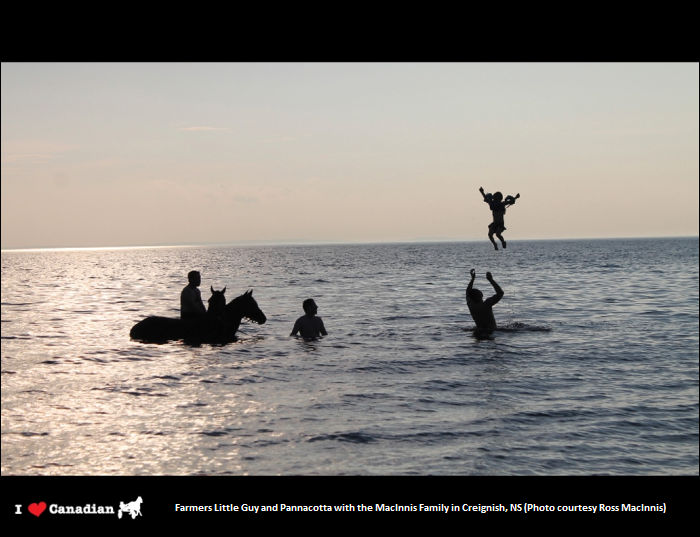 Ross, currently the trainer-driver who is also a certified blacksmith, has four horses in his stable.
"I have pretty much been involved in harness racing my whole life," explained MacInnis. "My dad (Frank) always had horses when we were growing up, like most people that's how I got started. I probably started jogging when I was five years old. We race mainly at Inverness Raceway. My dad was also part of an ownership group that owned Truro Raceway and the old Tartan Downs, so I spent a lot of time just hanging around the track."
Following university, MacInnis spent a winter working for trainer Bob Young. He got hooked after spending time with standout horses Thatll Be Me, As Promised, Fernbank Filly and Empty Feeling, to name a few. "There is something pretty special about sitting behind a fast horse. I always hoped, and still do to have one like that."
The horses get turned out at MacInnis' parents' home, which is close to the beach. They get turned out in the field and then swim between races. "Over the years we've had close to a hundred horses and they all swam. They just really enjoy it."
"My brother, Neil, was throwing my son, Theo, in the air. The horses just kind of happened to wander over. It was just really luck the way the photo came together. It was one of 20 photos we took and it was the one that stood out."
A few days after the picture was taken, Theo and Ross' parents were in a serious car accident coming back from the Gold Cup and Saucer. "It was really a miracle anyone survived," he explained. "This picture now always reminds us of how lucky we are."