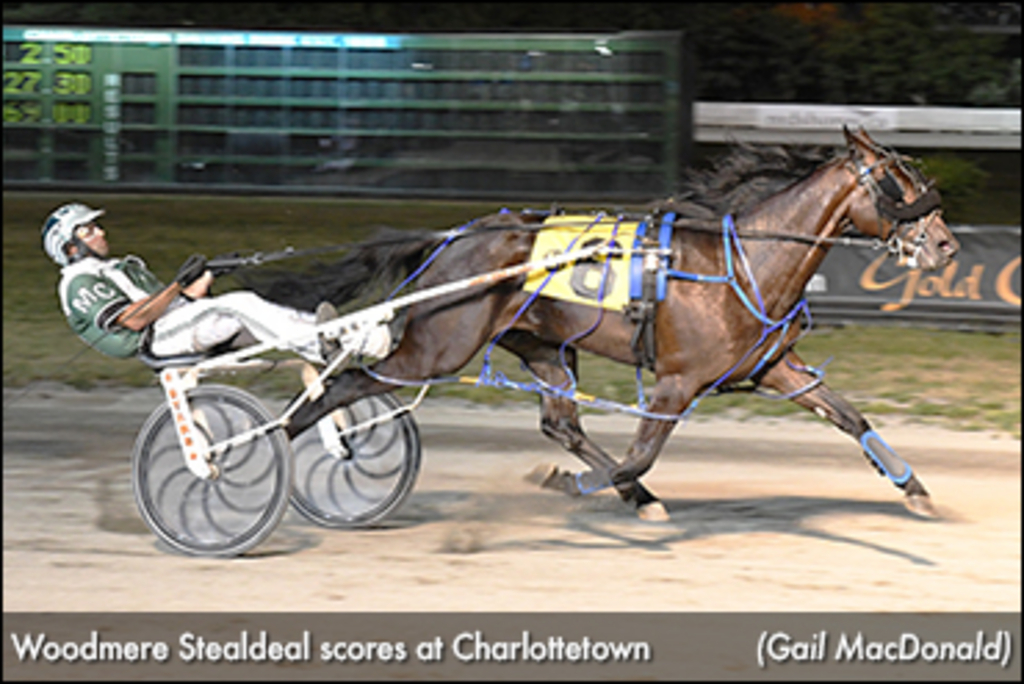 Published:
August 19, 2020 11:04 pm EDT

Woodmere Stealdeal posted notice that he is without peers Wednesday evening (Aug. 19) after an Atlantic Canadian record performance at Red Shores Racetrack and Casino at the Charlottetown Driving Park.
The Steelhead Hanover two-year-old was unhurried at the beginning, leaving from post 6 and getting away fourth in his $12,980 Atlantic Sires Stakes two-year-old pacing colt division. Marc Campbell began his advance second-over past the quarter pole, tripped in 28.4 by Rotten Ronnie (Redmond Doucet). After a :58.4 half, Woodmere Stealdeal made a three-wide move up the backstretch nearing three-quarters in 1:27.2. Campbell and his charge acquired the lead in the stretch drive and pulled clear by 1-3/4lengths in 1:55.1 to set a new track record and Atlantic Canadian record for two-year-old pacing colts. Bettim Again (Kenny Arsenault) was second in the record performance followed by Justcallmedoc (Jason Hughes).
Kevin Dorey and Robert Sumarah share ownership of the Danny Romo trainee. The victory gives the undefeated Woodmere Stealdeal four track records from six lifetime starts.
Dustylanegoliath won the other $12,980 A-division in 1:56.4 with Gilles Barrieau in the driver's seat for owner Daniel Ross. Woodmere Alvin (Campbell) was second while Dusty Lane Morgan (Clare MacDonald) completed the triactor.
The $2,500 B-divisions for two-year-old colts were won by Class Hero (Corey MacPherson) in 1:58.1, My Boy Cade (Campbell) in 1:59.3 and Whistler (Jason Hughes) in 1:58.2.
Trainer Earl Smith had a double on the program while teaming up with driver Brodie MacPhee. Yummy Spice broke her maiden in 1:59, then Good Luck Kathy was a 1:58 victor later in the card for the combination.
For race replays and more, go to www.redshores.ca.
To view Wednesday's full results, click the following link: Wednesday Results – Charlottetown Driving Park.
(Red Shores)