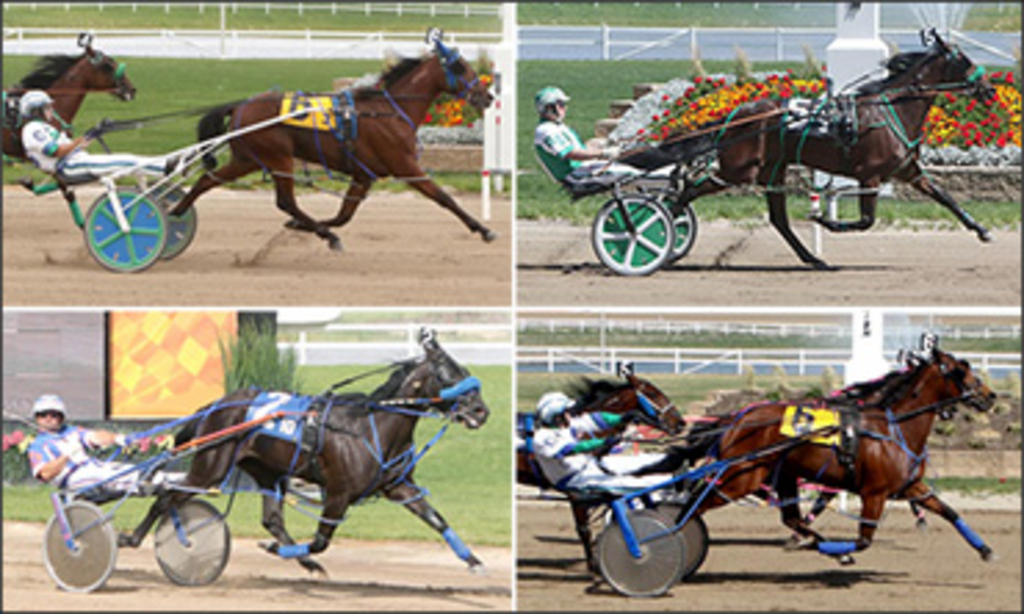 Published:
August 19, 2016 04:30 pm EDT
This weekend Century Downs Racetrack & Casino will have the top two- and three-year-old pacers on display with the ASHA Stakes set for Saturday and Sunday.
The two-year-olds head postward on Saturday with two $15,000 divisions for both for both the gals and boys. On Sunday, the three-year-olds will each clash in two $30,000 divisions.
The first ASHA Filly Stakes division for the two-year-olds features Pickles On Top, the fourth highest priced yearling ($24,500) at last year's ASHA Yearling Sale. It took a track record-tying effort by Outlaw Fireball (1:56.1) to beat the Travis Cullen trainee in her last start.
Cardinal Rule (Alllamerican Navajo-Cai Hanover) showed huge promise in the Emerald Stake finishing second to the favourite Last Time To Play (Masse), but put out a puzzling performance in her latest start in the Alberta Starlet -- marching to the front only to fade to second last coming for home. However, there was a very legitimate excuse.
"After I saw the half go in a minute and change I thought we had this race won but when I saw her fading I was in shock," said trainer Jeffery Waltenburgh. "We scoped her after the race and found out she was full of mucus and she had pimples in her throat. But luckily she did not bleed and we treated her,"
The connections are expecting a different horse come Saturday.
"I trained [Thursday] and we are now back to normal. She is an athlete for sure. She is so easy to be around even a two-year-old child can jog her," quipped Waltenburgh.
This half-sister of the very productive pacer Counter Strike was a $4,500 purchase at the yearling sale last year.
The second ASHA Filly Stakes division for the two-year-olds features the aforementioned Outlaw Fireball, who equalled the divisional track record in the Emerald Stakes last time out and looks like she has a shot at making this the hat-trick win.
Another major player figures to be Last Time To Play for owner Lucy Raymond of Edmonton, Alta. The Western Terror-Susurrus Hanover filly, a $40,000 Lexington Select Yearling Sale purchase, took on older condition types where she was made the favourite was but ended up a decent second.
Lil Bit O Jingle (Blue Burner-Rain Drop Hanover) would be no surprise to take this. The Kurt & Kathy Schmidt-owned homebred comes in on a three-race win streak.
Turning the boys, the first ASHA Colts & Geldings Stakes division for two-year-olds will feature a couple of promising youngsters. When last seen in stakes action back on July 24, Da Magician and Senga Nitro were dominant winners scoring by a combined 11-3/4 lengths when they competed in a pair of $25,000 stakes divisions of the Century Bets Pace.
Da Magician (Dragon Again - Hottie Hanover) was fifth against older condition types in his last effort and will appreciate meeting foes his own age again. Da Magician was an $18,000 Lexington Selected Sale yearling. Senga Nitro (Blue Burner-Nells Sweet Future) puts his undefeated streak -- wins in all three career starts for trainer/driver Ryan Grundy and owner/breeder Kenneth Gunn -- on the line.
The second ASHA Colts & Geldings Stakes division for two-year-olds will see Mateo looking for a bounce back win. After an impressive career winning debut destroying the opposition in a quick 1:57, he was a beaten favourite in the Alberta Rising Star Stakes. The two-year-old son of the wildly popular sire Blue Burner will demand the bulk of the action on Saturday. The Darryl Cutting trainee will again have the very capable Ed Hensley in the bike.
The three-year-olds will show their stuff on Sunday.
Racing fans won't have to wait long for 'The Jet' to take off again. The first race of the day is the ASHA Colts & Geldings for the sophomores and will feature the speedster Blue Star Jet, who blitzed the field in his latest effort in the Brad Gunn Stake in a sizzling 1:54 flat back on August 7, while racing on the Lasix program for the first time. That was good enough to lower his own track record for three-year-old pacing geldings by four-fifths of a second.
"The Lasix I feel really helped him. He is training really well and feeling good. We are happy with the post draw and it's a small field," said Rod Hennessy.
The connections have a 'hunch' how the race will play out this Sunday.
"We are heading to the front again and see if anyone can come catch us," quipped Hennessy.
Rod Hennessy shares ownership of the Blue Burner son with Lorne Duffield of Edmonton, Alta. He has now bankrolled $110,594 and has notched a remarkable eight wins from 17 career starts.
The second ASHA Stakes Colts & Geldings division happens two races later on the card where Wrangler Cash (Kelly Hoerdt) looks like the tough one. The son of As Promised will be on Lasix for the second time after a decent third to the aforementioned Blue Star Jet in the Brad Gunn stake.
The sophomore gals take over in races four and five in the ASHA Filly Stakes for three-year-olds.
In the first division, Divas Dragonfly (Mystery Chase-Midnight Diva) is coming into this contest as the likely post-time favourite. The top two-year-old Alberta filly last season finally escapes the outside post and received a decent post position draw this time around. The last couple races have not been pretty but the connections hope she can turn it around on Sunday.
"Two starts back in the Brad Gunn we had the eight hole and a rough trip. In her latest race she was facing older condition types where she ended up fifth and she paced a strong back half in: 57. She has trained well this week and have been very happy with her," commented trainer Carl Archibald.
"We are extremely happy with the post draw. It's been a long time since we got an inside post."
As far as the rest of the field Archibald maintains respect has to be given to the ever-dangerous leading trainer/driver Travis Cullen.
"I believe Cullen's horse Jet Blue Burner has to be respected on the outside," advised Archibald.
Closing out the stakes program, it appears the main players are Monstrous and Outlawsurshotshark who hook up again in the second ASHA Filly division. In the Ralph Klein Outlawsurshotshark (Smart Shark-Fox Valley Cherish) tipped first over and gradually worked to take over the lead down the backstretch with Monstrous in pursuit to three-quarters in a sizzling 1:26. Monstrous and Outlawsurshotshark got into a slugfest down the lane with Monstrous finally coming out on top by three-quarters of a length stopping the timer in a career-best 1:55.2.
Century Downs Racetrack & Casino will offer eight races on Friday with a post time of 5:45 p.m. A total of 11 dashes are on tap for Saturday with 10 races set for Sunday. A first race post time of 1:10 p.m. is scheduled for both days.
(A Trot Insider Exclusive by Frank Fontana; Photo, clockwise from top left: Outlaw Fireball, Senga Nitro, Monstrous, Blue Star Jet. Photos courtesy Kyle Meller/Coady Photo)