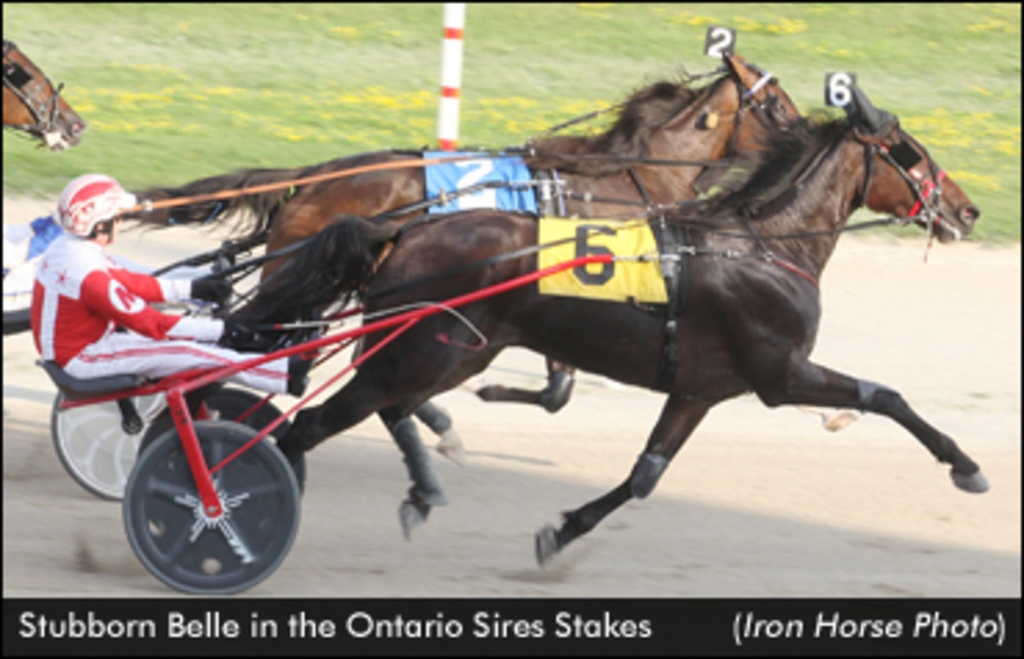 Published:
August 19, 2015 11:14 pm EDT
After a two and a half month absence, three-year-old trotting filly Stubborn Belle returned to the winner's circle on Wednesday evening, capturing her $105,000 Ontario Sires Stakes Gold Series division at Grand River Raceway and causing trainer John Bax to hope history is about to repeat itself.
"If she can stay healthy I'm hoping that she can kind of do what Riveting Rosie did last year, come on good at the end of the year," said Bax, who watched Riveting Rosie bank $409,180 in the last four months of her sophomore season. "I'm hoping this is déjà vu because last year I had a lot of trouble with Riveting Rosie and she turned it around at Grand River, that was her first good race back, so I'm hoping the path is mapped out for her and she follows that."
Stubborn Belle and driver Paul MacDonell followed a come-from-behind path on their way to Wednesday's victory. Starting from post six, Guelph, Ont. resident MacDonell eased the filly off the gate and had her settled on the rail in seventh when fan favourite All That Sparkles trotted by the opening quarter in :28. The pair remained at the rear of the main pack through the :57.3 half and then moved into the outer lane behind Amoureuse Hanover and Aspen California heading around the paddock turn.
After following along in the outer lane through the 1:27.4 three-quarters, MacDonell sent Stubborn Belle out three-wide and took aim on the leaders. The filly advanced steadily around the final turn and in the stretch she reeled in All That Sparkles, posting a neck victory in 1:58. All That Sparkles settled for second and Second Sister completed the top three.
The win was Stubborn Belle's first since she swept the elimination and final of the WEG-SBOA Stakes at Mohawk Racetrack in late May and Bax says the main obstacle in the Taurus Dream daughter's path back to the winner's circle has been her temperament, which matches her name.
"If we turn her out with another horse she'll kick through the fence or get in a fight. We try to be nice to her and pair her up with a horse, but if the mood strikes, the other horse has to watch out," explained the trainer. "She's always the one that kicks through the fence or kicks a board, kicks another horse.
"My son Marshall named her. We changed her name, and that's the name he figured she needed, and she's lived up to it," added the Campbellville, Ont. resident. "It's a good thing she's a very good filly."
Wednesday's victory improved Stubborn Belle's 2015 record to three wins and one third in seven starts and boosted her earnings to $167,430. At two, Stubborn Belle captured one Grassroots division and two Gold Series divisions, the Peaceful Way Final, and a division of the Champlain Stakes for earnings of $524,686 en route to being named Canada's Two-Year-Old Trotting Filly of the Year. Bax, through his Parkhill Stud Farm, shares ownership of the filly with Al Libfeld of Pickering, Ont.
"Touch wood, she doesn't damage herself anymore this year, and it's onward and upward," said Bax, who is hoping the filly stays healthy for the Casual Breeze and Elegantimage Stakes at Mohawk in the coming weeks.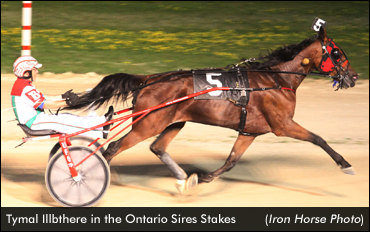 The other division saw Tymal Illbthere earn her first Gold Series trophy with driver Mario Baillargeon opting for a strategy similar to the one used by MacDonell. Starting from post five, the Milton, Ont. resident settled Tymal Illbthere into seventh spot, watching as Gee Okeefe rang up a :28.2 opening quarter. Heading by the :59.1 half, Baillargeon shifted Tymal Illbthere into the outer lane and soon after the 1:29.1 three-quarters he moved her three-wide.
Once she hit open racetrack, Tymal Illbthere accelerated away to a four length victory in 1:58.3, besting Bax trainee Juanitas Fury and pacesetter Gee Okeefe.
The win was Tymal Illbthere's first in Gold Series competition and her third of the season, boosting her sophomore earnings to $92,309. At two, the Deweycheatumnhowe daughter was a Grassroots winner, earning $86,968 for breeder Tymal Farms of Oldcastle, Ont. and Shawn Dixon of London, Ont. Ervin Abdulov of London, Ont. conditions the filly.
Their victories moved both Stubborn Belle and Tymal Illbthere into the top 10 in the Gold Series point standings, putting them into contention for a Super Final berth with one regular season event remaining, on Sept. 29 at Mohawk Racetrack. The $250,000 Super Final goes postward Oct. 10 at Woodbine Racetrack.
Next up on Grand River Raceway's Ontario Sires Stakes schedule is the last regular season Grassroots contest for the three-year-old pacing colts and geldings on Wednesday, Sept. 2.
A pair of Preferred events were also part of Wednesday's harness racing card. Savage Seelster and driver Trevor Henry won the $11,000 Preferred 2 Pace in a career-best 1:53.4 after overtaking Odysseus Bluechip. The five-year-old son of Camluck is trained by Tracy Wilcox and owned by Kristina Wilcox of Windsor, Ont. and Nancy Rivard of Tilbury, Ont.
After racing in Indiana this summer, sophomore pacer Newbie won his provincial return race in 1:55.2, keeping older rivals at bay in the $7,500 Preferred 3 with Billy Davis Jr. driving for trainer Larry Ainsworth and co-owner William Boden from Vancouver, B.C. The 12-year-old veteran, Button Up, was second and Kendal Gustav, half his age, finished third.
To view Wednesday's harness racing results, click on the following link: Wednesday Results - Grand River Raceway.
(With files from OSS)