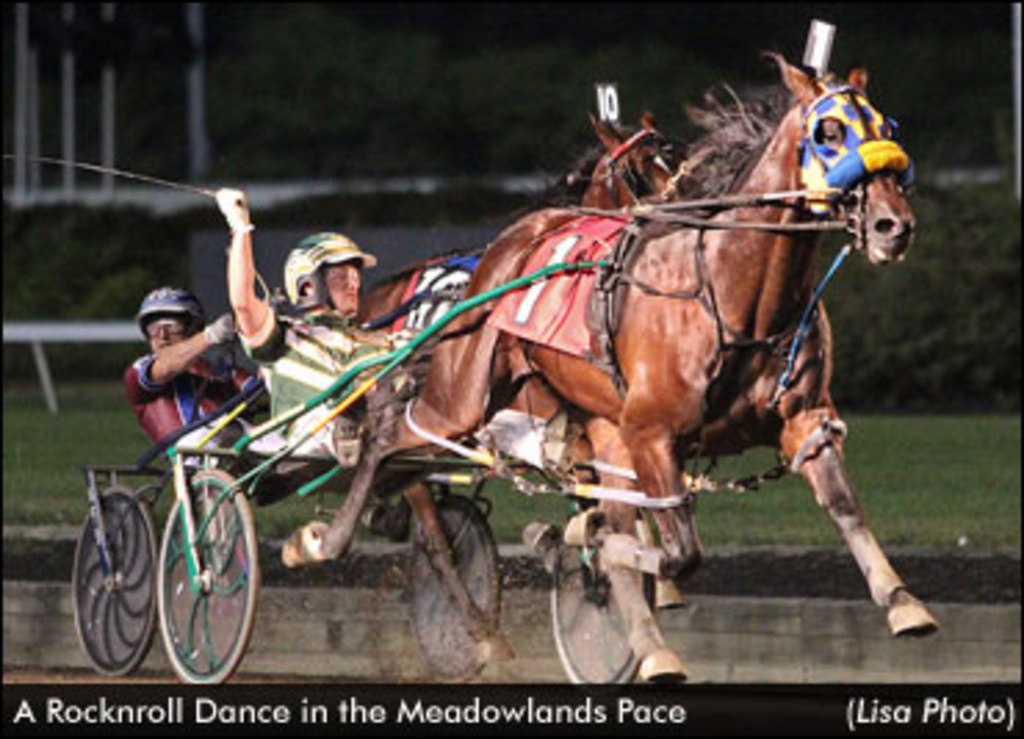 Published:
August 19, 2012 04:38 pm EDT

Even-money favourite A Rocknroll Dance wore down the speedy pacesetter Hurrikane Kingcole to win the 36th edition of the $500,000 Battle of the Brandywine for three-year-old pacing colts and geldings in a dazzling 1:48.1 stakes and track record clocking during Super Stakes Sunday at Harrah's Philadelphia.
When the wings of the gate folded, Sweet Lou (Dave Palone) made an early bid for the lead from the outside post position, but was forced to settle for a two-hole trip as Hurrikane Kingcole (Dan Dube) pressed on from the inside during a :25.3 opener.
Hurrikane Kingcole sprinted to the half in :52.3, but was collared at the 1:20.1 third quarter station as A Rocknroll Dance and Yannick Gingras swept up from third to take over. The Meadowlands Pace and Hempt winner cleared to command around the final turn and opened up three lengths on the field en route to victory lane. Pet Rock (Brian Sears) narrowed the winner's margin to one and a half lengths as he rallied home from off the pace for second. Sweet Lou finished third.
A Rocknroll Dance's 1:48.1 clocking matched his lifetime mark and lowered Allstar Legend's divisional track record by one-fifth of a second and 2010 Battle of the Brandywine champion Rock N Roll Heaven's stakes record by three-fifths of a second.
"I had him pretty cranked up [behind the gate]," commented Gingras after the win. "I figured Sweet Lou had to go out of there. Hurrikane Kingcole looked good behind the gate so I figured he would be going forward too. I actually wanted the two-hole, but I mistimed the gate and kind of got doubled up there. But it actually worked out to be the winning trip.
"When I pulled first up I knew I was the winner," he stated. "Going to the half I had to chase my horse though a little bit and we were going some pretty good fractions. I figured I would get the jump on Sweet Lou and get the job done."
Jim Mulinix trains the winner of four races in 11 seasonal starts, who has earned over $900,000 of his $1,760,461 bankroll this year. The son of Rocknroll Hanover is owned by the A Rocknroll Dance Stable of Ohio.
The Rocknroll Hanover colt will head to the Cane Pace next and has the Little Brown Jug on his radar afterwards.
Easy Again came flying home from out of the clouds to win the $200,000 Battle of the Brandywine Consolation I earlier in the day in 1:50.2 with Montrell Teague in tow. An inquiry was launched after the Dragon Again ridgling made a break, but judges ruled there was no need for disqualification as the miscue occurred just past the wire. Pacesetter Bettors Edge (David Miller) settled for second and I Like Dreamin (George Napolitano Jr.) was third. George Teague Jr. trains and co-owns the $320,000-plus earner with the Kovach Stables LLC of Delaware, Theodore Gewertz of New York, and Florida's Robert Feldman.
Simply Business earned his first sophomore victory in the $100,000 Battle of the Brandywine Consolation II. Ron Pierce rolled the 1-9 favourite to the top after the opening quarter mark, gave way to I Fought Dalaw (Dan Dube) into the clubhouse turn and then pulled the pocket down the homestretch to prevail in 1:50.1, equalling his lifetime mark. Jimmy Takter trains the Rocknroll Hanover colt, who has banked nearly the $775,000 lifetime, for the Toronto-based Mkatz Alibfeld Sgoldband partnership, Louie Camara of Puslinch, Ont., and Sweden's Brixton Medical Ab and Order By Stable. I Fought Dalaw finished second and Take A Walk (Tim Tetrick) was third.
World champion Googoo Gaagaa held off Hambletonian winner Market Share to capture the 42nd edition of the $500,000 Colonial Trot for three-year-old colts and geldings in a 1:52.1 stakes and track record.
Little Brown Fox (Yannick Gingras) set up shop on the front end during the :28.1 opening panel with Market Share (Tim Tetrick) following in second and Googoo Gaagaa and Corey Callahan getting away third.
As the field raced by the half in :56.3, Callahan sent Googoo Gaagaa first up and was just a half-length off the leading Little Brown Fox by the 1:24.2 third quarter mark.
Googoo Gaagaa locked in a stretch duel with the front-runner and eventually wore him down, but had Market Share closing with a fury up the passing lane. Googoo Gaagaa put the pedal to the metal and managed to find the wire just in time for the narrow score. Market Share missed by just a nose while Little Brown Fox finished back in third.
The mile time shaved fouth-fifths of a second off the stakes record held by Explosive Matter (2009), Lucky Chucky (2010), and Manofmanymissions (2011).
The son of pacing sire Cams Rocket is trained, owned and bred by Richard Hans of Maryland. After going undefeated in six starts as a freshman, Googoo Gaagaa has won seven of his 10 sophomore races while banking most of his $641,867 bankroll. His biggest win came in the Earl Beal Memorial in a dazzling 1:50.4 world record mile, but he had not been paid up to the Hambletonian.
"Today was our Hambletonian!" stated Callahan in the winner's circle.
"We had some little hiccups along the way after setting two world records in a row," he added, referring to a pair of breaks made by Googoo Gaagaa in the Yonkers Trot and Stanley Dancer Memorial. "You know, speed kills no matter how strong the horse is and how tough they are. Richard did a really good job of working through that and getting him ready for today. This is a phenomenal horse, he's had a great year and to come back to win this race today is just bittersweet."
Googoo Gaagaa paid $3.40 to win.
Rebounding from a miscue made in the Hambletonian, Money On My Mind settled for a two-hole trip early on behind Magic Tonight (Ron Pierce) and then zipped up the passing lane to capture the $200,000 Colonial Trot Consolation I in 1:53.2 for the driver-trainer husband-wife team of Andy and Julie Miller. The Cantab Hall gelding shaved one-fifth of a second off his lifetime mark as he held off the hard-closing Solvato (Trond Smedshammer). He is owned by Black Horse Racing of New Jersey. Upfront Billy (Brian Sears) finished third.
Trained and driven by Takter, Nothing But Class established the lead from post five in the $100,000 Colonial Trot Consolation II, and despite baring out in the stretch, the Andover Hall colt held on to win in a career-best 1:53.3. The two-time winner is owned by Camara, Toronto's John Fielding, Christina Takter of New Jersey and Norway's Jan Hoibye. Nothing But Class paid $13.80 to win. Lindys Jersey Boy (Brian Sears) finished second off a pocket trip and Appomattox (Tim Tetrick) followed in third.
Romantic Moment captured the sixth edition of the $350,000 Valley Forge for three-year-old pacing fillies, prevailing over her favoured stablemate American Jewel in a 1:50.1 track and stakes record equalling performance.
Major Look (Andy Miller) and Romantic Moment, driven by Yannick Gingras, fired off the gate from posts four and five along with post seven starter Economy Terror (Brian Sears) in a three-horse battle for the lead while American Jewel (Tim Tetrick) watched the action from fourth.
Romantic Moment cleared to command ahead of Major Look at the :26-second opening quarter mark with Economy Terror driving on to take over in front of the grandstand. As the fillies raced by the next marker in :54.3, Major Look angled off the pylons and advanced up alongside the leader with American Jewel catching her cover. The top two were just heads a part at the 1:22 third quarter station with American Jewel angling three-deep.
American Jewel wore down the leaders in the stretch, but Romantic Moment made use of the passing lane and kicked home to win by three-quarters of a length over her fellow Takter trainee. Dream Of Winning (John Campbell) came on for third.
Romantic Moment's career-best 1:50.1 clocking matched Put On A Show's stakes record, set in the 2010 edition.
"It's a speed track, there's no doubt about that, and she's a speed horse. She likes to be up close," said Gingras of the winning filly. "I wouldn't have minded cutting the mile today, but I figured Brian would take a shot at it and he has a great filly too. I'll tell you, there were four or five horse that could have won this race today so whoever got the right trip was going to get the job done and thankfully we were the one with the right trip."
The American Ideal filly, this year's Fan Hanover Stakes and Empire Breeders Classic runner-up, notched her fifth win in eight starts this year while boosting her earnings to $532,246 this season and $673,556 lifetime for owner Brittany Farms of Kentucky.
Romantic Moment paid $6.80 to win.
Favourite Kiss Dont Bite and driver Brian Sears cleared to command as the fillies raced in front of the grandstand for the first time in $150,000 Valley Forge Consolation I and prevailed in 1:51 despite being swarmed on both sides by Marty Party (David Miller) and Moonlit Dragon (Eric Carlson). The Four Starzzz Shark filly matched her lifetime mark in notching career win number five. She is trained by Noel Daley and owned by Andrew Berg and Bruce Warren of New Jersey, breeder In The Red LLC of Pennsylvania, and New York's David Schwartz.
Driven by David Miller, Town Pro Pacing Series runner-up Persistent earned her first stakes win in $75,000 Valley Forge Consolation II after sweeping to the top at the first quarter mark and opening up two and a half lengths on her foes in the stretch. The favoured homebred Western Ideal filly, who stopped the clock in a career-best 1:50.2, is trained by Casie Coleman and owned by Robert Hamather of Exeter, Ont. Early leader Rockaround Sue (Andy Miller) finished second and Mikeleh (John Campbell) rounded out the top three finishers.
Four-year-old world champion trotter Chapter Seven overcame an outside post eight start to capture the fifth edition of the $150,000 Maxie Lee Memorial Invitational in a 1:52.1 stakes record.
Driver Tim Tetrick fired the Titan Cup and Nat Ray champion to the lead off the gate and cruised past fractions of :27.1, :56.1 and 1:24 before opening up daylight on his foes. Defending Maxie Lee champion Anders Bluestone (George Napolitano Jr.) advanced first over to finish second with Looking Hanover (Yannikc Gingras) following in third off a second over trip.
Chapter Seven lowered the stakes record by more than one full second. Trotting mare Buck I St Pat set the former 1:52.2 record in 2008 and matched that mark again in 2010.
"With the eight here, it does have a slanted gate so that helps and he's rough in the turns a little bit so with the angle it kind of helped him out," noted Tetrick in the winner's circle. "Nobody in between really left so he had a pretty easy lead.
"He's a great little horse, he tries his little butt off," continued Tetrick. "He only weighs 800 pounds and he thinks he's 4,000 pounds. He thinks he's tough. He gives an A-plus effort every time."
The millionaire son of Windsongs Legacy is trained by Linda Toscano and owned by Pennsylvania's Richard Gutnick, Southwind Farm of New Jersey and J And T Silva Stables LLC of New York. He is now four-for-five on the year with seasonal earnings of more than half a million dollars.
Chapter Seven paid $2.40 to win.
Millionaire pacer Dial Or Nodial and driver David Miller found the passing lane at the top of the stretch and sprinted home to win the $150,000 Pennsylvania Harness Horsemen's Association Invitational over Malak Uswaad N (Tim Tetrick) and Sapphire City (Brent Holland) in 1:49.1. Jim Campbell trains and Pennsylvania's Fashion Farms LLC owns the six-year-old son of Western Ideal, who paid $17.40 for the upset win.