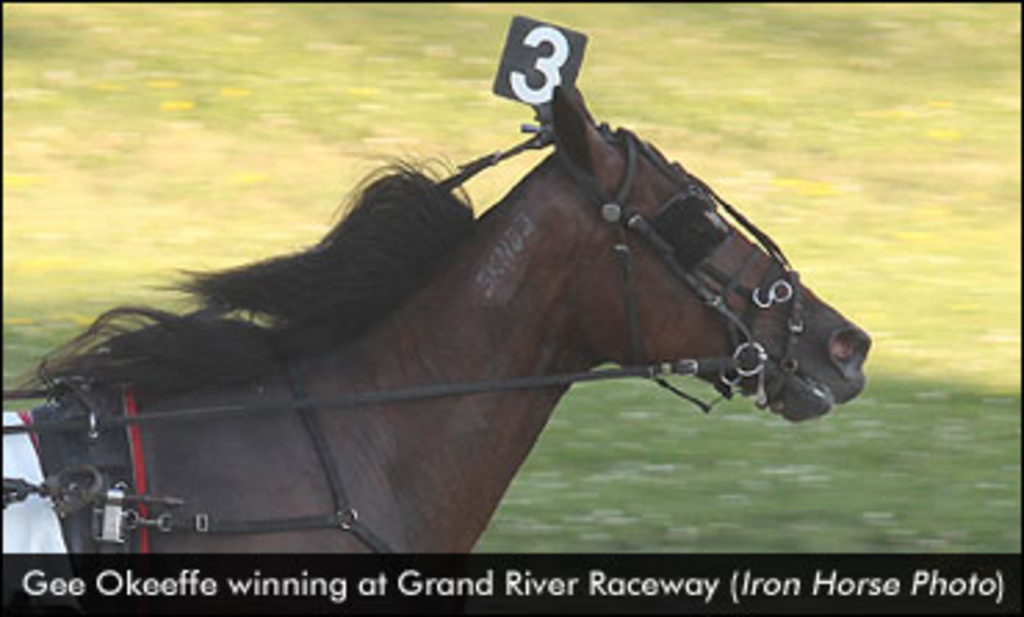 Published:
August 17, 2014 06:38 pm EDT
Fillies dropping down from the Ontario Sires Stakes Gold division to the Grassroots level proved successful in several of Sunday's $18,000 divisions at Clinton Raceway.
That moved proved the ticket for Gee Okeeffe in the opening division. She traded the top position with Dewy Take A Selfie through fractions of :31, 1:03, 1:32.2 and was home first with a two length cushion in 2:03 with Dave Boughton aboard. Superbowl Sunshine closed well to take second while Dewy Take A Selfie was third.
Chris Beaver trains the winner, a daughter of Holiday Road he co-owns with breeder Wilbur Lang of Ohio. Gee Okeeffe was notching her second win in five tries this year, winning a Gold division on July 23 at Grand River Raceway.
That same shift also proved beneficial for Desis Dream, who made her first Grassroots appearance after three Gold starts. She went gate-to-wire for Steve Byron in :30, 1:02.3, 1:32.4 and held off Giona to win by a neck in 2:03.4. Dolce Far Niente was third.
Trainer John Bax of Peterborough, Ont. owns the winner, a daughter of Muscle Mass, with breeder Glengate Farm of Campbellville, Ont. This was Desis Dream's first lifetime win in five tries.
In the third division, the field was reduced to five starters with the scratches of Magical Lass and Magic Dancing. Summer Jewel and Mario Baillargeon set the early tempo of :30.4, 1:03 and 1:33. Judy The Beauty came up to challenge past the half and kept pressure on the leader the rest of the way, but Summers Jewel hung tough to win in 2:04.4. Judy The Beauty had to settle for place while Moon Dance took third.
Baillargeon's brother Ben of Rockwood, Ont. trains and owns the winner, a daughter of Angus Hall, who was recording her second straight Grassroots victory and third overall. She came into today's event sitting third in the Grassroots standings with 124 points behind Stay In Touch and Judy The Beauty, who were tied for first with 137.
Mario was back on top early in the next split with first time starter Flexyandiknowit, who hit the opening quarter in :31.3. Just past that marker, Mass Rail was taken out from third to challenge the leader and overtook her just past the half in 1:03. However, she quickly had a challenger in My Mini Snickers by the 1:33.3 third panel. Mass Rail fought back, but was hauled down late by My Mini Snickers and James MacDonald, who hit the wire first in 2:03. Mass Rail was second with Tymal Fireitup third.
The victory was the second straight in the Grassroots program for the Muscle Mass daughter, owned by Ron Phillips of Illinois and trained by Ryan Maxwell.
It was the same scene in the fifth division as Mario had Zorgwijk Philly on top early and hit the opening panel in :31. Dustin Jones sent Pinky The Intern up to challenge before the half, but Zorgwijk Philly maintained the lead and was by the third panel in 1:32. Despite pressure on the outside and inside, Zorgwijk Philly was at the wire first in 2:05 over Delcrest Flexyhall and Pinky The Intern.
The Southwind Lustre daughter, owned and trained by Wayne Langille of Harley, Ont., earned her first win while making her first OSS start.
Other winners amongst the Grassroots divisions this afternoon were Winem (2:05), a daughter of Kadabra trained by Mike Keeling for owners Paula Wellwood of Cambridge, Ont. and Caveator Stable of Hamilton, Ont. and driven by Mike Saftic, and Wing Flash (2:04), also by Kadabra, who went gate-to-wire for trainer Wayne Henry, who co-owns with Daylon Farms of Komoka, Ont.
This group will meet again in Grassroots action on September 9 at Mohawk Racetrack.
In other action, Richlyn Ombretta and driver Lorne House walked away without serious injuries following an incident in the final conditioned race of the day. The Richard Griffiths-trained sophomore pacing filly broke stride going into the first turn and got hooked up with Windsong Flicka and Mike Horner. House got dumped out of the sulky, but he held the lines and kept his horse from running away.
To view Sunday's harness racing results, click on the following link: Sunday Results - Clinton Raceway.
(With files from OSS)