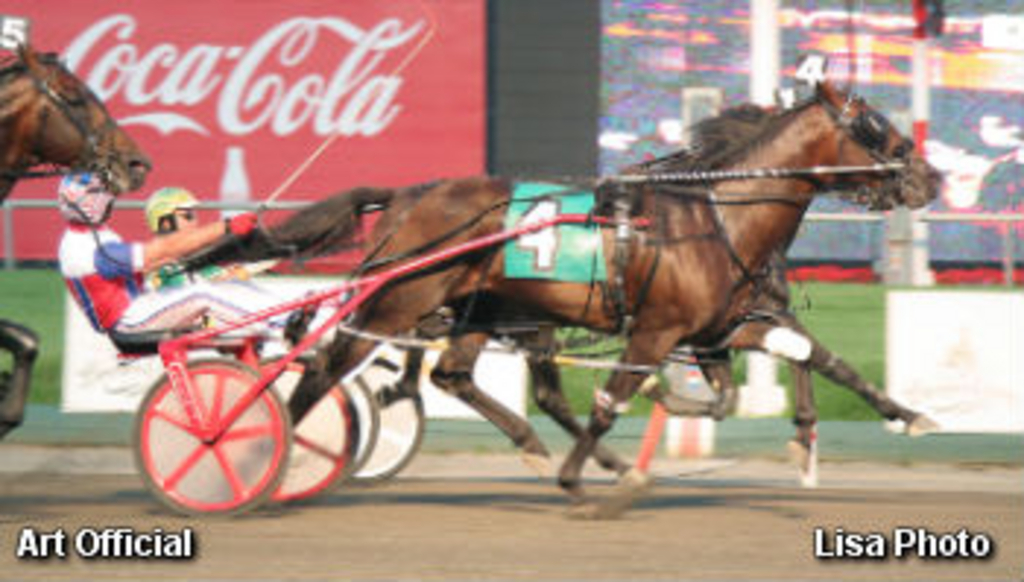 Published:
August 17, 2009 07:47 pm EDT
There are only six horses in Saturday's $500,000 Breeders Crown Pace, but it will not make picking the winner
any easier
Art Official won last weekend's prep race and the last three major stakes – the U.S. Pacing Championship, Ben Franklin and William R. Haughton – have had three different winners in Shadow Play, Mister Big and Shark Gesture.
Add Bettor Sweet's win in the Pacing Classic in June and Foiled Again's triumph in the George Morton Levy Memorial Series in May, and the five richest races this year for older pacers have been won by five different horses.
Shadow Play, Mister Big, Shark Gesture and Bettor Sweet will join Art Official and Won The West in the Breeders Crown Pace at the Meadowlands Racetrack.
"It's a consistent group this year," said Virgil Morgan Jr., who trains two-time defending Pacing Horse of the Year, and 2008 Breeders Crown champion, Mister Big. "Last year, it seemed like it was (Mister Big) and Artistic Fella. It's deep this year. There are five or six horses that can win given the right trip."
Artistic Fella retired during the winter, but the emergence of division newcomers Art Official and Shadow Play as well as the return of Shark Gesture from a brief stud career has more than made up for his departure.
Last weekend, Art Official won the Breeders Crown prep by a nose over Shark Gesture and a length over Mister Big. His time was a seasonal best 1:47.4. A week earlier, Art Official was fifth in the U.S. Pacing Championship.
"He was real good (on August 8) but we got caught in traffic," driver Ron Pierce said. "(In the prep) we figured we'd better tighten him up a little bit for next week. I decided to scoot on out of there and try to get a breather, which we did. I figured that if I wanted to beat Mister Big I better try to get away from him a little bit, which I did around the last turn. I hand drove him. He's good and ready for the final. I just hope we draw a good post and that I drive him right."
Last year, Art Official used a then-record 1:47 mile to win the $1 million Meadowlands Pace and hand Horse of the Year Somebeachsomewhere his only career defeat in 21 races. Art Official also won the Cane Pace, Hoosier Cup, and divisions of the Bluegrass and Tattersalls stakes before seeing his season ended by a muscle tear prior to the Breeders Crown. The four-year-old is trained by Joe Seekman.
Shark Gesture, who in addition to winning the Haughton also won the Graduate Series in May, was the Breeders Crown three-year-old champ in 2006. He defeated Mister Big a week after being involved in an accident in his elimination race.
"We've caught all the big races on the big tracks," trainer Larry Remmen said. "We've avoided the smaller tracks; the turns aren't his forte. He doesn't go a bad race if he gets a chance to race. The big thing is that he can go a long ways and you can't ask for better than that. He's a tremendous horse to be around. He loves to train and loves to race."
Mister Big's third-place finish in last weekend's Breeders Crown prep marked the 34th time in his last 37 races that he hit the board. He was second to Shadow Play in the U.S. Pacing Championship on August 8. He trails Gallo Blue Chip, who retired in 2005 with $4.2 million, and three-time Breeders Crown winning mare Eternal Camnation, who retired with $4.1 million. Mister Big has $3.9 million in the bank.
"He was good," driver Brian Sears said about Mister Big's prep effort. "They got away with a cheap half (:55) and it definitely hurt him. But I thought he raced really good and probably put in the best effort of anyone in there. It's a short field, but hopefully they're not going to give it away (in the final). But he's ready."
Shadow Play, who is partially owned by former Montreal Canadiens star defenseman Serge Savard, skipped the Breeders Crown prep because of a minor injury that required stitches to his right lower eyelid. Over his final seven races last year, Shadow Play won the Little Brown Jug, the Windy City Pace and the American-National in addition to finishing second to Horse of the Year Somebeachsomewhere in the Messenger and Breeders Crown.
(Harness Racing Communications)