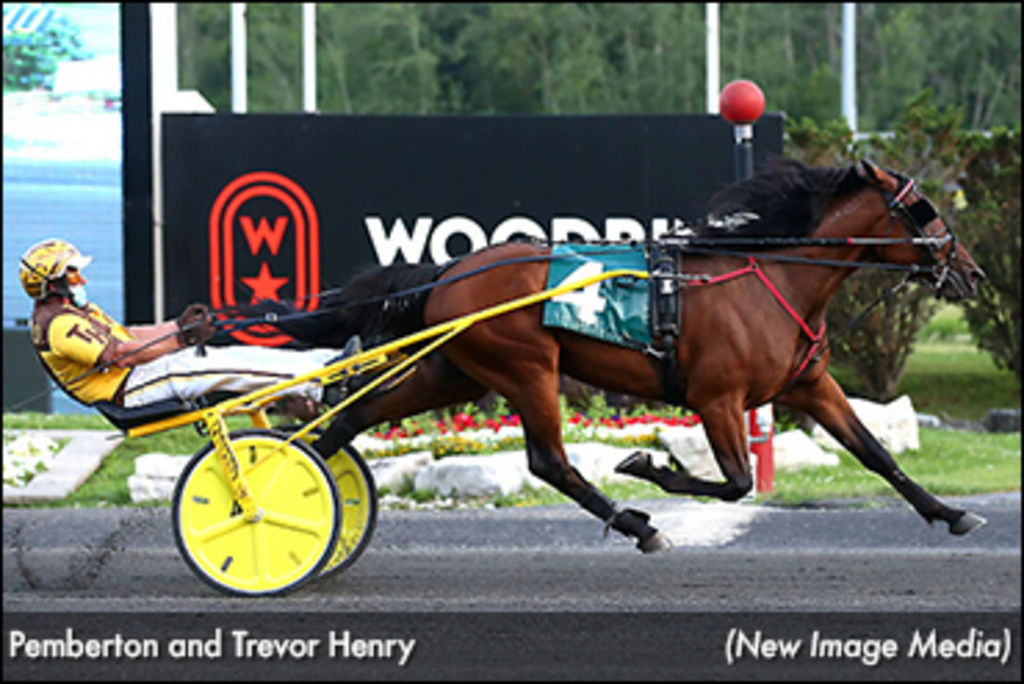 Published:
August 16, 2021 10:59 am EDT

One of Canadian harness racing's most eagerly anticipated returns of 2021 was that of 2020 O'Brien Award winner Pemberton, but he's yet to make a pari-mutuel start this season.
The young trotter had an exceptional 2020 campaign. Pemberton visited the winner's circle on eight occasions and his final win last year was a powerful performance in the Ontario Sires Stakes Gold Super Final for three-year-old trotting colts. He won the race in the time of 1:52.4. which is just slightly slower than his lifetime mark 1:52.2. Over his 10 lifetime starts for trainer Paul Walker he has made $363,684.
Upon returning this year, Pemberton made two qualifying appearances in preparation for his four-year-old campaign. The second of those starts came on June 24 at Woodbine Mohawk Park, where he trotted his back half in the range of :56.4 to win in 1:56.4 for regular pilot Trevor Henry.
Breeder and co-owner Brenda Walker stated that the team noticed something off about Pemberton after that mile.
"He seemed a little stiff on his knee. So, we took him to get it checked out and X-rayed. Turned out it has some little lines on it," indicating a light fracture on the horse's left knee.
According to Walker, who also bred the son of Wheeling N Dealin - Dayshifter along with her daughter Christine, the connections thought it was best to have Pemberton sit out until the leg was fully healed. Since the initial diagnostics, there seems to be a great improvement. "If we had continued to race him, there was a good chance it could have broken a whole piece out of it. So, we decided to take the harness off him. We stood him for a month and got him x-rayed again and he had excellent progress. We have been able to start jogging him slowly."
There is still some hope that Pemberton can see the track in 2021.
"We're taking our time and going month by month. We just want to make sure it heals properly and go from there." Unfortunately, time is running out for him to enter major dances at home like the Maple Leaf Trot.
"If we get lucky, we have the Breeders Crown in November. However, he would need to be fit and ready to roll for that but hopefully, he's good to go for that."
The exact timeline for a return is unclear for Pemberton but Walker is optimistic if he keeps progressing the way he has, the wait to return won't be too long. "We're keeping our fingers crossed and we will keep jogging him. We will get another x-ray done in a month and we hope he still keeps getting better."
(A Trot Insider Exclusive by Trey Colbeck)