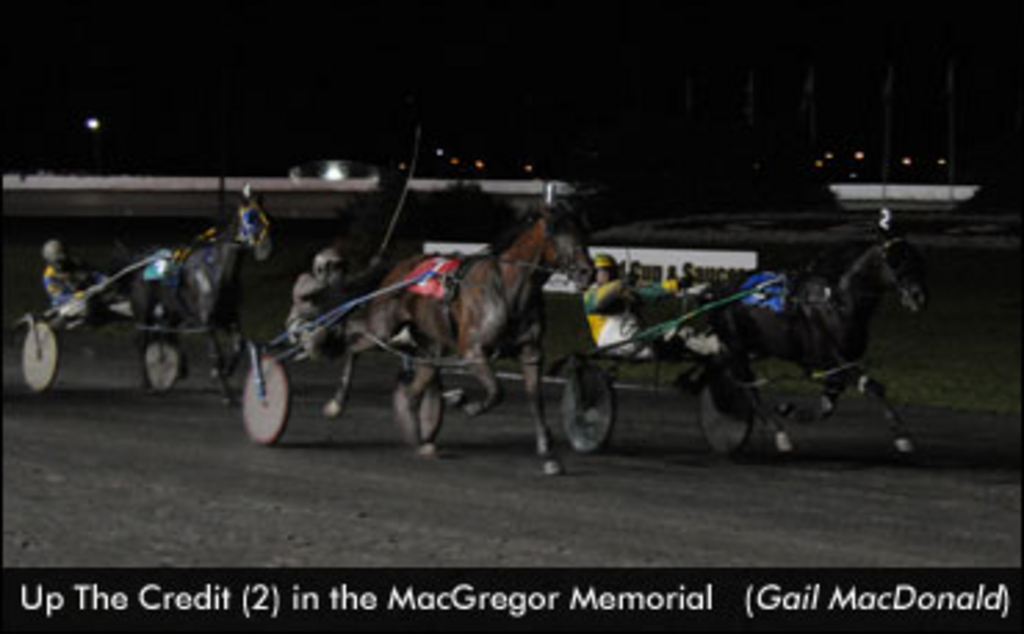 Published:
August 15, 2014 11:27 pm EDT

Millionaire pacer Up The Credit and Hall of Fame trainer/driver Carl Jamieson held off the pocket-pulling Mach Wheel in a photo finish to win the $20,000 James 'Roach' MacGregor Memorial Pace featured on the eve of Gold Cup & Saucer Night at Charlottetown Driving Park.
Leaving from post two, favourite Up The Credit and Jamieson overtook insider Mach Wheel and Paul MacKenzie around the first turn and carved out fractions of :27.1, :56 and 1:24.4 while rebuffing a first over challenge from Duke Did It and Robert Shepherd. As they turned for home, Mackenzie pulled Mach Wheel from the pocket, but Up The Credit persevered in a photo finish for the 1:54.1 victory over the sloppy track. Mach Wheel settled for the runner-up honours, coming up just a neck short at the wire, while Astor and Jason Hughes finished two and three-quarter lengths behind in third.
"I really don't know what the fractions were, I was just trying to figure them out in my head going along, but around the last turn there he opened up a little bit on them," said Jamieson from the winner's circle. "I was a little bit worried about Paul on my back. He just out-paced them, that's all. He's a good old horse.
"I knew 'Roach' for a long time and its nice to win that race," added Jamieson, a first-time winner of the MacGregor Memorial.
Jamieson shares ownership of the 2011 North America Cup champion and career earner of over $1.3 million with partners Thomas Kyron of Toronto and Joanne Morrison of Beeton, Ont.
In other Friday night action, Mopey Corey overcame an outside post eight start for back-to-back wins in the PEI Trotting Series as his namesake, driver Corey MacPherson, worked out a perfect second over trip behind favourite Frill Seeker in the $10,700 final. They rallied three-wide off cover down the backstretch and sprinted away to a six and a quarter-length victory in 2:00 flat for trainer-owner team of Thomas and Amanda Riley of Roseneath, Ont. Zip The Lip and Abundaspin finished second and third.
Trained and driven by William McNeil, Saulsbrook Fork also won by more than six lengths in the $2,500 series consolation, stopping the clock in 2:01.3, for owner Mike Brealey of Campbellville, Ont.
Elm Grove Inarush earned her fifth straight stakes win in a $12,700 Gold division of the Lady Slipper for three-year-old pacing fillies. The daughter of Coastocoast Yankee converted off a pocket trip to defeat the pacesetting Lovineveryminute by three and a half lengths in 1:56. MacKenzie catch-drove for the filly's Kensington, P.E.I. connections of Blaine Thibeau, trainer Eddy Doucette, Gordon MacLeod and Grant Mann. Fleurje finished 11 lengths behind in third.
Last year's Lady Slipper champion Saulsbrook Alana took the other division, extending her own win streak to three. Marc Campbell drove the front-stepping Western Paradise filly to the 1:58 triumph for conditioner Kevin MacLean and owner Reginald MacPherson of Stratford, P.E.I. Dusty Lane Dora came on for second, finishing two and a quarter lengths back, while Absolootly Hot rounded out the top three finishers six lengths behind.
The $5,000 Grassroots divisions were contested during the afternoon card as the track was downgraded from 'good' to 'sloppy' and the winners were: Gracious Minnie and Leonard Meyers in 2:01.1; Willow Warrior and Mark Bradley in 1:58.4; Rosa Santanna with Gilles Barrieau in 2:00.2; and Don MacNeil's homebred Tarahumara in 2:02.
To view Friday's harness racing results, click on the following links: Afternoon / Night