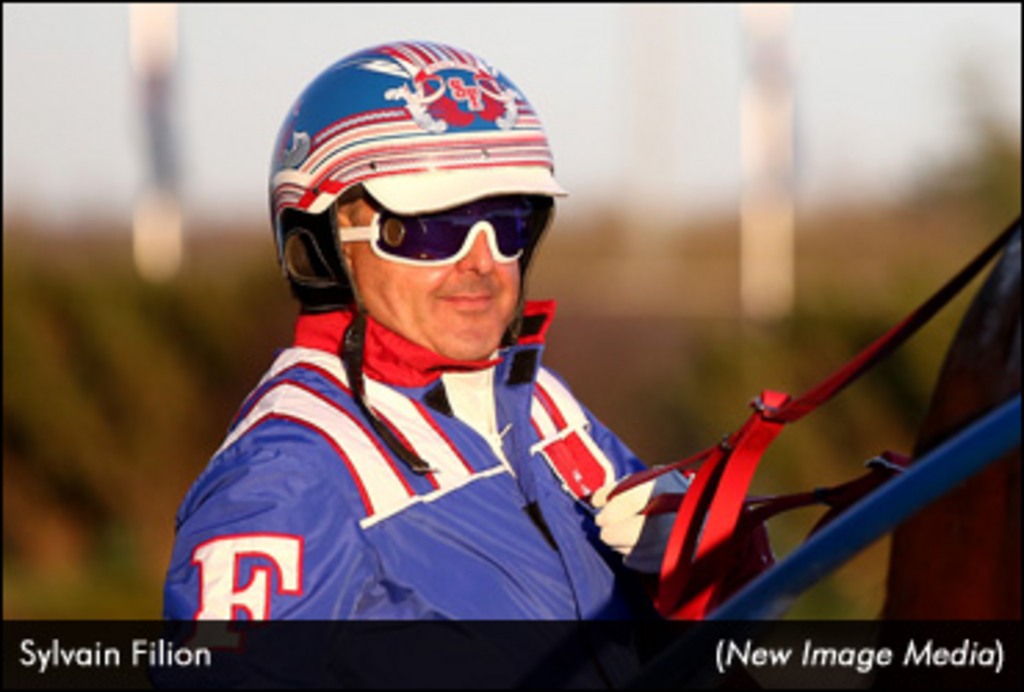 Published:
August 14, 2017 01:03 am EDT
Rideau Carleton Raceway fans were treated to an impressive display of speed and skill as the Ontario Sires Stakes arrived in the nation's capital on Sunday evening (August 13).
With almost $250,000 on the line, all six Gold and Grassroots winners recorded new personal bests, Try Try Again established a new speed record for three-year-old trotting colts and geldings, and the reigning Lampman Cup champion, Sylvain Filion, captured two Gold Series divisions and four overnight events.
Try Try Again opened the Gold Series competition in the evening's second race and the fans' second choice delivered a commanding front-end performance that saw him lower the track record to 1:54.4. Magic Night finished one and one-half lengths back in second while Life Well Lived was well behind the leaders in third.
"He got off the gate well in third, I removed him to the front and he was very strong from there," said Try Try Again's regular reinsman Chris Christoforou Jr. "He was very good tonight."
Campbellville, Ont. resident Christoforou engineered the mile for trainer Dustin Jones of Waterdown, Ont., and his partners Ecuries Daniel Plouffe Inc. of Bromont, Que., Noblock Racing Stable of Collingwood, Ont., and Andrea Lea Racing Stables Inc. of Lakefield Gore, Que.
The clocking took three-fifths of a second off the former track record for three-year-old trotting colts and geldings, set by Ontario Sired superstar Arch Madness in a 2007 Gold Series contest, and lowered Try Try Again's personal best by two-fifths of a second.
With two wins and one second in three Gold Series starts, the son of Kadabra and Sweetspellosuccess currently sits second in the division standings with 125 points and is assured of a berth in the $225,000 Super Final at Mohawk Racetrack on October 14.
Filion piloted the winners of the other two Gold Series divisions, taking the first with LMC Mass Gem and the second with Capteur De Reve.
Starting from post four, LMC Mass Gem led from start to finish, sailing across the wire in a personal best 1:55. Mister Muscle was one and one-quarter lengths back in second, with Head Turning Jag two more lengths behind in third.
With two wins and two thirds in four Gold Series starts, LMC Mass Gem sits third, just one point behind Try Try Again, in the division standings. Nick Gallucci of Brantford, Ont. trains the homebred son of Muscle Mass and Hornby Gem for Loredana Cirillo of Kleinburg, Ont.
Capteur De Reve enjoyed a ground-saving trip behind pacesetter On First in the last Gold division, tipping out in the stretch and trotting home to a one-length victory in a personal best 1:56.1. On First settled for second and Try Try Again's stablemate Northern Major rounded out the top three.
Filion crafted the win for trainer Max Velaye and Ecuries Provoquante of Mirabel, Que. The victory was the Muscle Mass son's second of the season and came in his 2017 Ontario Sires Stakes debut.
Euro Gap posted the fastest win of the three Grassroots divisions, sprinting down the Rideau Carleton Raceway stretch to a 1:55.4 personal best ahead of Yo Yo Mass and Santini. Arthur, Ont. resident Trevor Henry piloted Euro Gap to the victory, his first in Ontario Sires Stakes action.
"He looked good today. Trevor [Henry] said he was really good," said trainer Scott McEneny, who had to watch the gelding's winning effort on his phone after a delayed flight saw him arrive in Ottawa just 10 minutes before post time. "He's got a lot of talent; he's just had his days. His gait's not the best, he's a little pacey, and sometimes the track just doesn't suit him because of his feet."
McEneny conditions Euro Gap for his wife Michelle McEneny of Waterdown and Brad Grant and Teresa Davidson of Milton, Ont. The win was the third lifetime for the son of Manofmanymissions, who has also made two appearances at the Gold Series level this season.
The other two Grassroots divisions went to Federal Flex son Bred For Greatness and Manofmanymissions son Vesuvio Bi, who trotted under the wire in 1:58.2 and 1:56.4, respectively.
Bred For Greatness reeled in Radical Road and Motown Jackpot in the stretch to score his first lifetime victory for driver Bob McClure of Elora, Ont., trainer Shane Weber of Welland, Ont., and owner/breeders Thomas and Elizabeth Rankin of St. Catharines, Ont., while Vesuvio Bi took command at the half and sailed home a three and one-quarter length winner over Short Term Memory and Masster Blue. Travis Henry of Embro, Ont. drove Vesuvio Bi to the win for trainer Martin Lachance of Guelph, Ont., and owners Lachance Racing Stable of Millstone Township, New Jersey and Dan Mogridge of Hillsdale, Ont.
On the undercard, Euro Classic won the weekly $6,650 Winners Over Handicap Trot in front-end fashion with Christoforou catch-driving for trainer/co-owner Ann Karin Larsen. The nine-year-old Chocolatier gelding stopped the clock in 1:55.2, winning by three and three-quarter lengths over the chasing favourite Unabating.
With the trotters in the spotlight on Sunday night, Rideau hosted a $4,500 Trotting Under Saddle race won by All Out Henry in 2:01.2. Pam Forge trains and owns the five-year-old Cornaro Dasolo gelding. Karoline Nielsen was aboard All Out Henry and the duo celebrated their first career wins racing under saddle.
The Grassroots colts and geldings will now head to Hanover Raceway on August 26 for the fifth event of their season, while the Gold Series competitors make their last regular season start at Mohawk Racetrack on September 25.
Ontario Sires Stakes action returns to Rideau Carleton Raceway on Sunday, Sept. 10, when the two-year-old pacing fillies will compete in their last regular season Grassroots event.
To view Sunday's harness racing results, click on the following link: Sunday Results - Rideau Carleton Raceway.
(With files from OSS)