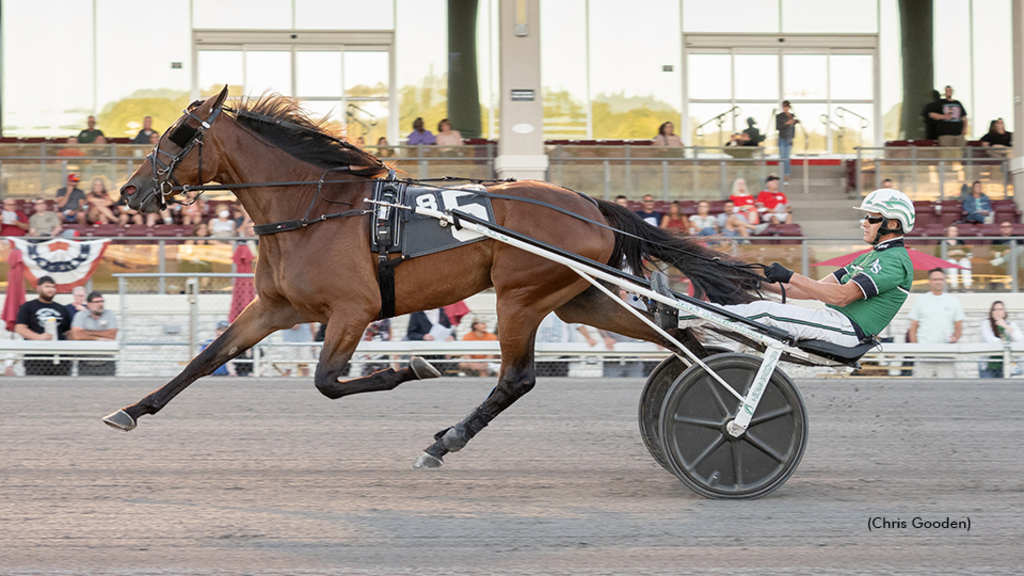 Published:
August 13, 2022 01:05 am EDT
Bond made her first career stakes victory look easy Friday (Aug. 12) at Hollywood Casino at The Meadows, jogging to a 3-1/2-length triumph in a $147,668 Pennsylvania Sires Stakes. Uno Mas Blue Chip took the other division in the event, known as the Delmonica Hanover, for freshman filly trotters.
Bond entered the Delmonica Hanover off a pair of strong second-place finishes in the Kindergarten series at the Meadowlands. She went one better than that Friday, seating the previously unbeaten Portulaca for trainer/driver Ake Svanstedt. Portulaca tried to close, but Bond was neither shaken nor stirred, keeping Portulaca second in the 1:55.3 mile. Lady Lira completed the ticket.
"She's raced well every time," said Svanstedt of the physically impressive daughter of Southwind Frank-Boccone Dolce. "She's shown a lot of fight so far. She wants to win."
Ake Svanstedt Inc. LLC, Little E LLC and L Berg Inc. campaign Bond, who is paid into the Lexington Grand Circuit stakes and the Breeders Crown.
Uno Mas Blue Chip took an Arden Downs Grand Circuit split at The Meadows in her most recent outing, giving winning trainer Clifton Green a reasonably high level of confidence for the Delmonica Hanover.
"As long as she keeps her head together, I think she'll learn to go," said Green. "She knows to pass in the stretch. Today, she seemed to be more level-headed than she's ever been — especially behind the gate. She really improved today."
The daughter of International Moni-Make It Blue Chip, a $35,000 yearling purchase, followed cover beautifully for Hunter Myers, defeating Cando Volo by 1-1/4 lengths in 1:57.1, with the first-over Wild Jiggy S third.
Ashley Burslem and Steven Mullen own Uno Mas Blue Chip.
Ginas On Fire had been getting mostly covered trips, but when trainer/driver Todd Schadel got her to the point early in Friday's sub-feature -- the $60,000 PA Stallion Series for two-year-old filly trotters -- she apparently liked the view. The daughter of Cantab Hall-Shes On Fire blew the field away by 8-3/4 lengths in a career-best 1:56.3. Wind N Water and Atovera rounded out the ticket.
Schadel, who owns the youngster with Christine Schadel, said the blowout won't persuade him to change the filly's style.
"She'd have been way better sitting in a hole," he said. "Don't get me wrong, I'm not saying she didn't race well. But she's better from a hole."
Other Stallion Series winners were Gucci Girl (1:58.2) and Fortune Forecast (1:59).
Elsewhere on the card, the Dave Palone Express rolled on. With five wins Friday, Palone has collected 22 victories over the past five cards.
Saturday's program at The Meadows features a pair of stakes for freshman filly pacers: a $162,566 PASS and a $60,000 PA Stallion Series event. First post is 12:45 p.m.
(With files from MSOA)