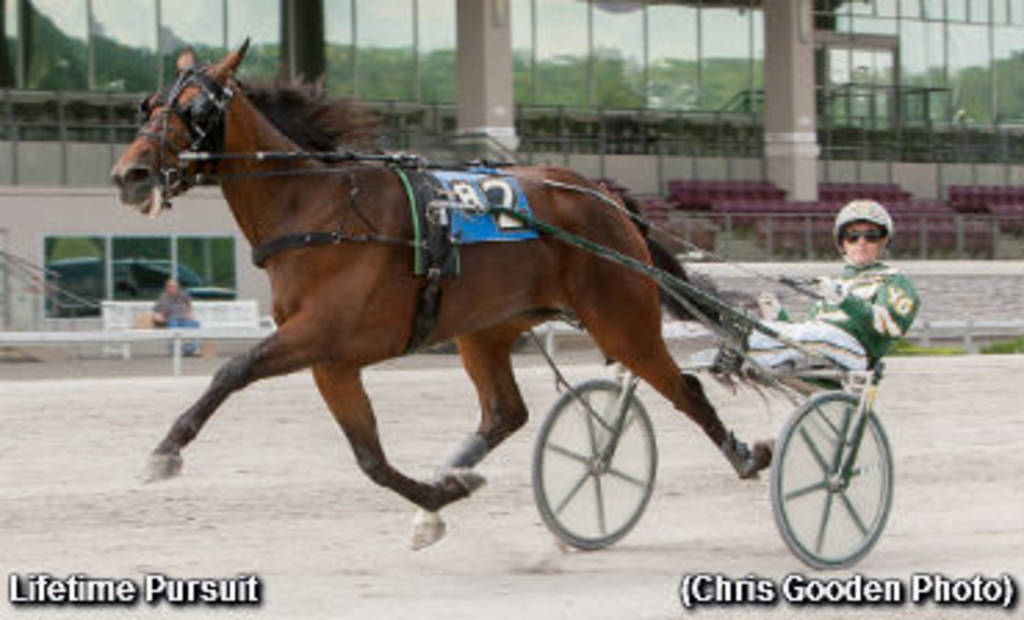 Published:
August 12, 2014 08:48 pm EDT

So impressive in capturing the Hambletonian Oaks, Lifetime Pursuit was just as dazzling Tuesday at The Meadows when she matched the world record of 1:51.3 in a division of a $199,994 Pennsylvania Sires Stake for three-year-old filly trotters.
Her stablemate, Shake It Cerry, may not have been as flashy, but she took the other division of the event known as the Meadow Bright while under wraps.
The weather cooperated beautifully with Lifetime Pursuit, as a hot sun baked off the moisture from morning rains but kept the air steamy. Moreover, storms forecast for the region would hold off for another hour.
Lifetime Pursuit didn't need more help. She brushed to the front past the quarter for Yannick Gingras and drew away them there, reeling off fractions of :28.2, :56.2 and 1:23.1 before rolling home for the score in 1:51.3. That time equals the world record, held jointly by Check Me Out and Designed To Be, for sophomore filly trotters on a five-eighths-mile track. It also matches Tall Cotton's all-age trotting mark at The Meadows and is the fastest mile ever trotted by a filly or mare at The Meadows.
For good measure, Lifetime Pursuit shattered Classic Martine's stake record of 1:53.2. Broadway Socks was second, 11-1/4 lengths back, with Donatella Hanover third. Gingras said he's sure the daughter of Cantab Hall-Queen Of Grace could have gone faster.
"I still had the plugs in, and I was holding her up the whole stretch," Gingras said. "The track is really fast today, and she kind of got away from me. I went 26-and-change up the backstretch just sitting on her. She was trotting more than I thought she was.
"We always thought she was that kind of filly from the time we baby raced her last year. She wasn't disappointing because she's been really good, but I always thought she had more than what she showed. We raced her a little more aggressive last week. I put her on the front today, and she was scary."
The homebred Lifetime Pursuit now has banked $657,613 for Brittany Farms.
Off her fourth-place finish in the Oaks, Shake It Cerry made an easy lead for Ron Pierce and prevailed effortlessly in 1:53.1, 1-3/4 lengths better than the pocket-sitting Cantabs Fortune. Struck By Lindy earned show. Pierce indicated he never cut loose the daughter of Donato Hanover-Solveig, who is campaigned by Solveig's Racing Partners.
"I just hung onto her," Pierce said. "I guess she heard someone coming that third quarter, so she just took off on her own. Nobody was even close to me, so I just let her coast home. She's getting bigger and stronger — she's still growing."
Shake It Cerry, the 2013 Dan Patch Award winner for her division, extended her career bankroll to $1,147,805.
Prior to the stake, trainer Jimmy Takter said he doesn't expect his two star fillies to go head to head again anytime soon.
"One of them will head off to Canada, and one will stay in Pennsylvania for the sires stakes final," Takter said. "I'm not sure yet which will go where."
Dave Palone drove four winners and Eric Ledford three on the 16-race card.
Stake racing at The Meadows continues Wednesday when the card features a $120,000 PA Stallion Series event for freshman filly pacers. First post is 12:55 p.m.
(The Meadows)