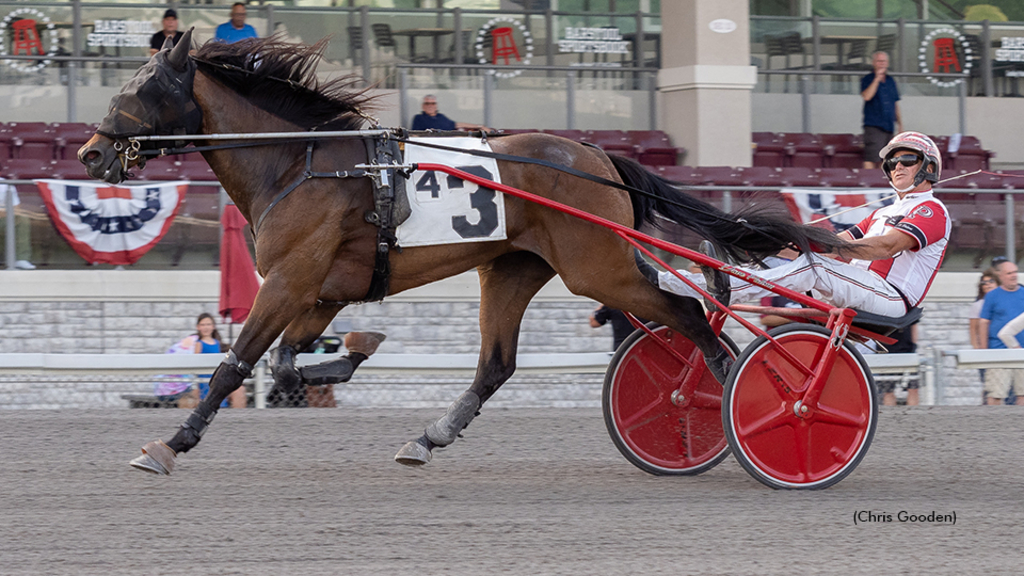 Published:
August 11, 2022 10:40 am EDT
Don and Kathleen La Montagne operate a stable that wouldn't exactly be called a juggernaut. When all their horses are healthy, it's a stable of three. "We do it as a sport," Don said.
So how much more gratifying must it be that one of their two healthy horses, the two-year-old filly trotter Portulaca, has opened her career with two straight victories, both in stakes, and will try to stay unblemished in Friday's Delmonica Hanover, a $147,668 Pennsylvania Sires Stakes, at Hollywood Casino at The Meadows.
Friday's card also features a $60,000 PA Stallion Series event for freshman filly trotters. First post is 5:10 p.m.
By trade, Don is an ironworker with 30 years of experience. He owns All-American Rebar, a bridge construction/demolition business in Chesterfield, New Jersey, and has been breeding Standardbreds for about 50 years. For Portulaca, Kathleen is listed as breeder and trainer while they're both down as owners. When it comes to their racehorses, though, they do everything together.
The early success of Portulaca, a Donato Hanover filly out of Motivational, wasn't a complete surprise, as her dam banked more than $300,000 and was New Jersey's late-season Sires Stakes champion at two. What may have been unexpected was the versatility and manners she's shown.
In her career bow, a PASS at The Meadows, she came first-over for Dave Palone to win a tactical race in 1:59.
"Dave did a great job with her, gave her a pretty good schooling," said Don. "She could have raced more, but the race didn't allow for it."
She needed more speed in her next race, a PA All-Stars split at Pocono, and she showed it, scoring on the front end in 1:56.3. In the process, she defeated Jim Campbell's Fashion Annie, who came back to score in 1:53.4 at the Meadowlands.
"We may never beat that one again," said Don.
Portulaca's winning ways threw a curve at the La Montagnes' training schedule for her. While they'd hoped to prep her for Friday's PASS in a non-winners of two, she earned her way out of those and so will come to the race off a qualifier at Harrah's Philadelphia.
No matter how well Potulaca may perform Friday, the La Montagne's have no plans to beef up her relatively light stakes schedule, which includes engagements in her backyard but none of the late-season marquee events.
"This is only my second road trip with her and it'll be the last one this year," said Don. "Hopefully we won't beat her up and we'll have a fresh horse for next year. We'll be on the road a little more next year; she's eligible to the Hambletonian and the Zweig. But if she makes money only in Pennsylvania, that's fine with us."
And no matter how great her achievements, they won't inspire expansion in the La Montagne stable.
"Three is our limit," said Don. "You can count on bridge work, but horses come and go."
(MSOA)