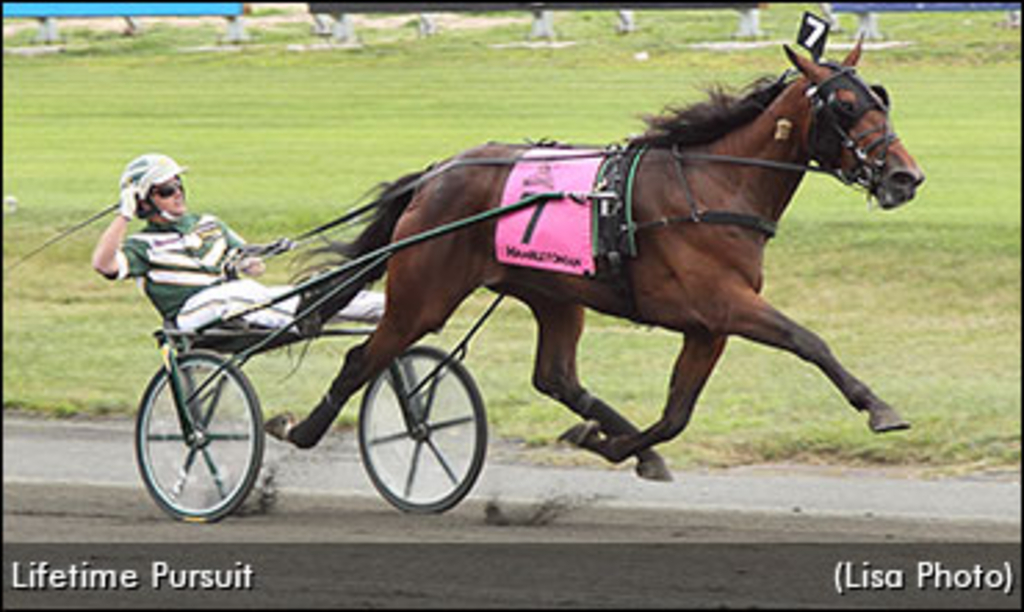 Published:
August 11, 2014 10:06 am EDT

Hambletonian Oaks winner Lifetime Pursuit and millionaire Shake It Cerry, the glamour girls of the Jimmy Takter stable, lead a group of 14 sophomore filly trotters into Tuesday's Pennsylvania Sire Stakes event at The Meadows.
Tuesday's Meadow Bright, a $199,994 PASS event, will go as two divisions, with Yannick Gingras guiding Lifetime Pursuit for Brittany Farms from post 2 in the first division (race 8) and Ron Pierce and Shake It Cerry leaving from post 3 in the second split (race 10) for Solveig's Racing Partners.
It will be the first action for both since the Aug. 2 Hambletonian Oaks when Lifetime Pursuit outkicked Shake It Cerry in the lane to upset her stablemate at 10-1 — and give Takter a mild surprise as well.
"I knew she was good, and I expected her go give a good performance, but I didn't know she would win it," Takter said. "Cerry is a better horse, but Ronnie (Pierce) said he went too fast with her. He didn't know he was going that fast."
Each of Takter's fillies has fared well at The Meadows; each won a Currier & Ives split here while Shake It Cerry also notched a PASS victory. Lifetime Pursuit (Cantab Hall-Queen Of Grace) must deal with Harley Momma, who finished fifth in the Oaks despite a troubled trip, and local favorite Broadway Socks, who has captured six of eight this year but steps up to tougher company. In addition, Takter will send out Donatella Hanover, who collected a dead-heat win in an Aug. 1 Duenna split by making up 10 lengths over the back half.
For her part, Shake It Cerry (Donato Hanover-Solveig) -- last year's Dan Patch Award winner who now has banked $1,097,807 -- will face Take The Money, who passed her late in the Hambletonian Oaks to earn show.
Takter indicated his girls are poised for big efforts.
"They both came out of the race super and have trained really nice," he said. "They could be ready for a good performance."
Exciting as the Oaks was for Takter, it served as prelude to an even bigger thrill in the Hambletonian, where Takter trainees Trixton -- driven by Takter himself -- and Nuncio finished 1-2. Does that triumph mean we'll see more of Takter in the bike?
"No, no, no," he insisted. "I'm almost retired. I've been out of that (driving) for many years, but sometimes you gotta do what you gotta do."
First post Tuesday is 12:55 p.m. To view entries, click the following link: Tuesday Entries - The Meadows.
(with files from The Meadows)