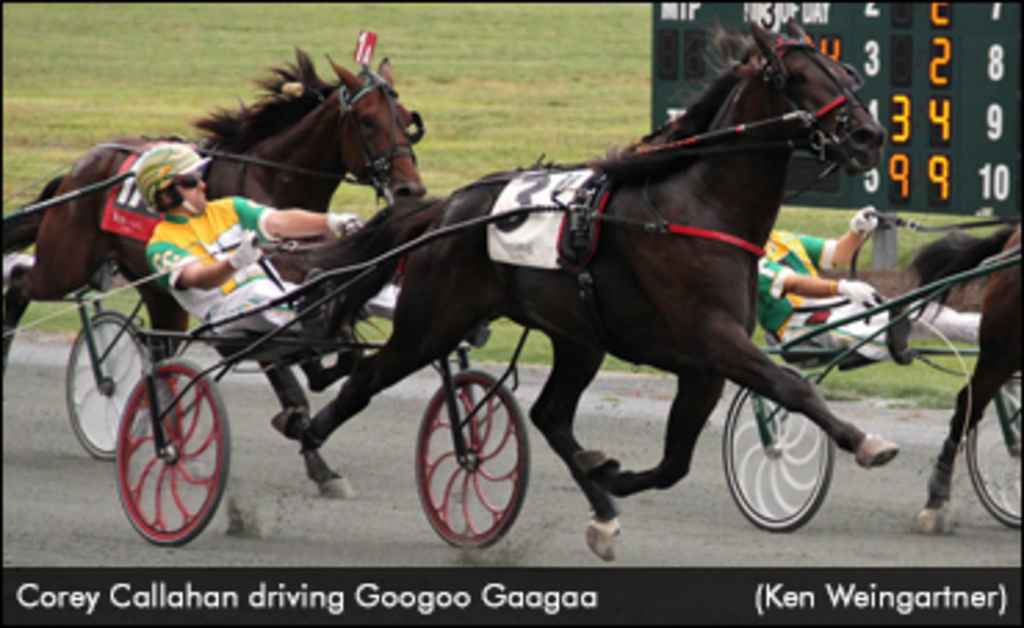 Published:
August 10, 2021 03:40 pm EDT
As Captain Corey made his way down the stretch at The Meadowlands and headed to victory in Saturday's $1 million Hambletonian Stakes, Corey Callahan was among the television viewers cheering him on.
"I've never rooted that hard for a horse that I didn't have any vested interest in terms of owning or driving," Callahan said with a laugh. "It was really fun."
Callahan was the regular driver of Captain Corey's sire, Googoo Gaagaa, during the colt's record-setting three-year-old season in 2012.
Several years after Googoo Gaagaa retired to stud duty, Callahan suggested to Carter Duer that he should breed a mare to the stallion, who was standing in Pennsylvania at the time.
Duer bred an Angus Hall mare named Luv U All to Googoo Gaagaa, resulting in the birth of a colt on April 16, 2018.
"When he was born, Carter and (his son) John came up with the idea to name him after me," said Callahan, whose nickname is The Captain. "It's special, for sure."
Callahan enjoyed a number of memorable moments with Googoo Gaagaa, who entered his three-year-old campaign off a six-for-six rookie year on the Maryland Sire Stakes circuit that culminated with a world-record 1:56 effort at half-mile Ocean Downs.
Googoo Gaagaa, a son of pacer Cams Rocket out of the trotting mare Koras Trotter bred and owned by Richard Hans, won his first Grand Circuit start in May 2012, capturing the Simpson Memorial by five lengths in 1:54.1 at The Meadowlands. Callahan can still recite track announcer Ken Warkentin's call as the horse crossed the finish line.
"Say hello to Googoo Gaagaa," Warkentin exclaimed. "He is for real."
A month later, Googoo Gaagaa set a world record with a 1:51.3 win in his elimination of the Earl Beal Jr. Memorial at The Downs at Mohegan Sun Pocono. In the final, Googoo Gaagaa trotted the fastest mile ever on a five-eighths oval, winning in 1:50.4.
"That was really cool," Callahan said.
Googoo Gaagaa was not eligible to the Hambletonian, but defeated Hambletonian winner Market Share two weeks after the Hambo in The Colonial at Harrah's Philadelphia. His time of 1:52.1 was a stakes and track record.
"Goo and I were first up and we beat the Hambo champ that day," Callahan said. "That mark still stands at (Philly). There have been a lot of good three-year-olds since then. For that mark to have stood that long, that's obviously a big feat."
During his racing days, Googoo Gaagaa was known for his stride. Callahan sees the same in Captain Corey, who was the only one of 14 registered foals sired by Googoo Gaagaa to sell at auction in 2019. He went for $150,000 and is now owned by S R F Stable, Knutsson Trotting Inc., Midnight Sun Partners Inc., and Ake Svanstedt Inc.
"I've bred a few to Goo and seen others, and I'd never seen one that had a similar gait until Captain Corey," Callahan said. "All of the other ones went more like trotters, a little high up front and didn't really have that same sweeping motion. Corey was the first one that I saw that really looked like him.
"I know Carter and John were really high on him when he was selling as a yearling. When he was out there in the field, John said, I really think this horse has the same kind of extension that Goo does. He was right."
Following Captain Corey's win with trainer/driver Svanstedt in the Hambletonian, Callahan took to social media to express his delight.
"So happy for Goo to have a horse carry on his legacy," he said.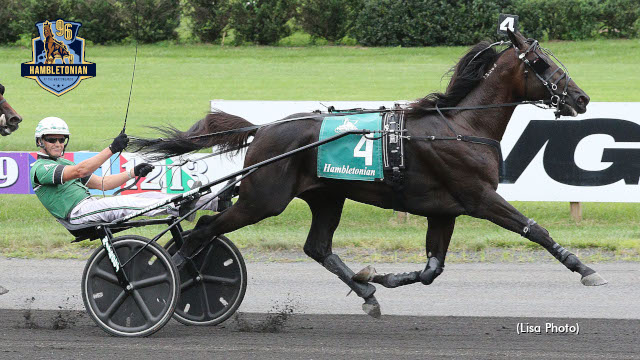 Captain Corey and trainer/driver Ave Svanstedt winning the $1 million Hambletonian
on Saturday, Aug. 7 at The Meadowlands. (Lisa Photo)
(USTA)