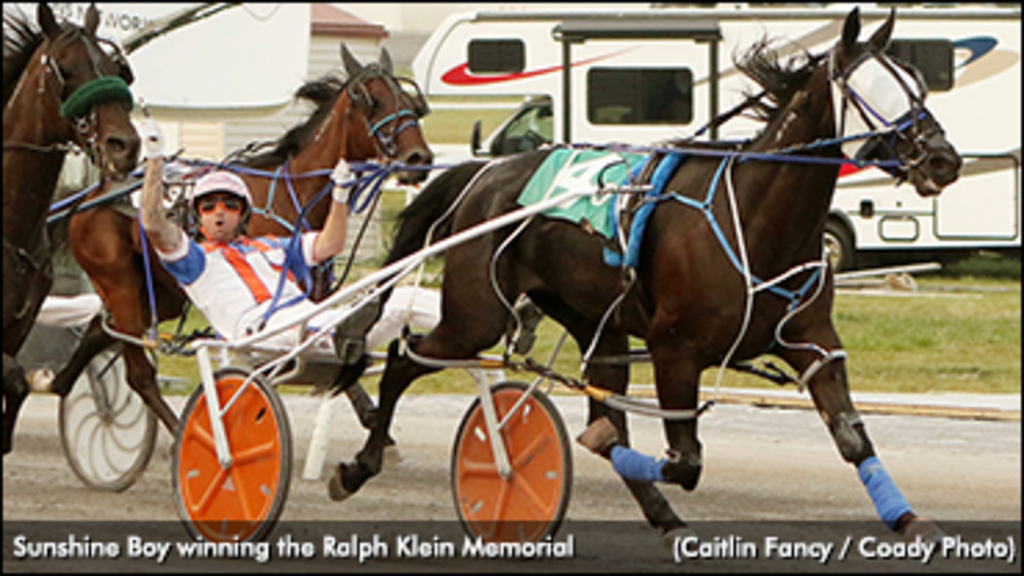 Published:
August 1, 2021 11:16 pm EDT
Trainer-driver Brandon Campbell capitalized off a pocket trip with 14-1 shot Sunshine Boy to hold off a late charge from 100-1 shot Like A Shadow and win the $74,870 Ralph Klein Memorial on Sunday (Aug. 1) at Century Downs.
Odds-on favourite Shark Week took the lead to a :28 first quarter with Sunshine Boy sitting second and Like A Shadow settling into third. With no pressure on the point, Sunshine Boy slowed the tempo to a :58.2 half, but the slow tempo forced The Shining to pull first over and press the leader moving into the second turn.
The Shining raced alongside Shark Week to three-quarters in 1:26.1 and kept the tiring leader of the outer tier at bay around the final turn. But Shark Week's strides shortened off the corner just as Sunshine Boy found racetrack and lunged to the lead late. Like A Shadow also came charging, but finished a neck back in second in a 1:55 mile. Codename Cigar Box closed for third with Shark Week fading to fourth.
A three-year-old gelding by Sunshine Beach, Sunshine Boy won his first race from six starts this season and his third from 14 overall, earning $65,596. Jodi Loftus, Dana Shore and George Rogers owns the $31.00 winner.
Burning Hot also popped from a pocket trip to win the co-featured event on the card, the $74,380 Gord & Illa Rumpel Memorial.
Grabbing the lead early, Burning Hot yielded control to 6-5 favourite Graceful Horizon moving to a :27.3 first quarter. Once on the point, Graceful Horizon grabbed a breather to a :58.1 half while Exotic Dragon got underway first over from fourth. But Exotic Dragon made little gains uncovered into the backstretch, leaving Burning Hot plenty of room to angle from the pocket and ready her shot at the leader past three-quarters in 1:25.3. The Blue Burner filly gathered her momentum in the straightaway and overpowered Graceful Horizon to win by three-quarter lengths in a 1:54.4 mile. Coz Im Special closed for third with Exotic Dragon settling for fourth.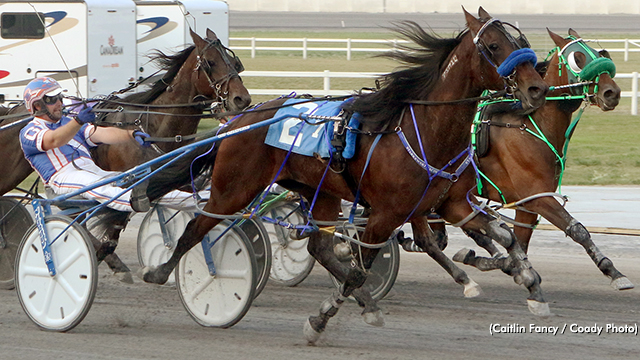 Co-owned by trainer Rod Starkewski with Clauzette Byckal, Burning Hot won her fifth race from eight start this season and her ninth from 15 overall, earning $126,312. Phil Giesbrecht drove the $7.70 winner.
Pacing freshmen also competed on the stakes card with the boys going in two $7,500 eliminations for the Century Casinos Pace and the fillies going in two $7,500 ASHA Filly Pace eliminations.
Prairie Pursuit powered off cover in the first Century Casinos elimination to win in 1:57.4. Trainer-driver Richard Remillard sat fourth while Subzero battled with first-over Farasthe Eyecansee through a clip of :28.2, :59.1 and 1:27.3. Remillard moved to catch cover from Farasthe Eyecansee moving to the half and motored off a helmet in the stretch to win by 2-1/4 lengths. Shotgun Seat finished second via disqualification of Farasthe Eyecansee, who was placed third for a lapped-on break at the finish. Subzero finished fourth.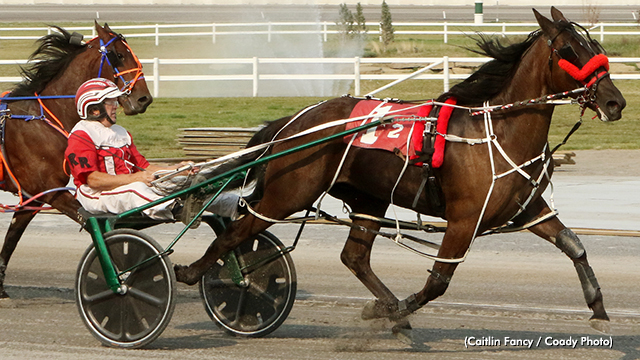 A homebred for Dr. Larry Hanson, Prairie Pursuit won his second race from three starts, earning $6,044. The Mystery Chase colt paid $6.20 to win.
Vegas Gambler rallied from the pocket in the second Century Casinos elimination to win in 1:58.4. Driver Phil Giesbrecht settled the Rod Starkewski trainee behind pacesetter and 4-5 favourite Ponggo, who set a tempo of :28.4, 1:01.1 and 1:30. Giesbrecht began to tip Vegas Gambler from second at the bottom of the turn and ripped for the finish to win by five lengths over Sundance Kid. Ponggo faded to third while Sky Walker took fourth.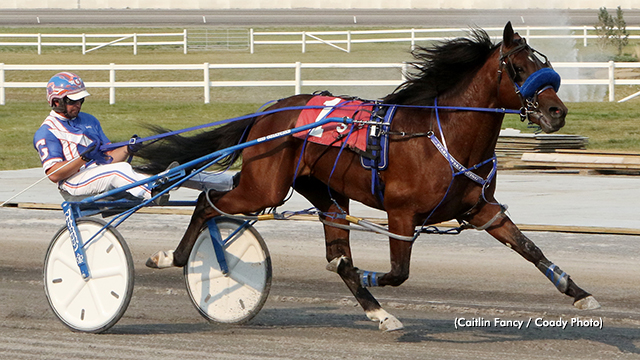 Co-owned by Starkewski with Clauzette Byckal, Vegas Gambler won his first race from two starts, earning $3,975. The Mystery Chase colt paid $27.00 to win.
Jamaica Move took the first elimination of the ASHA Pace going nearly gate to wire in 1:58.2. The Vertical Horizon filly cleared control past a :29.1 first quarter and kept HF Raindrop parked to a 1:01 half. As that first-over challenger faltered up the backstretch, Divine Art lunged wide and applied pressure to Jamaica Move passing three-quarters in 1:29.1. But Jamaica Move reclaimed the lead with the inside advantage and held firm to the finish to win by three-quarter lengths over Divine Art. Wrangler Jewel finished third with Lost In The Moment taking fourth.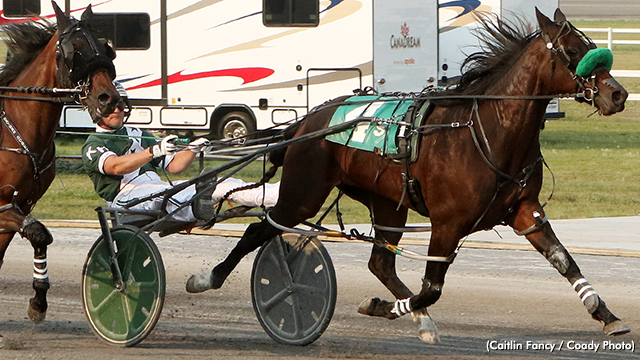 Trained and driven by Kelly Hoerdt, who co-owns with Ralph Morrow, Jamaica Move won her first race from her first start, cashing a $3,750 cheque. She paid $6.80 to win.
Saphire Blue took the other ASHA Pace elimination off a pocket trip in 1:58.3. Protecting position from the pylon post, Saphire Blue clipped the quarter in :29.4 before forfeiting the lead to Ventimatchalatte passing the stands. Past the half in :59.3, Ventimatchalatte continued uncontested to three-quarters in 1:29.2 and opened her lead off the final turn, but Saphire Blue charged from the pocket in the straightaway and snagged a two-length victory at the beam. Fiesta Time finished third, another nine lengths behind, with HF Mrs James taking fourth.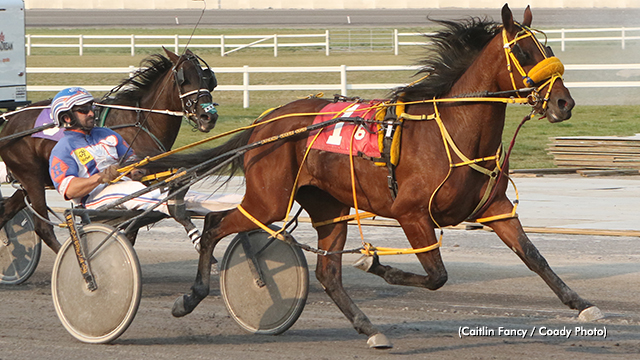 Owned by Donald Richardson, Saphire Blue is unbeaten from two starts and has earned $6,000. Michael Hennessy drove the $3.30 winner for trainer Harold Haining.
To view Sunday's harness racing results, click on the following link: Sunday Results - Century Downs.