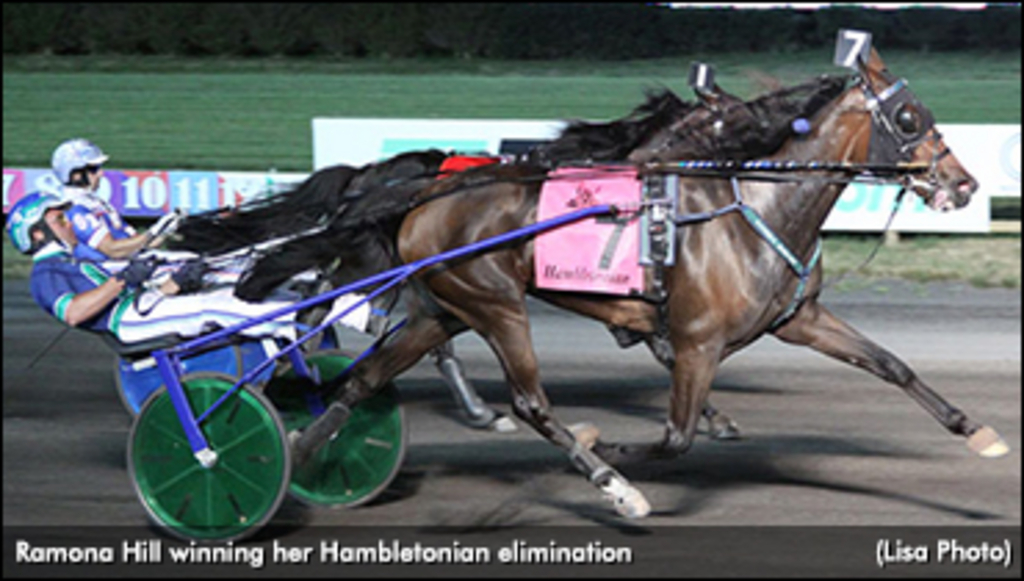 Published:
August 1, 2020 10:38 pm EDT

Meadowlands Racetrack contested a pair of $50,000 eliminations on Saturday (Aug. 1) for the 95th renewal of the Hambletonian, with the filly Ramona Hill prevailing in the first and Ready For Moni scoring in the second.
Caught racing last midway around the final turn, driver Andrew McCarthy angled Ramona Hill wide and ripped to first under wraps to beat the boys in 1:51.2.
"I think as a group we all kind of knew what we were thinking in the back of our minds," winning trainer Tony Alagna said after the race of opting to race Ramona Hill in the Hambletonian. "We all waited to pull the trigger at the same time. We were all willing to give it a shot and the big decision was the fact that they don't go two heats in one day.
Big Oil crossed to the front while Back Of The Neck sat second before circling to the lead passing a :27 first quarter. Third Shift raced third and began to edge off the pylons to race first over heading to a :55.4 half. Ramona Hill meanwhile raced seventh, tracking Beads as he started to gap the field.
The lead expanded for Back Of The Neck rounding the final turn as Big Oil gave chase from second inside of Third Shift. McCarthy had to tip Ramona Hill three wide nearing three-quarters in 1:24 and from there began to recoup ground. Back Of The Neck cruised uncontested through the lane until Ramona Hill flew towards the pacesetter into the final eighth and slid to the lead in the final strides to score as the 6-5 favourite.
Back Of The Neck, the 9-5 second choice, settled for second. Amigo Volo, Big Oil and Hollywood Story finished third, fourth and fifth respectively to also qualify for the final.
"Around the last turn I was trying to figure out what was going to happen if I went out on the track and grabbed ahold of some people that were roadblocking and put them in a headlock," Alagna said jokingly after the race of Ramona Hill's positioning. "I figured I better not do that and the filly showed what she can do so fortunately everything worked out good."
[With] what she did last year, she was a very immature two-year-old and she was still able to get the job done," Alagna also said. "We were so happy with how she came back down in Florida. Last week she was sparkling and tonight she's even better."
Winning her eighth race from 10 starts, Ramona Hill has banked $556,865 for owners Brad Grant, Crawford Farms Racing, Robert LeBlanc and In The Gym Partners. The Muscle Hill filly paid $4.40 to win.
Ready For Moni, in just his second start of the year, motored to victory in the other Hambletonian elimination, stopping the clock in 1:51.3.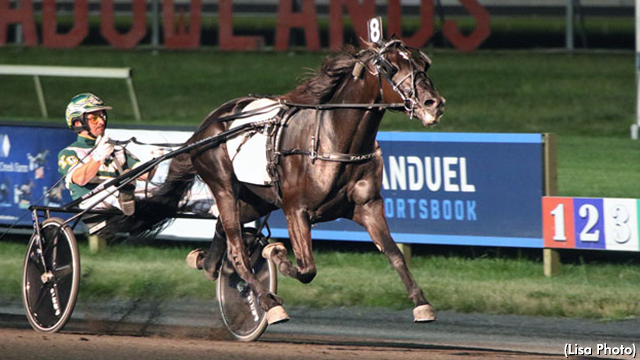 Threefiftytwo charged for the front heading to a :27 first quarter but settled as Sister Sledge tipped first over and brushed to the lead into the backstretch. Driver Yannick Gingras then cued Ready For Moni to move for the lead, angling first over from fourth and clearing control past a :55.2 half.
Circling the final turn Ready For Moni endured mild pressure from Rome Pays Off, who parked past the quarter and gradually advanced uncovered. Ready For Moni passed three-quarters in 1:23.4 and kicked away into the stretch, maintaining command while chased by Threefiftytwo charging down the center of the track for second. Capricornus kicked through a seam at the pylons to take third with Sister Sledge and Rome Pays Off fading to fourth and fifth respectively.
"The way the schedule's been this year, it's been a little difficult to find races and so forth for the horses," trainer Nancy Takter said after the race. "We didn't want to have him overraced going into the Hambletonian, so he had a couple nice qualifiers to kind of just let him get into his own and hopefully he'll take this race in the right way and he'll be even sharper next week."
A three-year-old colt by Ready Cash, Ready For Moni won his sixth race from 10 starts, earning $374,020 for owners John Fielding, Lindy Farms of Connecticut, Herb Liverman and Bud Hatfield. Yannick Gingras drove the $4.40 to win.
Following the evening's 11th race, Meadowlands management conducted the draw for the $1 million Hambletonian. The field for the 95th edition (with drivers subject to change) appears below:
PP-Name (Driver, Trainer)-ML
1-Ready For Moni (Yannick Gingras, Nancy Takter)-3/1
2-Back Of The Neck (Scott Zeron, Ake Svanstedt)-4/1
3-Hollywood Story (Tim Tetrick, Marcus Melander)-15/1
4-Big Oil (Andy Miller, Julie Miller)-15/1
5-Ramona Hill (Andrew McCarthy, Tony Alagna)-5/2
6-Threefiftytwo (Scott Zeron, Luc Blais)-6/1
7-Capricornus (Tim Tetrick, Marcus Melander)-15/1
8-Rome Pays Off (Mattias Melander, Marcus Melander)-15/1
9-Sister Sledge (Brian Sears, Ron Burke)-12/1
10-Amigo Volo (Dexter Dunn, Richard "Nifty" Norman)-12/1
Hypnotic AM strolled to a 1:52.3 win in the $15,000 Three-Year-Old Filly Trot on the undercard, an event which served for many as a prep for the $600,000 Hambletonian Oaks.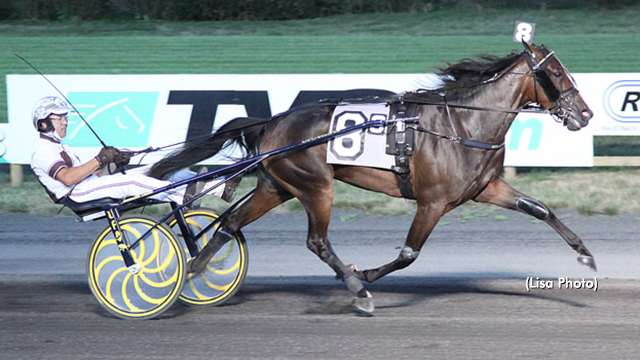 Solsbury Hill swept to the lead early but yielded for the pocket past a :27.1 opening quarter as Hypnotic AM rolled uncovered to the top. Up the backstretch May Baby angled first over from fourth, marching up to the even-money favourite's wheel passing a :54.2 half and remaining on guard at her neck by three-quarters in 1:22.1.
Into the stretch Hypnotic AM gained some separation. May Baby gave pursuit from between horses to hold second as Solsbury Hill battled at the pylons for third and Reba Blue Chip swung wide off the pegs to rally late for fourth. Hypnotic AM coasted to the finish in front by one-and-a-quarter lengths.
"I was just going to try to go forward if it looked like it was possible and take it from there," Sears said. "We've come back this year and tried to get her to relax a little bit," Sears said after the race. "At the end of last year she was getting a little warm with us, but Marcus [Melander] has done a great job keeping her calm and she's been doing everything we've asked so far."
A homebred Chapter Seven filly for Courant Inc., Hypnotic AM collected her third win from four starts this season and her 10th from 13 overall, earning $624,725. Brian Sears steered the Marcus Melander trainee who paid $4.00 to win.
Following the evening's ninth race, Meadowlands management conducted the draw for the $600,000 Hambletonian Oaks with the field (and drivers subject to change) appearing below:
PP-Name (Driver, Trainer)-ML
1-Crucial (Yannick Gingras, Ron Burke)-15/1
2-Next Level Stuff (Tim Tetrick, Jim Campbell)-9/2
3-Reba Blue Chip (Verlin Yoder, Verlin Yoder)-20/1
4-May Baby (James Yoder, James Yoder)-10/1
5-Tricky Sister (Corey Callahan, Andrew Harris)-20/1
6-Whose Blues (Daniel Dube, Luc Blais)-20/1
7-Sorella (Yannick Gingras, Nancy Takter)-7/2
8-Fortune Starlet (TBA, George Ducharme)-15/1
9-Solsbury Hill (Scott Zeron, Rick Zeron)-12/1
10-Absattitudexpress (Tim Tetrick, Lucas Wallin)-20/1
11-Panem (Dexter Dunn, Nancy Takter)-6/1
12-Hypnotic AM (Brian Sears, Marcus Melander)-5/2