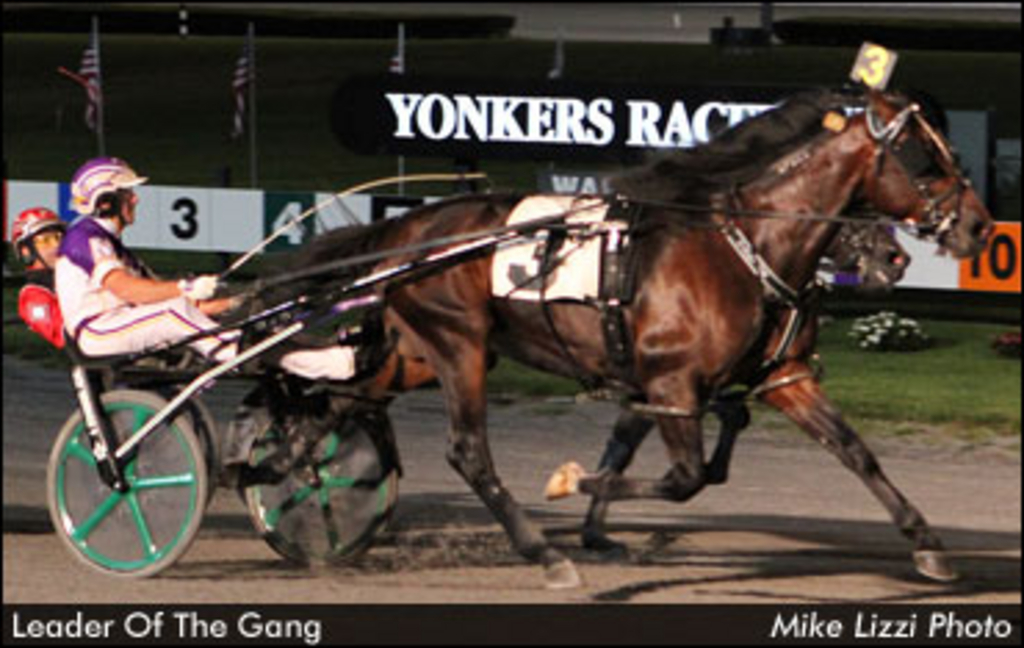 Published:
July 9, 2011 11:24 pm EDT
Leader Of The Gang went the distance Saturday night, winning Yonkers Raceway's 57th Yonkers Trot and giving trainer Jimmy Takter a third consecutive Trot
victory.
Leaving from post position No. 2 in the $445,474 first jewel of the Trotting Triple Crown, driver Dave Miller--who won this race a season ago with On The Tab--put the three-year-old son of 1998 Yonkers Trot winner Muscles Yankee in play early.
At the outside, Pegasus Blue Chip (Yannick Gingras) broke. Leader Of The Gang, meanwhile, stepped around pole-sitter Del Cielo (George Brennan) before the :28.4 opening quarter-mile. He then rated a :30.4 next interval (:59-second intermission), before the lone New York-bred, Evil Urges (Jimmy Whittemore), moved from fourth. Live Jazz (Jim Meittinis) gapped that one badly.
'Leader' remained the leader at the 1:28 three-quarters, while Celebrity Bombay (Brett Miller) and a wide Bambino Hall (Tim Tetrick) both danced the dance of the doomed. Leader of the Gang owned a length lead into the lane and held sway. He defeated a passing-lane-diving Del Cielo by a half-length in 1:57.2. Evil Urges was third, beaten a length-and-a-half, with Live Jazz and Bambino Hall grabbing the small change. Pegasus Blue Chip and Celebrity Bombay rounded out the order in the field of seven,
For Leader Of The Gang, co-owned by Christina Takter, Joyce McClelland, R A W Equine and Brixton Medical Ab, he returned $6.70 (second choice behind the Pegasus Blue Chip-Live Jazz entry) for his first win in five seasonal starts. The exacta paid $25, with the triple returning $73.50.
"When you draw that well, I didn't want to waste it," Miller said, "I really though he was as good as any horse in here, so if I could get the lead and control the race, it would work to my advantage
"Evil Urges took a good run at me and I know I had George [Brennan with Del Cielo] on my back, but my colt was solid."
"I always believed in this horse," said Takter, a Harness Hall of Fame nominee. "Even though he hadn't raced as well this season as he did at two [five wins, more than $356,000], I felt he was going in the right direction. I have to give all the credit to my daughter, Nancy. She's done a tremendous job taking care of him."
"She's a winner." Such was the assessment as driver Tim Tetrick after he drove the nearly-perfect Jezzy to the narrowest of victories Saturday night, winning Yonkers Raceway's $237,714 Hudson Filly Trot by a scant schnozz.
Leaving from post position No. 3 as the stronger half (with Iron Lady) of the 35-cents-on-the-dollar entry, the three-year-old New York-bred found the lead in a tepid :29-second opening quarter-mile. Angelette Hanover (George Brennan) tried the push the people's choice before relenting for the pocket, while Thatsnotmyname (Jimmy Takter) left and found herself parked and pressing.
Jezzy was able to steal a :29.2 second quarter (:58.2 half) and an identical :29.2 third quarter (1:27.4 three-quarters). However, those comfy fractions did not deter Lady Rainbow (Jeff Gregory), who launched a three-wide move right as Thatsnotmyname was ready to retire.
In fact, Lady Rainbow gained a short advantage between the three-quarters and the final turn, but Jezzy didn't come in 16-for-17 lifetime for nothing. She fought back and opened some daylight, only to see Lady Rainbow get her second wind. The two ladies had their own private match race, resulting in a true Kodak moment.
Jezzy's victory in 1:56.3--final quarter :28.4, quickest in the race--matched the miles of Vulcanize (2007) and Windsong Soprano ('09) as the fastest Hudsons held here. Angelette Hanover was third, beaten six and a half lengths, with Creme De Cocoa (Doug R. Ackerman) and the winner's entrymate, Iron Lady (Cat Manzi), rounding out the payees. Thatsnotmyname and a breaking Cabaret Princess (Ron Pierce) completed the seven sisters.
For Jezzy ($2.70), a daughter of Credit Winner co-owned by trainer Ray Schnittker along with Jeff Gural, Ted Gewertz and Jerry Silva, she is now seven-for-seven this season and a career 17-for-18 lifetime (earnings approaching.$600,000). The exacta paid $6.90, with the triple returning $16.40.
"The fractions played in our favour, but so did she see a lot of pressure," Tetrick said. "I'm not surprised the other filly race as well as she did, because she showed some very good last quarters in Canada, but Jezzy is tough. She earned it tonight."
(Yonkers Raceway)