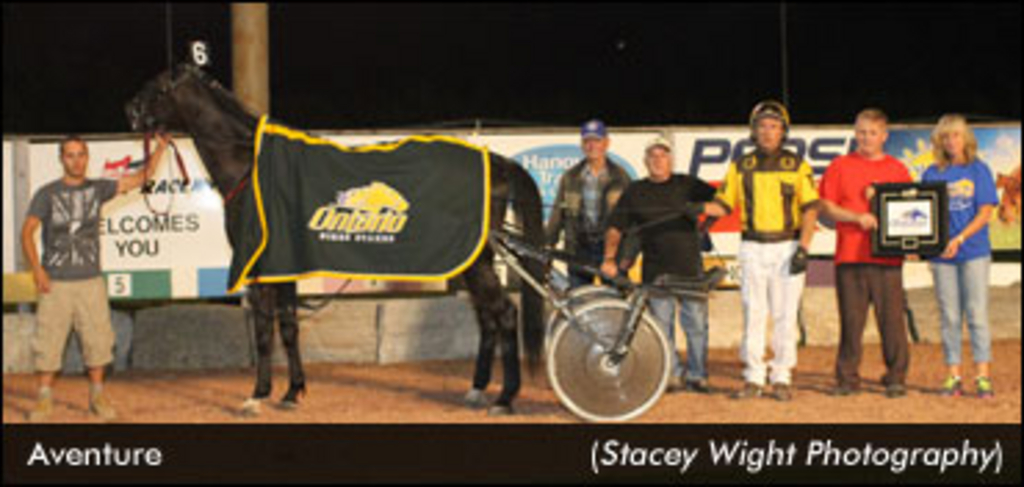 Published:
July 6, 2014 12:43 am EDT
Trevor Henry, a former Lampman Cup winner as the top driver in the Ontario Sires Stakes program, enjoyed a superb Saturday night at Hanover Raceway as he racked up victories in four of the six $18,000 Grassroots Series divisions for three-year-old colt and gelding trotters.
The first three races on the card were Grassroots events and Henry swept the early double to get his night started off on the right foot. He won the first dash with Passed Dat Point in 1:59.1 and then backed that up by bagging the second with Massacaia in 2:00.2.
Passed Dat Point is a gelded son of Federal Flex-Progressive Caviar (SJs Caviar) trained by Glenn Lalonde for owners Benoit Gendron of Beaconsfield and Roland Rocco of Lasalle, Que. Passed Dat Point now has four career victories and he has earned $30,612.
Richard Moreau trains Massacaia, a Muscle Mass-Ghirardelli Square (Like A Prayer) colt, for owner Gestion Jean Yves Blais of Montreal, Que. Massacaia is a three-time winner during his racing career and he now shows a bankroll of $88,561.
After a pair of fourth-place finishes in the third and fourth Grassroots tests, Henry was back to sweep the final two sections with Tyrone Haji in 2:01.1 and Aventure, who won in 1:58, the fastest of the six Grassroots tilts.
Tyrone Haji, a Kadabra-Showee (King Conch) gelding, hails from the barn of trainer Bob McIntosh, whose stabled out of Windsor, Ont. McIntosh also co-owns the winner with Tyrone Haji's breeder, Dave Boyle of Bowmanville, Ont. Tyrone Haji has a trio of victories from 14 career tries and he has now put away $73,854. Tyrone Haji is a half-brother to Tyrone Spitn Image and Tyrone Showgirl, who both won OSS Grassroots events during their careers.
Bill Budd handles the training of Aventure, a Muscle Mass-Linas Lottery (Credit Winner) gelding, for owner Orville Rursch of Taylor Ridge, Illinois. Aventure, who also won in the first rounds of Ontario Sires Stakes Grassroots Series action for this group on June 9 and 26 at Mohawk Racetrack, has seven career wins and he has earned $75,598.
The other two divisions went to Totally Ripped and Tothepointe James.
Totally Ripped (Muscle Mass-Fin De Maye-King Conch) broke his maiden in 1:59.4 for driver Steve Byron, trainer Jeff Byron, and owner Don Leschied of South Woodslee, Ont.
Tothepointe James (Deweycheatumnhowe-Garland Bonita-Garland Lobell) took his division in 2:02 and gave the Henry family another victory as he was driven by Trevor's brother Wayne. Wayne also trains Tothepointe James for the Henry Stable of Arthur, the Estate of Daniel J. McCann of Parkhill, and Jeff Thomson of Chesley, Ont., along with Arnold Feldman of Cote St-Luc, Que.
Saturday night represented Hanover's celebration of the 40th anniversary of the Ontario Sires Stakes with t-shirt giveaways, treats and snacks, and other events.
The next Ontario Sires Stakes Grassroots Series event for the three-year-old male trotters will occur on August 11 at Grand River Raceway.
To view Saturday's harness racing results, click on the following link: Saturday Results - Hanover Raceway.
(With files from OSS)