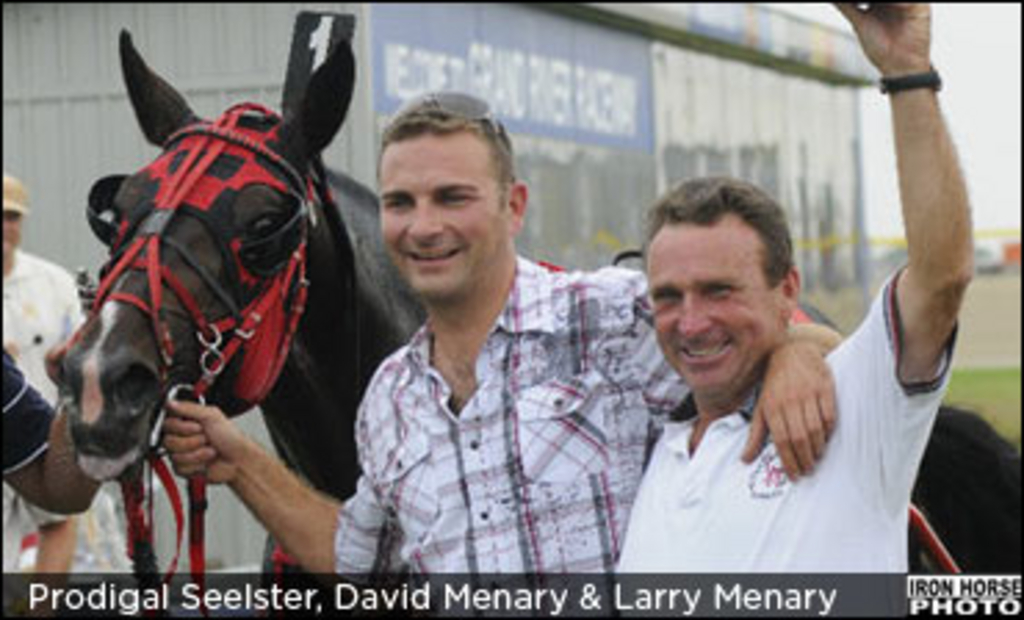 Published:
July 6, 2011 11:08 pm EDT
Ontario's top three-year-old trotters and pacers are prospecting for Gold at Georgian Downs on Saturday night, and trainer Dave Menary is hoping all three of his starters are as sharp, or sharper, than they were in
last weekend's Gold eliminations. Four Ontario Sires Stakes Gold finals and a pair of Masters Stakes will headline Saturday's annual Gold Rush night.
"We are pretty excited for Saturday night with the three of them," says Menary of pacing filly Modern Connection and pacing colts Prodigal Seelster and Watermelonwine. "I was pretty happy with the eliminations and I think they'll be just as good, or better, this week."
Last year's division champion Modern Connection scored her first sophomore victory in the elimination round, halting the Georgian Downs teletimer in a personal best 1:52. The Modern Art daughter arrived in Menary's barn in late June, and the Cheltenham resident says former conditioner Joe Seekman provided a significant amount of advice and support leading into last week's outing.
"They made the decision to send her up here because most of her races are in Ontario," Menary explains. "She seems like a really, really nice filly and we're very excited to have her in the barn."
Since last week's start, the horseman has tinkered with a few things and he is hoping the winner of $482,297 is poised for a return to the form that saw her go undefeated through five Ontario Sires Stakes starts last season.
"We're experimenting with a few changes. Hopefully it will go the right way instead of the wrong way," says the trainer, adding that an additional change will see Mark MacDonald return to the filly's race bike.
"Mark had so much luck with her last year, the owners wanted Mark to drive her, and he's back on her this week," notes Menary, adding that Jody Jamieson did an excellent job with the filly in the elimination round.
Back from a broken jaw suffered in an accident at Mohawk Racetrack on May 26, MacDonald will steer Modern Connection from Post 3 in Saturday's eighth race for Menary and owner-breeders Yousif S. Yousif of Chesterfield, Michigan and Ameer Najor of Detroit, Michigan.
The other pacing filly elimination winner, Village Janus, will start from Post 6.
The three-year-old pacing colts will wrap up the slate of Gold eliminations in the 10th race, and Prodigal Seelster and Watermelonwine will be looking to turn their advantageous post positions into sizeable shares of the $130,000 purse. Prodigal Seelster will start from Post 1 and Watermelonwine gets Post 2.
"It's not just getting into the final, it's knowing you drew well for the final," says Menary. "It gives some relief through the week."
The horseman was pleased with how both colts raced in their elimination, but says Watermelonwine seems to have an edge over the Georgian Downs oval. When he paced under the wire in 1:49.2 last week, the Life Sign son broke the sophomore pacing colt track record he set in an elimination of the Upper Canada Cup on May 28 and logged a new Ontario Sires Stakes record.
"Watermelonwine is just a little better right now, and he loves Georgian," says Menary, who conditions the winner of $235,340 for Brad Gray of Dundas.
Prodigal Seelster finished in a dead-heat for second in the other elimination, crossing the line in tandem with Some Mach Some Win one and three-quarter lengths behind winner Mystician. It was the Camluck son's first start since June 4 and Menary expects the colt to be a little tighter this week.
"Watermelonwine had a start before the elimination, while 'Prodigal' had been off almost a month. He didn't have quite as much work into him," explains the trainer. "I was pretty happy with the way they both raced.
"We're looking to have a real good year with both colts," he adds.
The horseman's father, Larry Menary of Cheltenham, along with Denis Breton of Welland, Kenneth Ewen of Georgetown and Double Or Nothing Stables of Hamilton, Ont. share ownership on $544,355 winner Prodigal Seelster, whose last victory came in his Upper Canada Cup elimination.
Gold elimination and Upper Canada Cup winner Mystician will vie for the first Gold final title of the season from Post 6 in the 10th race.
The other two Gold finals — for the three-year-old trotting fillies and trotting colts — will roll onto the Georgian Downs oval in Races 2 and 9. Also on offer are two Masters Stakes and Menary will start former Grassroots champion Putnam Mackenzie in the aged pacing mare division in Race 5.
"She has to be seventh pick in that field," admits Menary. "If she can have a little bit of luck, I'd be pretty happy to get a cheque."
Putnam Mackenzie's competition includes several battle hardened veterans of the aged pacing mare ranks and a couple of stars from last season's Gold Series program. The aged pacing horse race, slated for the 11th, also includes a balance of veterans and OSS-tested newcomers.
In addition to the outstanding racing, Georgian Downs fans will be treated to the eagerly anticipated line-up of Gold Rush themed trackside activities, including western music and entertainment, contests, free celebrity horse photos, colouring books, horse and buggy rides and the annual "Golden Bucket" contest in which one fan could win up to $100,000.
New for the fourth edition of Gold Rush night are the dazzling Canadian Cowgirls, a rodeo-style precision drill team.
Fans can also get in on the first draw of the Ontario Sires Stakes program's Win The Thrill contest. By filling out a Win The Thrill ballot on Saturday, fans could earn a Georgian Downs betting voucher and a shot at the Grand Prize Draw, which takes place Grassroots Championship night at Mohawk Racetrack on Oct. 1. The Grand Prize winner will receive a share in the Standardbred Breeders of Ontario Association (SBOA) New Owner Mentoring program. Win The Thrill runs all summer long, and Georgian Downs fans will have seven more opportunities to play — July 12 and 30, August 9 and 13, and September 6, 13 and 17. Ballots and complete details about the exciting Win The Thrill promotion are available in the official Georgian Downs program.
All of the Gold Rush excitement — both on and off the racetrack — begins at 7:25 p.m.
For recaps and replays of last Saturday's eliminations, click here.
To view Saturday's entries, click on the following link: Saturday Entries - Georgian Downs.