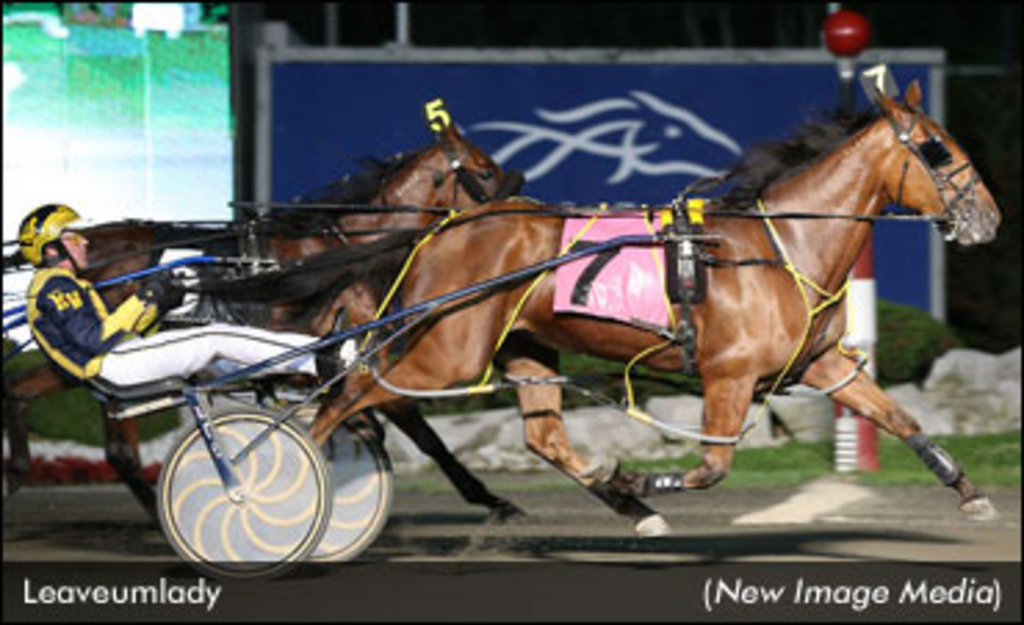 Published:
July 5, 2013 10:50 pm EDT

The opening round of the Town Pro Pacing Series began on Friday evening at Mohawk Racetrack featuring a pair of $20,000 divisions for sophomore pacing fillies.
Both Seaside Rory and Leaveumlady found the winner's circle as favourites for their respective connections.
In the first split, Jody Jamieson and Seaside Rory got under the wire first in 1:52.3.
Rachel Welch (Mike Saftic) was the first leader as she cruised past the opening station in :27. I Got To Boogie (Doug McNair) was in the pocket with Seaside Rory sitting in third. Rachel Welch continued to set the pace past the half in :56.2 and three-quarters in 1:25. River Rising (Rick Zeron) began the first-over journey, giving cover to Regil Elektra (Paul MacDonell).
Down the stretch, Rachel Welch was still in command, but third over Request For Parole (Randy Waples) and I Got To Boogie were all within striking distance. Jamieson was able to angle his charge off the pylons and stick-handle his way to victory with Seaside Rory as the pacing miss got up in the final strides. Request For Parole finished second, ahead of I Got To Boogie.
Trained and co-owned by Jeff Gillis along with Ellen Ott, Mac Nichol and M And L Of Delaware, Seaside Rory celebrated her fourth career victory as her earnings climbed to $46,100. The daughter of Mach Three now has a seasonal record of 4-0-0 from six starts. She paid $2.50 to win.
In the other division, Randy Waples guided Leaveumlady to victory in 1:52.1, a new lifetime-best.
The daughter of Mach Three settled away in fifth in the early going as Graphene (Doug McNair) was the first leader past the opening quarter in :26.4. Heading towards the half, Douknowwhereurgoin (Sylvain Filion) angled out from third and took over command before the :55.3 mid-way point.
Leaveumlady began the first-over attack around the final turn and was matching strides with the tempo-setter past three-quarters in 1:23.4. Down the stretch, the pair of pacing fillies were inseparable until deep stretch where Leaveumlady wore down Douknowwhereurgoin in the final strides. Somewhereinheaven (Jack Moiseyev) finished third.
Trained by Bruce Goit and owned by Pat Ryan, Leaveumlady celebrated her fourth career victory as her bankroll increased to $60,000. The bay miss has a record of 3-1-1 from seven starts this season. She paid $4 to win.
The Town Pro Pacing Series is for three-year-old pacing fillies that are non-winners of $30,000 lifetime as of March 31, 2012.
The series continues on July 15 with the $40,000 (estimated) final on July 25.
To view Friday's harness racing results, click on the following link: Friday Results - Mohawk Racetrack.
(With files from WEG)