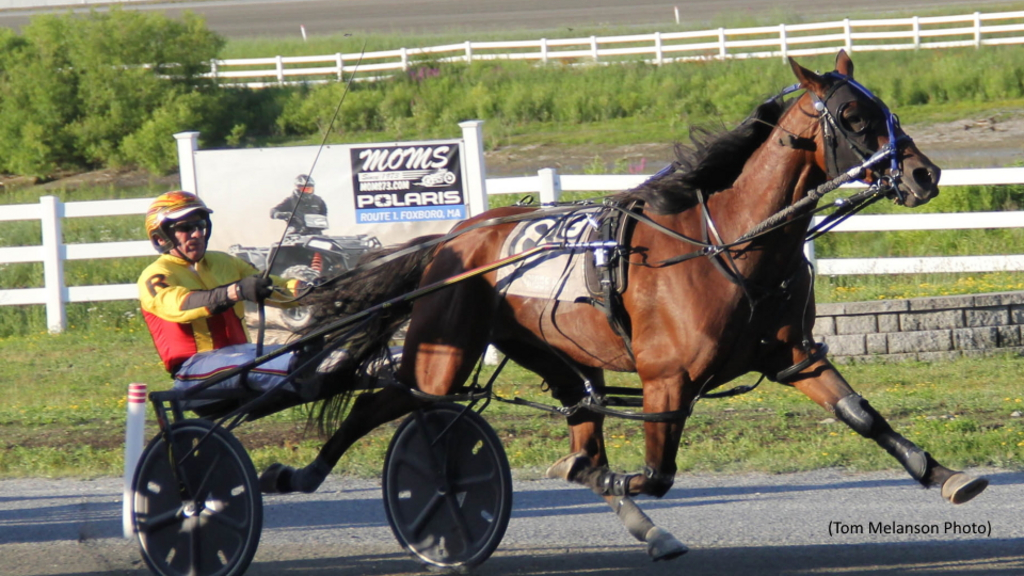 Published:
July 4, 2022 08:16 pm EDT
After almost a four-week sabbatical from action in Massachusetts, Patrikthepiranha A returned victorious despite being assigned post eight in the $20,000 Open Handicap pacing feature at Plainridge Park on Monday afternoon.
Driver Bruce Ranger left for position with Patrikthepiranha A and dropped in fourth while Bettor Memories (Matty Athearn) battled Rock Diamonds N (Ron Cushing) and Skyway Victor (Drew Campbell) to become commander of fractions. After clearing, Bettor Memories got to the half in :55 while Patrikthepiranha A was already rolling up the outside.
Bettor Memories and Patrikthepiranha A hooked up on the backside and paced stride for stride into and around the far turn. At the top of the stretch Patrikthepiranha A cleared but was not home yet. Skyway Victor was under a drive and Rock Diamonds N was loose as well. Although both gained ground to the line, Patrikthepiranha A hung tough to win by one length in 1:51.1. 
It was the fifth win of the year – four of which were came at Plainridge – for Patrikthepiranha A ($5.20) and his ownership group Thestable Patrikthepiranha. Melissa Beckwith trains the winner. 
In the $15,000 upper-level condition pace, Sailor Jerry (Nick Graffam) settled on the lead past the :26.3 quarter before he got a breather to the half in :56.1, despite Quick Shot (Matty Athearn) pulling out for a run. Holding his length advantage to the top of the stretch, Sailor Jerry then fought back late challenges from Twin B Jays (Shawn Thayer) and Bag Pipe Major (Bruce Ranger) to win by three-quarters of a length in a season's best tying time of 1:52.1. 
It was two in a row for Sailor Jerry ($10.40) who is owned by his trainer Mike Graffam along with Chris Hamilton.
There were also two $15,000 divisions of condition races for six-year-old and under pacers on the card in support of the top events.
The first was won by Lancaster Bomber (Drew Monti) who drafted behind Perfectboy Hanover(Jay Randall) through fractions of :27.3, :55.2 and 1:22.3 before tipping out at the top of the lane and darting past the fading leader. From there he dug in down the stretch to hold off a late charging Anvil Hands (Jim Hardy) and win by 1-1/4 lengths in a season's best 1:52.1. 
It was the second win in a row for Lancaster Bomber ($13.80) and owner Aaron Waxman. Jimmy Nickerson trains the winner. 
Later Datguyna Greensuit (Jay Randall) tracked from third while Momentsthatmatter (Nick Graffam) led the field. But before they hit the half he was out and rolling on a slow grind. Datguyna Greensuit took the lead past three-quarters and paced home the best by three-quarters of a length to take a new lifetime mark of 1:52.3. 
It was the fifth win of the year, but first for current owners Jeffrey Epstein and Steven Gondelnam. 
Live racing resumes at Plainridge Park on Tuesday afternoon (July 5) with post time at 4 p.m.
Coming this Thursday (July 7), Plainridge Park will welcome author Amber Sawyer to the track when she will be signing copies of her latest book, "Love To Race." It's a children's book telling a story through the eyes of retired Standardbred race horse Derek Bromac N.
Sawyer has a long career in harness racing and her love of horses, being a freelance writer and a mother was the perfect combination that led to this publication that exposes children to harness racing in a wonderful manner.
The Standardbred Owners of Massachusetts will sponsor the distribution of free signed books to the first 20 kids — age 12 and under — who attend the live races at Plainridge that day and come down to meet the author. Each child must be accompanied by an adult in order to request a free book.
The book signing will start at 3:30 p.m. in front of the grandstand near the winner's circle. Copies of the books are $15 each.
(Standardbred Owners of Massachusetts)