Published:
July 4, 2021 12:13 am EDT
On a beautiful Saturday night (July 3) at Hawthorne Race Course, driver Casey Leonard earned his 3,000th driving victory of his career.
Aged 43-year-old and the current District 5 USTA Director, Leonard reached the milestone when he won Race 2 with Cracklin Rosie for owners Terry Leonard, Peter Kouchis and George Dremonas and trainer Terry Leonard.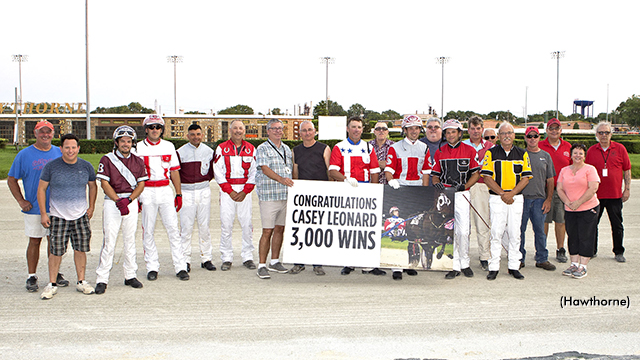 Leonard's driving career began in 1996, winning two races from 33 drives on that year. It wasn't until 2009 when Leonard began driving full time. Leonard won no less than 149 races in any year during an 11-year span from 2010 – 2020. Leonard's top season came in 2013 when he won 407 races on the year from 2,517 drives for $2,846,373 in earnings. During his driving career, Leonard's drives have earned over $19 million.
During the current Hawthorne summer harness meeting, Leonard is the leading driver, holding a 10-win margin in the standings.
(Hawthorne)