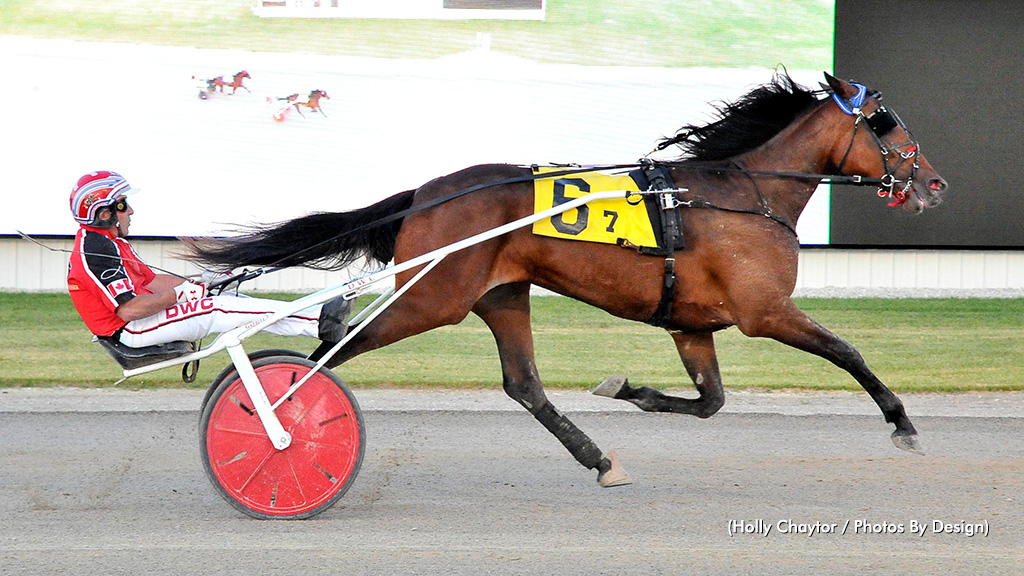 Published:
July 3, 2022 12:14 am EDT
The Ontario Sires Stakes Grassroots season for two-year-old trotting fillies kicked off Saturday afternoon (July 2) at Hiawatha Horse Park with a pair of divisions.
In the second $21,800 division, Daniel Clements completed a driving hat trick when he piloted Angeliki to victory.
The daughter of Muscle Up The Goal was first at the quarter when odds-on favourite Priceless Resolve was sent to the lead by Matt Bax. Clements dropped back to fourth position before urging the filly into the lead as they exited the final turn and driving down the lane to win by two lengths.
"It was her first lifetime start so I wasn't sure what to expect out of her," said Clements. "I let her play it off the gate, and we shuffled into third. When there was a little confusion on the last turn, she kicked in really nice and finished well."
Angeliki gave trainer Jason Libby his first OSS score since a Gold victory in 2013.
"Jason is doing a great job up here in Sarnia," said Clements. "I have schooled a few two-year-olds for him, and I am kind of excited to see what he has."
John Bax trains second-place finisher Priceless Resolve, who is co-owned by Bax Stables, and Glengate Farms. St Lads Tricky rounded out the podium with Sylvain Lacaille driving for trainer Dolores Basilone. It was the first start for the St Lads Farm homebred.
In the first $22,200 division, Kenogami Courage held off a late-charging The Ballykeel Deal to win in her first start.
The daughter of Lookslikeachpndale was moved to the lead by Stephane Brosseau along the straight and led as the field moved to the half in :59.4. Along the backstretch, The Ballykeel Deal moved from sixth to second in the third panel and challenged by closing in :30.2.
Kenogami Courage's victory was the first OSS win of the season for trainer Jean Tournigy, who had two runner-up results with his first two starters. Jean-Francois Reid, Marie-Claude Reid, Stephane Brosseau, and Maurice Houle, Contrecoeur co-own the filly.
Dealin Fashion finished third for trainer Eric Nadeau with Marie-Claude Auger driving. Ecuries Maguire Inc, and Jean-Francois Maguire co-own the filly.
To view Saturday's harness racing results, click the following link: Saturday Results - Hiawatha Horse Park.
(Ontario Sires Stakes)