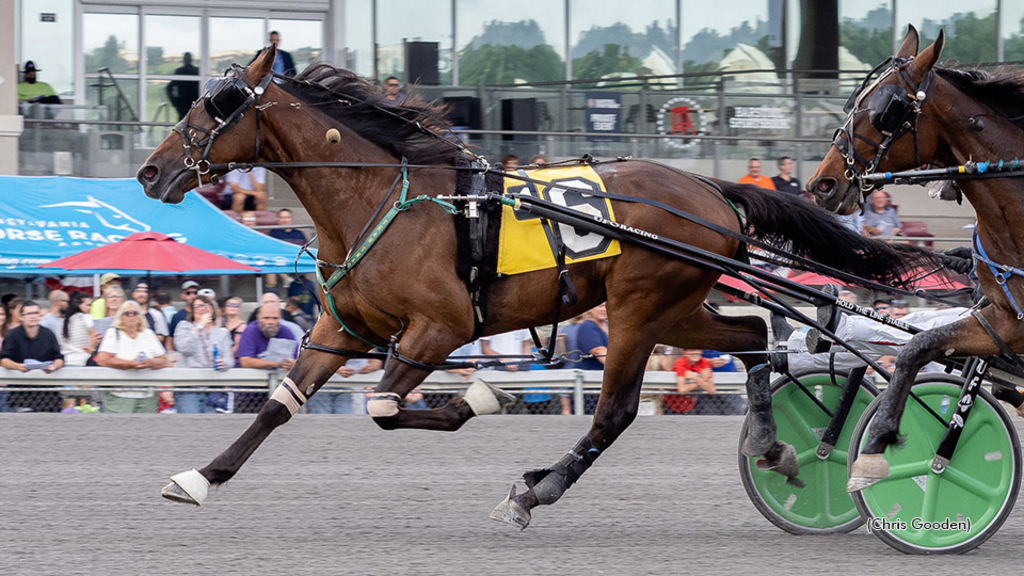 Published:
July 29, 2022 11:31 pm EDT
Austral Hanover, whose connections feared that he would never make it as a racehorse, took another step forward in his development Friday when he captured a division of a $40,000 Arden Downs Grand Circuit stakes at Hollywood Casino at The Meadows. Open Bar took the other split in the event, known as the Robert J. Key, for two-year-old colt and gelding trotters.
Austral Hanover is campaigned by one of the fractional ownership groups of Anthony MacDonald, who also pilots the International Moni-Aspidistra Hanover gelding. MacDonald minces no words in his review of the horse's training performance.
"Our expectations when we got this guy to race were very, very low," MacDonald said. "It seemed like he couldn't do anything right. It was the weirdest thing; when he got behind the gate for the first time, he looked like a racehorse. From that very moment he first saw the starting gate, he just decided he would do a good job. He's the epitome of a hard worker."
In the Robert J. Key, Austral Hanover zipped to the lead from post six, scoring in 1:57.2 to match his career best for trainer Tim Twaddle. Big Baller Beane was second, three-quarters of a length back, with Southwind Distilld third.
In his four career starts, Open Bar has sampled a variety of race types — a PA Fairs stakes, a PA Sire Stakes, a PA Stallion Series event and now a Grand Circuit stakes. Where does winning driver Brady Brown think he'll eventually land?
"He's a little green still, but he's learning," Brown said. "But I think he's a Sires Stakes colt. When he puts two and two together, he'll be a nice horse."
Brown found the pocket with the Bar Hopping-Lady Sierra Gold gelding, then blew by the leader, Spitfire Oversees, to down him by 1-1/2 lengths in 1:57.4 for his maiden-breaking score. Tailgate Buzz completed the ticket.
Steve Schoeffel trains the winner for Virginia Schoeffel, Kathy Schoeffel, Marian Schilling and Dan Goehle. The late Robert J. Key, for whom the stakes is named, bred Open Bar.
Uno Mas Blue Chip and Sweet On Her took the two-year-old filly trot divisions of this Grand Circuit stakes known as the Edward M. Ryan, the co-feature on Adios Eve.
A three-race maiden entering the stakes, Uno Mas Blue Chip was confident and professional when Mike Wilder sent her first-up from fourth.
"The trainer told me to be careful from the gate, get her out of there on the right foot and she'll do the rest," Wilder said. "I thought that if she stayed on her feet at the three-quarters, she wouldn't lose. She just felt that good."
The daughter of International Moni-Make It Blue Chip cruised past the leader, Goo For Broke, and defeated Fortune Forecast by 2-1/2 lengths in 1:57.3 for her maiden-breaking voyage. Goo For Broke saved show. Clifton Green trains the winner for Ashley Burslem and Steven Mullen.
Sweet On Her had a pair of seconds on her card but no victories. She took care of that when she moved second-over for trainer/driver Wilbur Yoder and drew off to prevail by four lengths in 1:58.1. Im Amused and Cando Volo finished second and third, respectively.
"All winter long I thought she was one of my better ones, then she had growing pains," Yoder said. "Now she's putting it all together. Hopefully we have her on the right track."
Bob Troyer owns Sweet On Her.
Dave Palone collected five wins on the 12-race card.
Saturday's $350,000 final of the Delvin Miller Adios Pace for the Orchids anchors a power-packed card that features six Grand Circuit stakes. It goes as Race 15 on the 16-race card, with a projected off time of approximately 5 p.m. For the Adios Day program, the Meadows has added a pair of special wagers with mandatory payouts — a Jackpot Pick 5 (Race 11) and a Super Hi-5 on the Adios. Because both are "must pay," all holders of correct tickets will share in the jackpots.
(With files from MSOA)