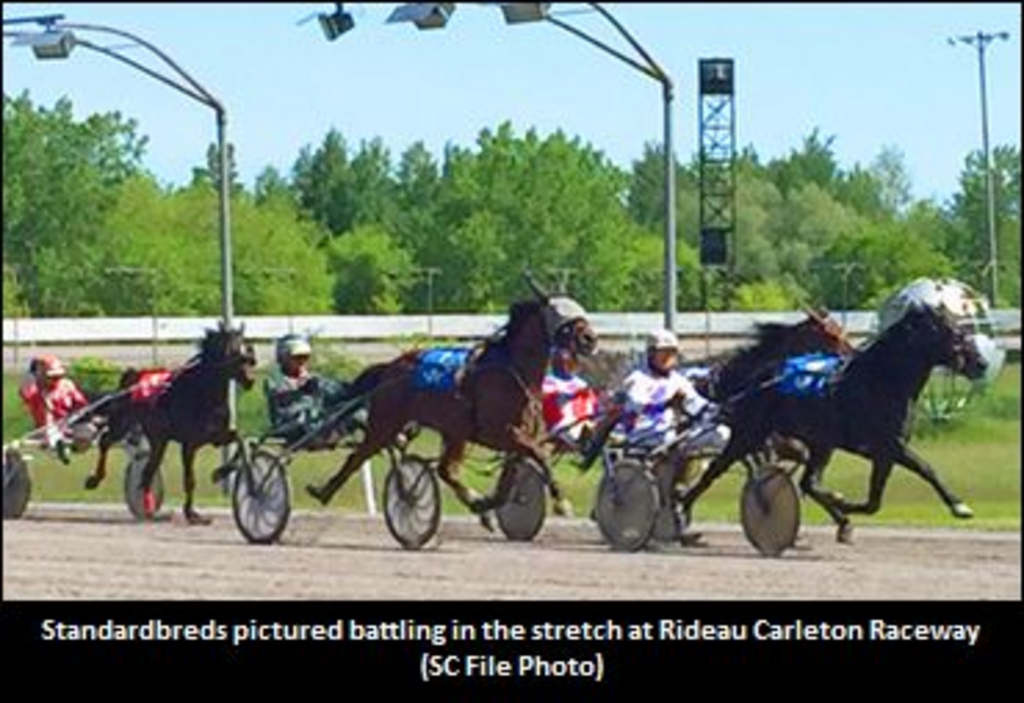 Published:
July 27, 2020 12:00 am EDT

On a night filled with provincial-bred stakes events Sunday (July 26), P L Notsonice stole the show at Rideau Carleton Raceway with a mile that toppled a decades-old Canadian record among many others.
Three Gold Series divisions, five Grassroots divisions and one Prospect Series division went postward at the Ottawa oval and in the first $71,467 Gold Series split P L Notsonice roared to a track, Ontario Sires Stakes and Canadian record 1:52.4 victory.
In rein to regular Canadian pilot Jonathan Drury, P L Notsonice left from post 5 and had command of the tempo before the :28.4 quarter. Susies Lady was quickly out to challenge P L Notsonice and the two fillies dueled to a :56.4 half before Susies Lady conceded defeat. Favourite P L Notsonice maintained the sharp pace through three-quarters in 1:24.3 and then drew away to a four-and-one-quarter length victory over pocket-sitter Trina and Shape Shifter.
The mile stripped almost three seconds off the former three-year-old trotting filly track record of 1:55.3 set in 2004 by the great Peaceful Way and matched in 2015 by Amoureuse Hanover, and also bettered the 1:53 all-age track record for trotters set by Majestic Son in 2007. It also lowered the 1:54.2 Ontario Sires Stakes and Canadian record for three-year-old trotting fillies on a five-eighths mile track set by Cross Of Lorraine at Georgian Downs in 2010 and matched by Miss Paris in 2012.
"It was very exciting. Ronnie [Morales] was so excited he didn't answer his phone. And he didn't watch the race he was so nervous, he watched the replay," said Norm Clements, whose Prince Lee Acres bred the filly and shares ownership on her with Renaldo "Ronnie" Morales III. "We've only got a small stable, we've been cutting way back, but this is special because it's a homebred and it's all my guys that have looked after it. It's sort of a family thing, which is really neat. So it's very exciting, we're very blessed that this has all happened."
The win was the Kadabra filly's first in Ontario Sires Stakes action and her third of the 2020 season, with her other two victories coming at Tioga Downs, where driver-trainer Morales and trainer Joseph Skowyra are based. For each of her Gold Series starts—she finished second in the July 2 season opener at Woodbine Mohawk Park—she has shipped north to race without her regular driver and trainer and then shipped back to Tioga Downs.
"We ship her from Tioga so it's not without its challenges," Clements said. "But right now she's as good as anybody I guess. I'm excited to watch the next Golds. It's exciting because so many people have been involved with it and we're all, everybody is excited. I've had more phone calls on this than I've had in a long time."
In the second $71,467 Gold division, Warrawee Vicky returned to the track where she learned her early lessons and snuck up the inside to claim a neck victory in 1:56. Magic Cape finished second and pacesetter and favourite GP Dreamin settled for third.
"I don't worry about time, she beat the best filly out there and I'm glad we got through along the rail. A win's a win and we're going to take it," said Scott McEneny, who trains Warrawee Vicky for Brad Grant. "She's getting better with the open bridle on, she's getting more relaxed. Sometimes she gets too relaxed, but I was happy with her."
Driver Doug McNair engineered Warrawee Vicky's second Gold Series win of the season, putting the Royalty For Life daughter at the top of the division standings with a perfect 100 points.
The final $72,266 Gold split saw Massive Flirt return to the provincial winner's circle just over one year since her first appearance. The Muscle Mass daughter, whose freshman campaign was cut short due to injury, controlled the pace from start to finish and held on in the stretch for a neck victory in a personal best 1:55.4. Talahassee Seelster finished second and She Rocks Kemp was third.
"It was significantly slower than the other division, the PL horse that won the first division looked bionic, but yeah, we're certainly happy to get that one," said trainer Jeff Gillis. "She's honest. She doesn't want to give up the lead, she doesn't want to make a break, she does whatever she can."
Gillis bred and owns Massive Flirt with Mac Nichol. The filly and regular reinsman Jody Jamieson were fourth in the Gold Series season opener.
Rideau Carleton Raceway regular Tyler Jones recorded his first Ontario Sires Stakes win in his provincial program debut, steering Archangel daughter Peppas Angel to a 2:00.1 score in the second $22,800 Grassroots division for his father, trainer Dustin Jones, Hebert Horses Inc. of Montreal and Andrea Lea Racing Stables Inc. Validation finished second and Rockadero was third.
"When I saw the rail horse made a break, I said, 'Well I might as well take a shot and go to the front', and it worked out," said Jones. "I wasn't a big favourite, so I kind of expected somebody to re-move and nobody did, and when somebody came up first-over I just drove on and she responded. Then she came back with a nice last quarter to win.
"Me and my dad were pretty happy to win together, that was pretty cool," added the Sherbrooke, QC resident. "I hadn't seen my dad in four months and his birthday is the 31st of July, so it's kind of a nice little get together to have a race and have a win together."
The other Grassroots divisions went to Th Present (Royalty For Life) and Bob McClure, who stopped the clock in 1:57.2 for trainer Marcel Barrieau and Gestion Mastel Inc.; Pier Ho Kado (Kadabra) and Sylvain Filion, who were 1:57.4 winners for trainer Ben Baillargeon and owners Tom and Elizabeth Rankin; Profound Paragon (Muscle Mass) and Jean Bernard Renaud, who got their second Grassroots win of the season with a 1:57.2 effort for trainer Julie Walker and Steven Titus; and HP Starlette (Muscle Mass) and Sylvain Filion, who posted a 1:56.4 win for trainer Daniel Martin and owners Claude Hamel and Guy Desautels.
The $7,500 Prospect Series division was captured by local reinsman Guy Gagnon and Keep Ya Head Up. The Archangel daughter sailed to a 1:57.3 victory for trainer Susanne Kerwood and Rene Dion, David Nicol and Princeton Farms Inc.
Ontario Sires Stakes action returns to Rideau Carleton Raceway on Sunday, Aug. 16 with Gold, Grassroots and Prospect Series divisions for the three-year-old pacing colts.
(Ontario Sires Stakes)
To view Sunday's harness racing results, click on the following link: Sunday Results - Rideau Carleton Raceway.