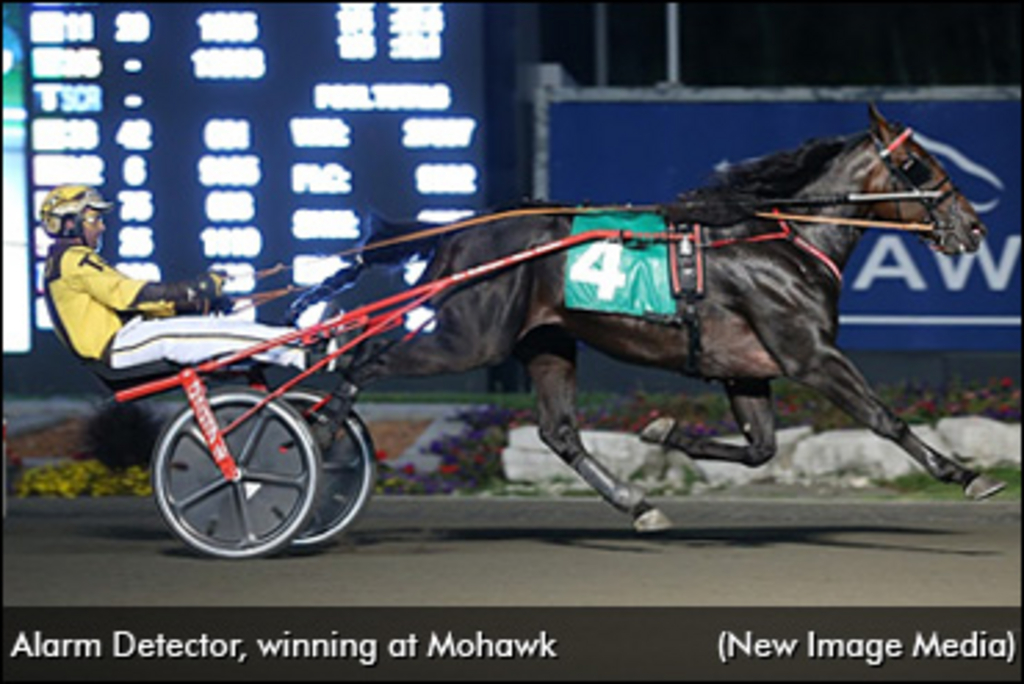 Published:
July 27, 2018 10:02 am EDT

Last season's O'Brien Award winner for two-year-old trotting colts, Alarm Detector made his final on-track appearance before the biggest test of his career in eight days time: the 2018 Hambletonian.
Alarm Detector was entered in a qualifier on Friday (July 27) at Woodbine Mohawk Park along with six other sophomore trotters. With regular pilot Trevor Henry at the controls, Alarm Detector sprinted away from the field as the wings of the starting gate folded. Up by more than seven lengths at the :29.3 first station, Alarm Detector confidently reached the half in :58.1 before turning on the jets in a :26.4 third panel to trip three-quarters in 1:25. Turning for home, Alarm Detector opened up his lead with every stride. A 23-length lead stretched to 26 by the wire in a 1:54 mile.
Ben Baillargeon trains Alarm Detector (Chapter Seven - Final Countdown) for owners Tom & Elizabeth Rankin of St. Catharines, Ont., Claude Hamel, Ayer's Cliff, Que and Santo Vena of Brampton, Ont. Alarm Detector's most recent start was a third-place finish to Six Pack in a Stanley Dancer Memorial division on July 14 at The Meadowlands that established a new world record for trotting colts. Alarm Detector trotted his mile in a sizzling 1:50.4. In his 11 lifetime starts, he boasts a 7-1-2 summary.
For the results from Friday morning's qualifying session at Mohawk, click the following link: Friday Results - Woodbine Mohawk Park.