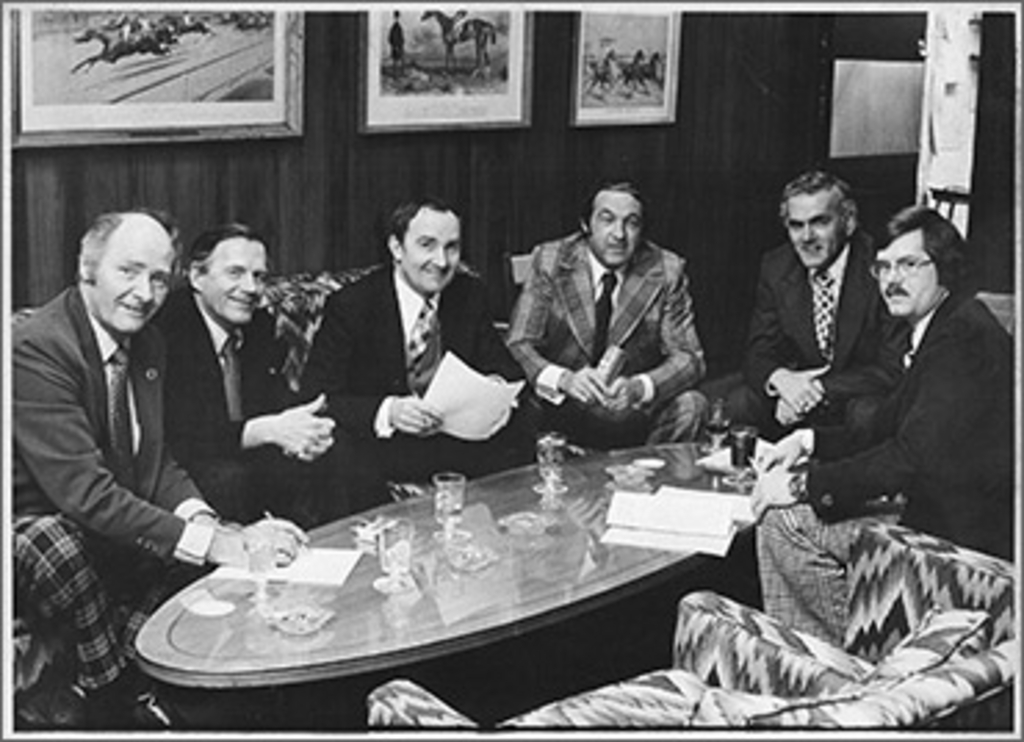 Published:
July 26, 2014 08:57 am EDT
In this week's Rewind Robert Smith reflects on the long and interesting career of soon-to-be Hall of Famer Bill Galvin.
The multi-talented Galvin, who hails from the Ottawa Valley, has seen and done a lot as well as reporting on it, in both the Standardbred and Thoroughbred versions of the sport.
Back about 70 odd years ago, a then young John Findley (not yet Dr. John) was driving a horse-drawn wood sleigh along the main street of Arnprior in Eastern Ontario. A couple of young boys who were delivering magazines along the way noticed him and one asked if he could hop on the wagon and go for a ride.
That young lad was William "Bill" Galvin. The short ride and a cursory introduction followed and ended at the Findley farm on the outskirts of town. Once at the farm the young fellow soon engaged in conversation with John Findley, Sr. They discussed the weather, family,undoubtedly a few other things and eventually horses. His older siblings Ewart and Mary were known to John Jr. as they had attended school together. A bond soon developed between the senior Findley and the Galvin youngster.
This day and its events would eventually define and shape the life of Bill Galvin. Now in his 80's, he has spent a lifetime doing what he loves and loving what he does. Truly a self-made man he has combined a special blend of talents and interests that have not only made his life interesting but above all benefited both standardbred and thoroughbred racing as a whole. He can be called a writer, a poet, an author, a journalist, a horseman, an educator and a number of other terms and even then you may have left some out. Above all he has been a humanitarian.
Bill was a "Town" boy whose family were engaged in the clothing trade. Despite having relatives on his mother's side who were farm folk, he was not inclined toward agriculture and animal care. In a very short time that would change. With farm help scarce due to the war effort, Bill soon began to visit the Findley farm often and despite his young years and at first a lack of farming knowledge, he soon began to fit in. In a short time he was doing the work of a man. Often included in his daily farm chores was the care, and perhaps even the jogging, of a horse. Short trips across the Quebec border with the Findleys to little spots like Quyon for a day of racing quite suited his fancy.
As time went by, armed with his early training in working with horses Bill "set sail" farther afield. His travels carried him to a number of tracks that were popular spots in those days like Dufferin Park and Thorncliffe in Toronto. One of his earlier jobs was grooming for the noted trainer Floyd Milton, a man for whom he had great admiration. When the Milton stable moved to Maywood Park in Chicago, Bill was aboard making him an International traveller.
The years that followed saw Bill work for a number of well-known Canadian and U.S. horsemen grooming and training horses. His travels took him far and wide and to virtually wherever horses were raced. At one point he headed to California and in a classic traveller's tale, he landed a job just as his money ran out. Always in his mind and on his agenda, was furthering his education. Attending institutions of higher learning both at home and in the U.S., he added to and honed his skills. This combined with a natural talent for promoting and organizing, prepared him for the road ahead.
By the decade of the 1960's the sport of harness racing was on the rise. Bill landed a job with the Ontario Jockey Club and soon showed that his "apprenticeship" would serve both he and the sport well. He organized special events, arranged for pictures whenever the occasion demanded and also did a lot of promoting of goodwill. His duties also included a lot of behind-the-scenes work that lasted well into the night after the races were over as he reported results to multiple newspapers and other news outlets. There was NO Internet in those days; no just pushing a magic button like today.
Bill's demeanour would serve him well among those with whom he worked. He not only reported and wrote about people in the sport, he cared about them. He often knew what hardships people were enduring and knew first hand that it was a tough business and not always kind to everyone, especially those who endured bad luck. He had a special knack of knowing when and how to approach people and what to write about them. Veteran horseman Nelson White, who also knew Bill as a neighbour, told me recently "Bill never forced himself on anybody."
I think that Bill is modestly proud of the many things he has been involved with over the years, but also has a couple of favourites. His tireless efforts for the support of MS is one; another is his Chaplaincy work. He also derives much pleasure from the work he did in organizing ice racing on the Rideau Canal in 1978. It was a tremendous undertaking in a very unconventional setting. Through his skillful planning and the tremendous team he had in place, it was a huge success. Crowds in excess of 35,000 gathered in what at times was extreme cold, as low as -35 F. His project was well received and even caught the eye of then Prime Minister Pierre Trudeau, who attended the races accompanied by his young son Michel.
During his watch, Bill witnessed an unprecedented growth in all aspects and areas of the sport. Attendance figures soared, wagering rose year after year and the popularity of harness racing took it to new heights. It was an era when attending the races and being an avid fan was a popular pastime. His memories of those days and his involvement will remain a source of joy to him forever.
Bill was a worker but he also took time out to enjoy other pursuits. For a time he had a small hobby farm and one of his projects there was a retired Standardbred pacer named Ottawa. This well-bred horse sired by Philip Frost was a full brother to Opeongo and while his racing career was not world class, he provided Bill with countless hours of enjoyment. They worked together on his acreage and also drove about the countryside, visiting and taking in the scenery in the picturesque area north of Mohawk.
I personally owe a special debt of gratitude to Mr. Galvin, a man who has earned my utmost admiration. I have appreciated his guidance and encouragement and also his vast collection of pictures, articles and special pieces he has shared with me. He has also donated volumes of files, notes and other material for future generations and the preservation of history. His words have never been textbook, they have always been from the heart.
Very shortly on Wednesday August 6th, an extremely special day will occur when this year's class will be inducted into the Canadian Horse Racing Hall Of Fame. Included in that deserving group will be a rather shyish boy who has dedicated his entire lifetime to promoting two sports he has loved so dearly. He has written about countless stars and often lesser lights, but always as he saw them. Early in life he saw the value of hard work, integrity, honesty and just an old fashioned philosophy of maximum effort as the pillars of success. Unfortunately Bill's wife Anny passed away last August so will miss this special time.
Now in an unusual turn of events Bill will be honoured and even written about; he is finally where he so richly deserves to be. Thanks to you Sir for a job well done, and thankfully one that is still ongoing.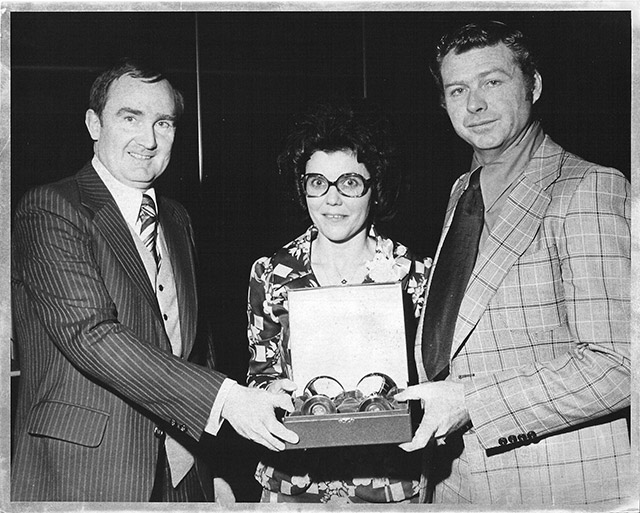 Bill Galvin left presents an award to Wm. and Jean Wellwood on behalf of The Ontario Jockey Club in this circa 1970 photo, a personal favourite of mine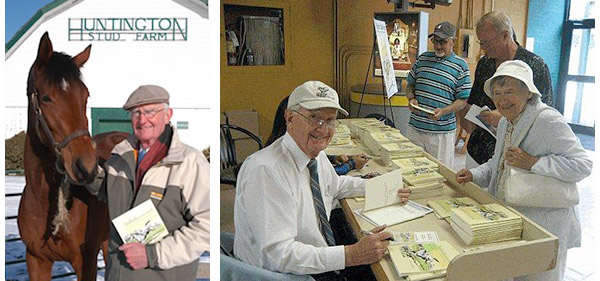 Left: Wm. Galvin is joined by an unidentified equine friend in a recent years photo. He is holding a copy of his book titled 'Ballads Of The Turf And Other Doggerels'. Right: Bill presides over a book signing gathering as he personalizes copies of his best seller for visitors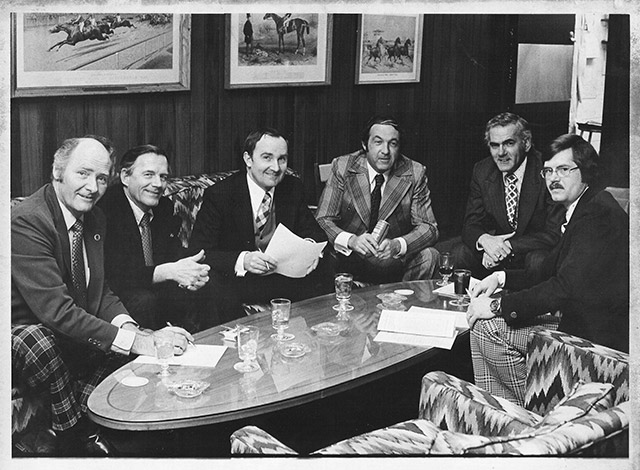 Publicity people from various tracks gather to compare notes in this late 1960's photo. From left: Gordon Pepper (C.T.A.), Fran Smith (Windsor), Bill Galvin (O.J.C.), Jim Lampman (O.J.C.), Albert Trottier (Blue Bonnets), and Dick Burgess of Humber College