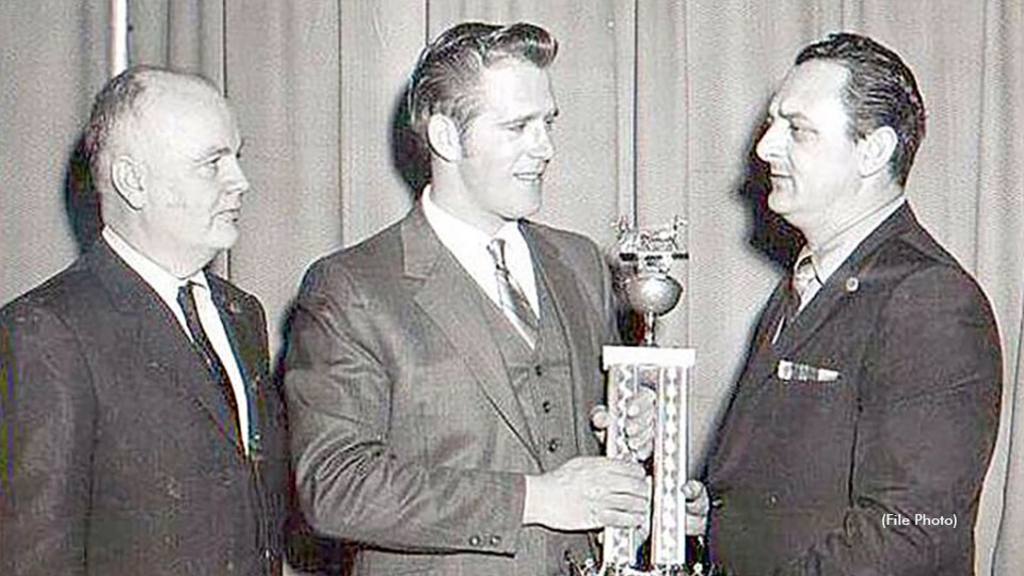 Published:
July 25, 2022 11:26 am EDT
When Plainridge Park welcomes fans for the $250,000 Spirit of Massachusetts Trot and the $100,000 Clara Barton Pace on Monday afternoon (July 25), the stars of today will be front and center. But there will be some history involved on that day as well when the $50,000 final of the Bert Beckwith Memorial will recall both the career of the man the race is named for and the exciting performances it has provided through the years at two longtime Massachusetts racetracks.
Bert Beckwith gained his knowledge of the sport from his father Melvin, who was also a well known New England horseman. After getting his license, Beckwith quickly became a successful and in-demand catch-driver while still maintaining a stable of his own. He raced all over New England, including Rockingham, Foxboro and Hinsdale, where he won his first driving title at the age of 22 in 1967.
Beckwith became a fixture at Foxboro Park and was "the man" there for more than two decades. There was no challenge a horse could present that Beckwith's horsemanship couldn't overcome as he was so adept at making changes and getting horses sound, often when others had given up on them.
Beckwith's driving success continued and in 1975, at the age of 29, he reached the 1,000-win plateau at Foxboro Park, becoming the youngest driver to do it at that time. He also reached 2,500 lifetime wins at Foxboro in 1985. His overall career stats show 2,680 wins and in excess of $5 million in purses, the bulk of which were won in Massachusetts in an era when purses were a fraction of today's.
When Beckwith passed in 1987, his career had ended, but his legacy lived on. His proficiency on the track became legendary among New England Standardbred devotees and he's still considered to be one of the greatest horsemen ever to drive in the Commonwealth.
The Bert Beckwith Memorial Pace originated at Foxboro Park in 1994 and was held there through 1996. The first year saw two Breeders Crown champions square off with Village Jiffy (Paul MacDonell) beating Shady Daisy (Jeff Fout) by a length in 1:54.2. Then in 1995 and 1996, Jim Morrill Jr. won back-to-back starts with the speedy Riyadh timed in 1:51.3 and 1:52.1, respectively.
The race had gained such popularity it was scheduled to be broadcast live on ESPN in 1997. But the track was closed for good that year and the broadcast never came to pass.
Plainridge Park opened just five miles down Highway 1 from the shuttered Foxboro Park in 1999 and brought the stakes back by popular demand, and that turned out to be a good move for many years.
In 2000, it was won by Space Shuttle (Walter Case Jr.), who scorched the mile in 1:49.3 by 8-1/2 lengths, establishing a new track record. Space Shuttle (David Ingraham) returned the following year and won again in 1:50.3, this time by 6-1/2 lengths.
Then for four out of five years the race became property of "The Burke Brigade" -- first Mickey, then Ron -- as they brought a string of their best to Plainridge.
Maltese Artist (Bruce Ranger) won in 2005 in a new track record time of 1:49.2, which stood for 14 years until Shartin N broke it in 2019. Santastics Pan (Jim Morrill Jr.) won in 1:51.1 in 2006 and then Maltese Artist (Greg Grismore) won it again in 2007 pacing in 1:50.4. Finally in 2009, the great Foiled Again (Dave Palone) made his trip to Massachusetts a winning one, going easily in 1:50.3.
Another Plainridge track record came in 2008 when Psiluvuheartbreaker (Jim Meittinis) won in 1:49.3 to tie the mark for aged geldings that still stands today.
In 2009, purses dropped and so did the value of the Beckwith. As a result, interest and entries in the race waned and it was discontinued after 2012. But Plainridge Park brought it back in 2021 and plans to keep it an annual part of Spirit of Massachusetts Day.
This year, the race was worth $100,000, the highest purse ever offered. And it was also the first time there were preliminary legs held. Two $25,000 eliminations were contested last Monday (July 18) with the $50,000 final going during the Spirit card.
Bert Beckwith's son Mark has been a top horseman for almost 40 years and has excelled in the driving colonies at both Yonkers and Saratoga Raceways. Having amassed 5,874 wins and over $33 million in purses, he drove in this stakes but never won it. This year, the Beckwith Memorial may come full circle as 19-year-old Brett Beckwith will be making his first start in the stakes driving Vel Mr Nice Guy that is trained by his mother Melissa Beckwith, who is one of the leading trainers at the current Plainridge meet. 
(Plainridge Park; Photo of Bert Beckwith receiving a driving award in 1975 from USHWA archives)