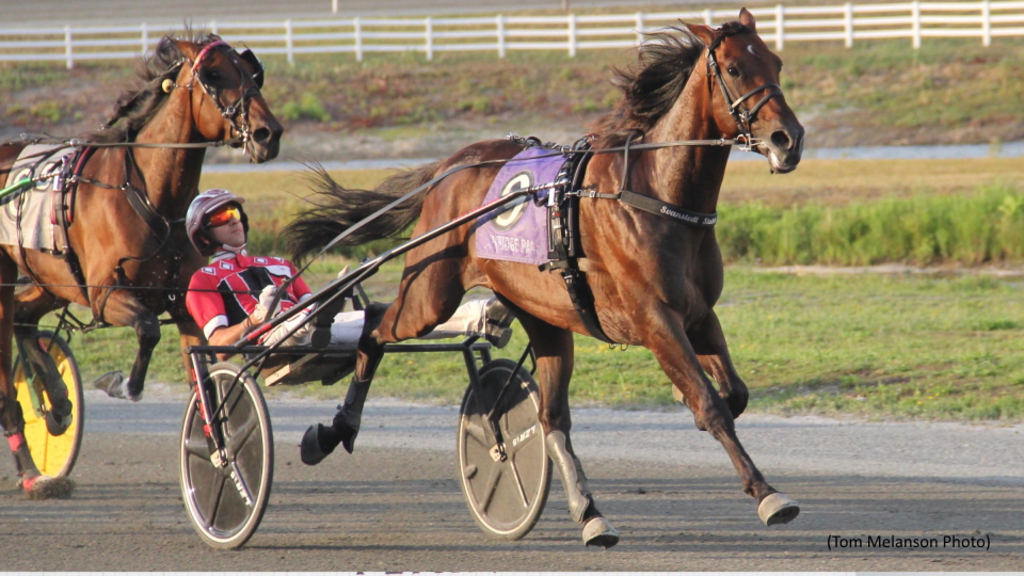 Published:
July 25, 2022 09:04 pm EDT
Millionaire Alrajah One IT followed up his impressive Crawford Farms victory at The Meadowlands with an equally impressive victory in the $250,000 Spirit of Massachusetts Trot, winning in 1:50.3 to set a new track record for aged trotting horses as well as a new lifetime mark for himself. 
Alrajah One IT (Dexter Dunn) got away sixth while Its Academic (Yannick Gingras) took the field to the quarter in :26.1. But that lead would be short lived as Forbidden Trade (Mark MacDonald) was rolling up the outside to gain the lead by the half in :54.2. Heading around turn two, Lovedbythemasses (Tim Tetrick) pulled from fourth and was flying outside with Alrajah One IT on his back.
Lovedbythemasses cleared at three-quarters and Alrajah One IT stayed outside putting the pressure on the leader all around the last turn. When they straightened for home, Alrahah One IT swelled up and trotted away to a 1-3/4 length victory in 1:50.3. 
"Post nine is never easy, but he makes it easy. He followed his cover through the turn and when he got clear he kind of cruised home," said Dunn. "He does all the hard work and makes my job easy."
It was the third consecutive Spirit of Massachusetts Trot driving victory for Dunn, who won the last two with Manchego. Alrajah One IT's win time replaced the 1:51.3 track record that Guardian Angel AS set in the 2019 Spirit of Massachusetts. 
Alrajah One IT remains undefeated in North America after his second straight win and it pushed his lifetime earnings to $1,376,807 for owner Scuderia My Horse. Ake Svanstedt trains the six-year-old record setter. 
The co-featured $100,000 Clara Barton saw three streaks continue. Lyons Sentinel defended her title in this stake and trainer Jim King Jr. and driver Tim Tetrick won their fourth consecutive Clara Barton Pace, having won it twice with Shartin N before their two wins with Lyons Sentinel. King and Tetrick are the only trainer and driver to win this stakes since its inception. 
Racine Bell (Mark MacDonald) flew off the wings and got to the quarter on time in :26 flat. Blue Diamond Eyes (Yannick Gingras) and Lyons Sentinel (Tim Tetrick) followed in line to the half in :55.1 where the next move came. Tetrick pulled Lyons Sentinel and drew alongside Racine Bell as they rolled up the backside and the two were in a battle from there.
After hitting three-quarters in 1:22, Racine Bell and Lyons Sentinel matching strides around the last turn and were even at the head of the stretch. But as they proceeded down the lane, Lyons Sentinel began to edge away and eventually opened up a 2-1/4-length advantage at the wire and won in 1:50.2.
"My mare raced well today. I knew when I pulled if I could look Racine Bell in the eye, I could beat her," said Tetrick. "I love coming up here and hope Jimmy [King] can find another one to race in here for next year." 
The two-time millionaire Lyons Sentinel ($3.40) added to her riches with her third win of the year and 25th lifetime for owners Threelyonsracing. 
The $50,000 Bert Beckwith Memorial Pace was also a great race that produced an emotional outcome. Melissa Beckwith trainee Patrikthepiranha A made a big late move to win the race named for her late father-in-law. 
After getting away sixth from post eight following the leading Vel Mr Nice Guy (Brett Beckwith), Patrikthepiranha A (Brice Ranger) swept three-wide at three-quarters and outfought Always A Miki (Dexter Dunn) and Pocket Of Terror A (Leon Bailey) to win by a head in 1:51.2.
It was a joyful winner's circle scene for Patrikthepiranha A ($10) as family members including Bert Beckwith's son Mark, gathered for the photo. It was the sixth win of the year for Patrikthepiranha A and it pushed his bankroll to $108,244 in 2022. 
(Plainridge Park)