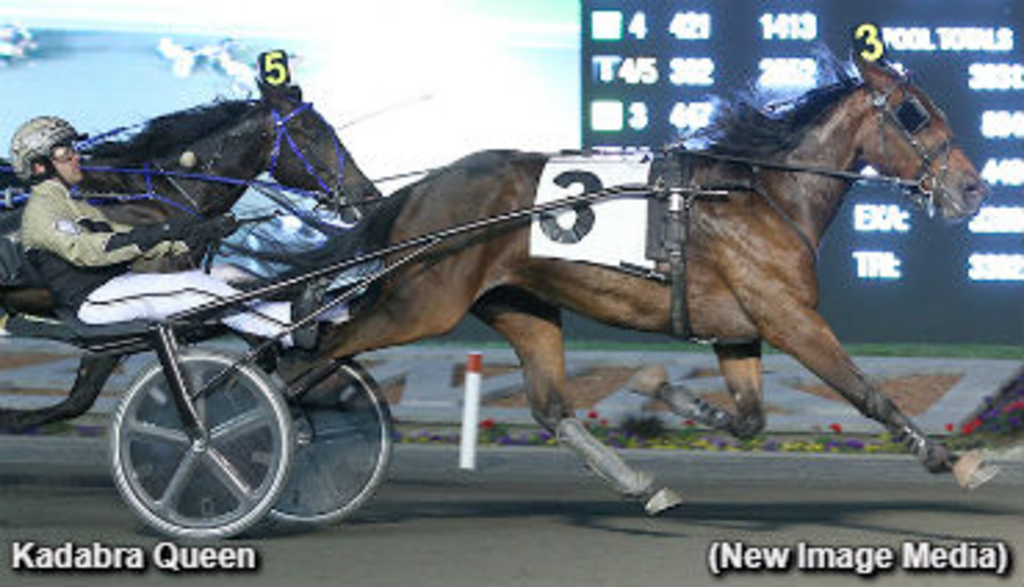 Published:
July 25, 2017 10:30 pm EDT

Two-year-old trotting fillies found themselves in the spotlight Tuesday evening at Mohawk Racetrack as the Campbellville, Ont. oval hosted a set of O.S.S. Gold Series divisions.
Smoke And Mirrors went coast-to-coast in her $97,200 tilt for the team of driver Trevor Henry and trainer Richard 'Nifty' Norman.
Henry hustled the daughter of Kadabra-Soutaine Hanover to the lead from the rail and together they led the group through fractions of :28.2, :58.1 and 1:27.4. A :29.1 closing quarter was just enough to win by a nose over Apprentice M, who didn't see the rail in the 1:57 affair. Northern Lightning was third.
"I was pretty sure, we kind of touched wheels at the wire and I was pretty sure my filly just got there," said driver Trevor Henry. "I didn't really want to be on the front, but found myself there and she did it well."
"I was actually a little surprised, I actually thought she lost. So I was a little disappointed at first," said trainer Richard 'Nifty' Norman. "But then I switched back to the channel, I was on a different channel, and I switched back and they were putting her up as the winner, so I was very happy.
"She's kind of green anyway, and she never really was very good in front," added Norman. "Even at home training we never ever trained her in front, she was always a lot better off a helmet, so I was a little surprised when Trevor put her there, but I could see she was kind of up on the muscle there up behind the gate and no one else really wanted to leave," said Norman. "But it all worked out. I was really happy with her the first start and then, you know, she hasn't raced since the first Gold and I thought maybe she'd be a little short, but no she raced good.
"She was one of the nicer ones all winter, we've been very happy with her," added Norman. "She's very good gaited. She's not very big, but she's got good speed and good heart. She's in the Peaceful Way and the Champlain, those type of things I think. So we'll just see how they go, if she handles the Golds here then maybe she'll get a chance to try the other ones."
Delivering on her 9-5 pari-mutuel promise, Smoke And Mirrors bumped her bankroll to $56,376 with the victory. Mel Hartman, David Mc Duffee and Little E LLC share ownership on the maiden-breaking winner, who was an $85,000 purchase from last year's Harrisburg Yearling Sale.
Kadabra Queen nabbed her second Gold Series score of the season thanks to her 1:58.2 triumph in the second division.
Scott Coulter mapped out a perfect pocket trip for the Chad Milner trainee, who tracked race favourite Sorceress Seelster through fractions of :28.3, 1:00.2 and 1:30. Kadabra Queen ripped out of the two-hole in the lane and fired home in :28 to win by 1-1/4 lengths over Sorceress Seelster in 1:58.2. Zorgwijk Sophia took home the show dough.
"Very happy with her," said trainer Chad Milner. "Scotty's just done a great job with her, and the staff we have has done a great job with her, all the way back, so quite happy.
"She was so small and I said to the owner, look if we're good enough to be in the Gold and we make $100,000 this year, which we've done, we're going to be happy right, and he said yup," added Milner. "We kept pretty much everything we own this year just Ontario Sires Stakes, because it's such a good program."
The homebred daughter of Kadabra-Queen Street is owned by Harness Horsepower Inc and Frank Monte. The youngster owns a 2-1-1 record from four assignments and her bankroll climbed to $101,820.
Tuesday's card also featured the weekly edition of the $34,000 Preferred Trot, and for the second straight week it was Musical Rhythm turning in an eye-catching victory for the tandem of driver Sylvain Filion and trainer/co-owner Ben Baillargeon.
Filion hustled the five-year-old son of Cantab Hall-Musical Victory to the lead and together they led the field through fractions of :27.2, :57.1 and 1:25.4. A :27-second closing panel helped propel the classy campaigner to the win by 3-1/2 lengths over Charmed Life in 1:52.4. Whiskey Tax finished third after being treated to a two-hole trip.
Baillargeon shares ownership on the 1-5 favourite with Santo Vena, Nunzio Vena and Claude Hamel. It was the third win of the season – and the 24th to date – for the career winner of $569,208.
(With quotes from O.S.S.)
To view results for Tuesday's card of harness racing, click the following link: Tuesday Results – Mohawk Racetrack.
For the official judges' report from Tuesday's card, click the following link: Judges' Report - Mohawk - July 25.