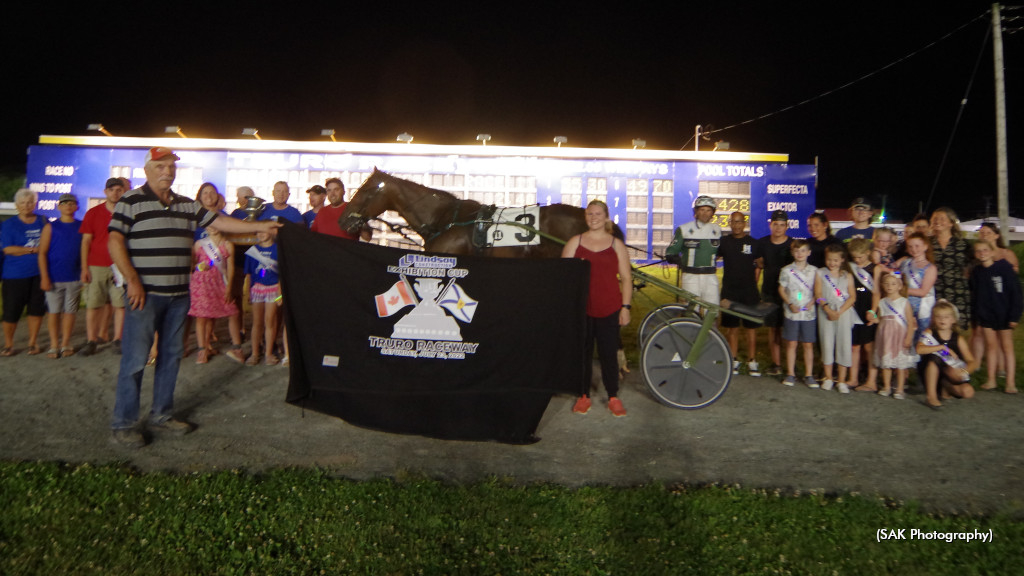 Published:
July 24, 2022 12:51 am EDT
Maritime powerhouse Time To Dance dominated once again, this time at Truro Raceway in taking the $7,500 Lindsay Construction Cup Invitational on Saturday night (July 23). 
Trainer-driver Marc Campbell cruised to the lead with the six-year-old A Rocknroll Dance gelding by a :26.1 first quarter before yielding command to Batterup Hanover before a :54.2 half. He stayed steady in the pocket as Batterup Hanover strolled to three-quarters in 1:23.1 and attacked coming off the final turn. Time To Dance took the front as Beachin Lindy launched a late charge after the lead, but the odds-on choice held firm to the finish to pass the beam a quarter length in front in 1:51.4. American Risk finished third and Batterup Hanover faltered to fourth. 
A 36-time winner in 79 outings, Time To Dance has accrued $183,399 in purses for owners Brent Campbell and Matthew McDonald. He paid $2.80 to win.
On the undercard of the Construction Cup, Truro hosted a pair of Atlantic Sires Stakes (ATSS) "A" divisions for three-year-old pacing colts and geldings and a $5,029 dash for the Atlantic Aged Pacing Mares Series opening leg. 
Rollwithhottytoddy led pillar to post in the first "A" division. Driver Jason Hughes reached the helm with the Rollwithitharry gelding to a :27.4 first quarter and snagged a :57.4 breather before accelerating to three-quarters in 1:25.4, where 6-5 favourite Stash It Away mounted a first-over bid. Stash It Away fatigued off the turn, leaving Rollwithhottytoddy to coast a 1-1/4-length winner in 1:53.3 over pocket-sitter Elm Grove Quail. 
Co-owned by trainer Trevor Hicken with Todd and Trish Hardy, Rollwithhottytoddy won his fourth race from 22 starts and has now earned $36,243. He paid $25.20 to win.
Fern Hill Gusto applied similar front-stepping tactics to win the other "A" division in 1:53.3, one of three track records on the night. The Stonebridge Terror colt pushed from the pylon post and faced minimal challenge in a clip of :28.3, :57.4 and 1:26.1 to pull away a three-length winner over Brumby while pocket-sitter Woodmere Denver faltered to third. The time matches the track record for a three-year-old pacing colt set by Southside Eddy earlier in July. 
Marc Campbell trains and drives Fern Hill Gusto for owner Grayland Farm. He won his sixth race from 17 starts and has now banked $49,073. He paid $2.50 to win. 
A track record fell in the Atlantic Aged Pacing Mares Series when Acefortyfour Dome darted from the pocket to stop the clock in 1:52.3. The five-year-old Up The Credit mare stalked a tempo of :27, :55.4 and 1:23.2 before popping off the pegs and slipping home a 2-1/2-length winner over pacesetter Share The Moment. Havarti sat a pylon trip to finish third in the mile that bests the previous mark for an aged pacing mare of 1:54.2 set by Ashestodiamonds in July 2021. 
Jason Hughes trains and drives Acefortyfour Dome for owner Don Mac Rae. She won her 20th race from 68 starts, pushed her earnings to $137,988 and paid $10 to win.
Elm Grove Qwiggly led every step in the lone ATSS "B" division earlier in the card. Marc Campbell piloted the Rollwithitharry colt to a 1:57.2 over Woodmere Sheldon for trainer Lawrence Snow, who co-owns with Henry Poswiata. 
To view Saturday's harness racing results, click the following link: Saturday Results - Truro Raceway.