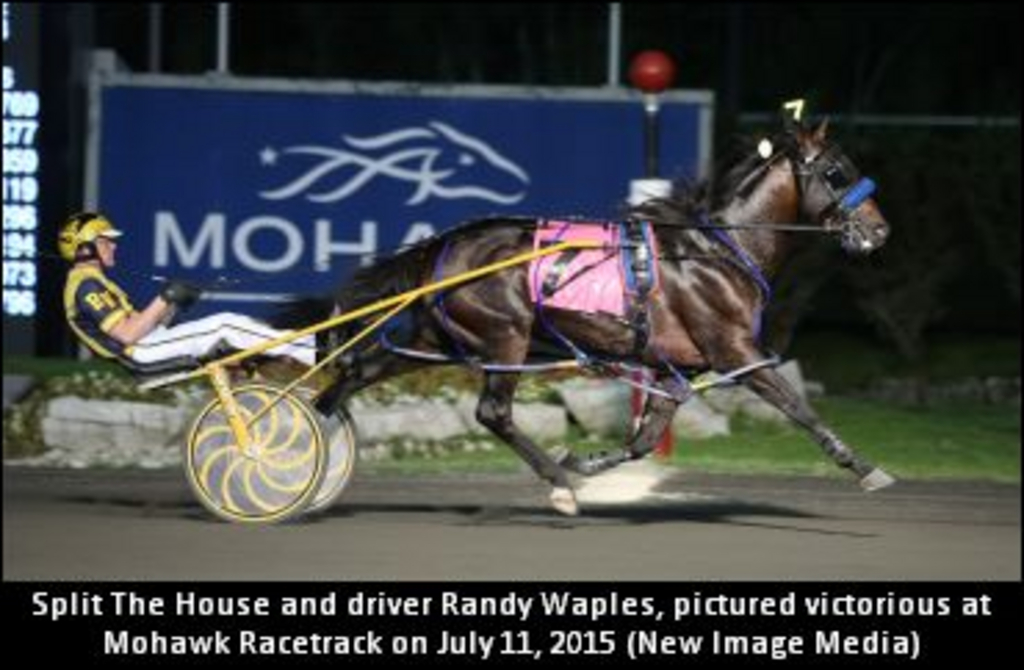 Published:
July 24, 2015 01:12 pm EDT
Trainer James 'Friday' Dean has gone on the record as saying that it might have been ambitious to send lightly-raced Split The House to the North America Cup earlier this year.
Dean is looking forward to seeing the colt return to action against some of the best three-year-old male pacers in North America in Saturday's $200,000 Anthony Abbatiello SBOA New Jersey Classic at the Meadowlands Racetrack.
Split The House drew Post 7 in the seven-horse field and is 9-2 on the morning line. Regular driver Randy Waples will make the trip from Ontario to New Jersey to drive the colt, who has posted six wins from eight starts this season.
New Jersey Sire Stake champion Artspeak, who was the 2014 Dan Patch and O'Brien Award winner for best two-year-old male pacer, is the 8-5 morning line favourite in the New Jersey Classic. He will start from Post 5 with Scott Zeron driving for trainer Tony Alagna.
Split The House was unraced as a two-year-old because of a fractured pastern bone, but opened this year with four victories heading into the North America Cup at Mohawk Racetrack in June. Split The House finished fourth in his North America Cup elimination, just missing out on advancing to the final, and a week later finished fourth in the North America Cup consolation.
He bounced back from the setbacks by winning a preliminary leg and final of the Summertime Series at Mohawk.
"I think if the North America Cup wasn't in our backyard I wouldn't have raced him in it," said Dean, who is based in Ontario and owns Split The House with Scott Horner and Peter Milligan. "We kind of threw him to the wolves a little early. He didn't embarrass himself, though, and he rebounded well. He's pretty sharp right now, so we'll take another crack at the big boys."
Waples left no doubt of what he thought about Split The House following the Summertime final, which Split The House won by two and three-quarter lengths over Rockin In Heaven in 1:50.2.
"In my estimation he's one of the best three-year-olds out there, it's just the truth," Waples said. "He was kind of misbehaving a little bit behind the gate (in the North America Cup) and Friday put a screen on him and he's just a different horse now. The last couple of weeks he seems like he's turned a corner.
"I think he definitely deserves to be with (the Grand Circuit pacers). If you've got a good field of horses you can find one to follow and I just think this horse is going to go a big mile before the year is up."
Split The House was purchased as a yearling under the name Current Course for $60,000. He is a son of Rocknroll Hanover out of the mare Shake That Junk, who raced for Dean and was successful on the Ontario circuit.
"We really liked the look of this colt," Dean said. "Then he cracked a pastern behind and stood in a stall for four months. But he was really patient about it.
"But we really liked what we had seen from him (prior to his injury). He loved his work. He was a natural. He's a real good horse to train."
Split The House is staked to a number of major races, including the Battle of the Brandywine, Simcoe, Little Brown Jug, Bluegrass, and Breeders Crown.
"If we're good enough, we'll show up," Dean said.
Artspeak heads to the New Jersey Classic off a sixth-place finish in the Meadowlands Pace last weekend. He was second in the Hempt Memorial on July 4 at The Downs at Mohegan Sun Pocono and fifth in the North America Cup.
For the year, Artspeak has won three of eight races and earned $255,135 for owners Brittany Farms, Marvin Katz, Joe Sbrocco, and In The Gym Partners.
Dealt A Winner is the 5-2 second choice in the New Jersey Classic. He will start from Post 4 with John Campbell driving for trainer Mark Silva. He was fourth in the Meadowlands Pace and a multiple stakes-winner in 2014.
The remainder of the New Jersey Classic field is Pierce Hanover, Revenge Shark, Badix Hanover, and Hurrikane Ali.
Saturday's Meadowlands card also includes the $100,000 Thomas D'Altrui SBOA Miss New Jersey for three-year-old female pacers. The Show Returns is the 5-2 morning line favourite, starting from Post 7 with John Campbell driving for Chris Ryder.
---
This story courtesy of Harness Racing Communications, a division of the U.S. Trotting Association. For more information, visit www.ustrotting.com.