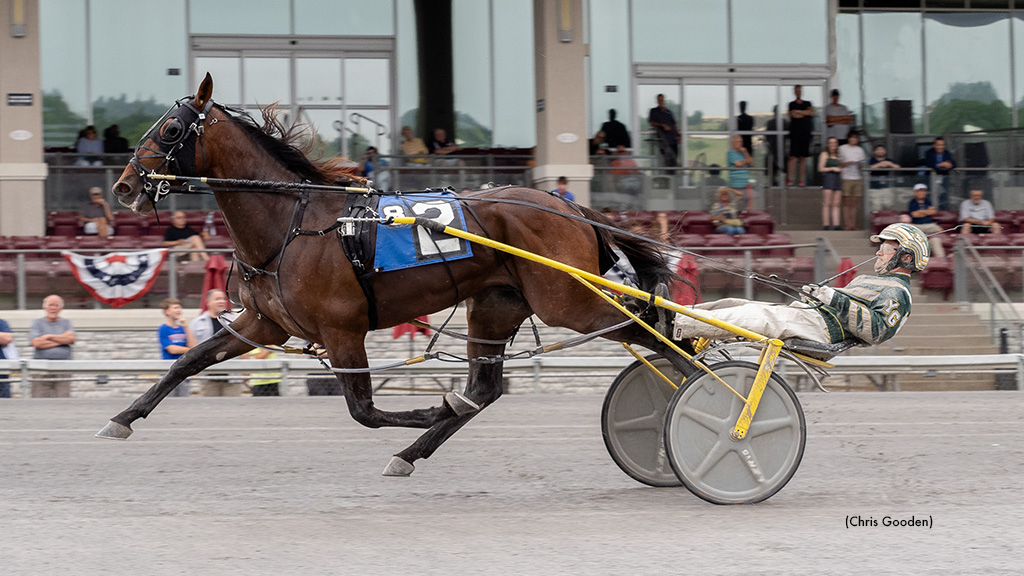 Published:
July 23, 2022 05:23 pm EDT
Three storms struck southwestern Pennsylvania during Saturday's (July 23) eliminations card for the $400,000 Delvin Miller Adios Pace for the Orchids at Hollywood Casino at The Meadows. The first was an act of nature that blew up rain, swirling winds, thunder and lightning that forced a delay of about 15 minutes in the card.
The others were named Beach Glass and Pebble Beach, who each stormed to a 5-3/4-length victory in the eliminations. Those results set up a battle between the leaders of the sport's glamour division in the $350,000 Adios final, which takes place Saturday, July 30 and anchors a blockbuster card that features six Grand Circuit stakes. First post is 11:45 a.m.
Joining Beach Glass and Pebble Beach in the final will be Fourever Boy, Nautical Hanover, Ario Hanover, Bythemissal, Quick Snap, Atlas Hanover and River Ness, who notched his berth by being the fifth-place finisher with the higher career earnings. The connections of Beach Glass and Pebble Beach will choose their post positions, with their order of selection determined by draw. All other post positions will be determined by random draw Wednesday.
The track had turned sloppy by the time Beach Glass faced the starter, and winning driver Yannick Gingras approached the first quarter cautiously.
"I was just letting them all settle," Gingras said. "I wanted him on the front obviously, but I just wanted to stay out of trouble."
Once on the point, the Meadowlands Pace winner widened steadily, scoring in 1:49 with a :27 final panel.
"He's better every week," Gingras said. "He was amazing in the Meadowlands Pace, and he was amazing today. We get to pick our post position? Awesome. You just made my day."
Brent MacGrath, who trains the son of Somebeachsomewhere-Im With Her for Schooner II Stable, said he saw everything he needed to see from his colt and likely won't be making any changes.
"He's just learning how to do it, and he's coming into his own," MacGrath said. "We just need to keep him healthy, keep him out of trouble and give him to Yannick."
Beach Glass pushed his career earnings to $628,250.
Pebble Beach had only a qualifier since his triumph in the June 18 North America Cup, but he showed no signs of being short. Todd McCarthy gave him a comfortable :56.3 half, and the son of Downbytheseaside-Santa Rosa prevailed in 1:50.1. The previously undefeated Bythemissal, who was facing elite competition for the first time, closed well for second, while Quick Snap earned show.
Noel Daley, who trains Pebble Beach for Laexpressfoderadeovolente, said he tried a rigging experiment with Pebble Beach in the elimination, an experiment Daley considers a failure.
"He runs in but doesn't like to wear a head pole," Daley said. "So, we tried a Murphy blind today. We tried it in Canada; he ran off the track, but we thought he needed it on a tighter track. We'll take that back off. He won't wear anything, and we'll have to steer him. Everything else looked good."
Pebble Beach now has banked $944,250.
Captain Cowgirl, Pennsylvania's reigning champion, completed her romp through the state's three-year-old pacing fillies division with a convincing win in the $132,231 Pennsylvania Sires Stakes, known as the Romola Hanover. The daughter of Captaintreacherous-Rideintothesunset captured three of this year's four preliminary legs and shapes up as the one to beat in the $260,000 championship set for Sept. 3 at The Meadows.
Captain Cowgirl endured a demanding :26.3 opening panel from post six before Tim Tetrick could put her on the point. Once there, she brooked no challenges and scored in 1:50.3, two lengths better than Sweet Treasure. Lydeo finished third.
Jim King Jr. trains Captain Cowgirl, who now boasts a career bankroll of $449,550, for Jo Ann Looney-King and Kenneth Frieder.
$60,000 PA Stallion Series – Three-Year-Old Pacing Fillies
Lyons Serenity threw down a sizzling 1:20.3 three-quarters before the rains came, enabling her to open three lengths on Galleria Hanover as the field turned for home. Would Galleria Hanover have enough racetrack to erase the deficit? Her driver Ronnie Wrenn Jr. thought she might.
"I knew I would get a shot because they were going pretty good fractions," Wrenn said. "I've driven her a few times and had luck with her. She's big and strong, and that's a big mile."
Galleria Hanover not only passed Lyons Serenity and downed her by a length, but she did so in 1:49.2, lowering the stakes record 1:50 established last year by Mackie Hanover. Lock Bridge rallied from well back to complete the ticket.
Ron Burke trains Galleria Hanover, a daughter of Always B Miki-Gallie Bythe Beach who lifted her lifetime earnings to $111,166, for William Donovan, Purnel & Libby LLC and Joe Sbrocco.
Also winning a split for Wrenn and Burke was Sweet Kisses, with Find Happiness taking the other division.
Burke enjoyed a four bagger on the 13-race card — with three of those winners piloted by Wrenn — while Todd McCarthy and Dave Palone each fashioned a triple.
Live racing at The Meadows resumes Wednesday (July 27), when the card features a $1,016.98 carryover in the Jackpot Pick 5.
(MSOA)