Draw Complete For Adios Final
Published: July 22, 2014 2:01 pm ET
No Comments | Jump to Comments
McWicked, projected as the favourite for Saturday's $400,000 final of the Delvin Miller Adios Pace for the Orchids Presented by Coors Light at The Meadows, didn't hurt his chances in Tuesday's post position draw.
McWicked, the fastest three-year-old pacer ever on a five-eighths mile track, pulled post position 2 in the Adios Final. Somewhere In L A and Lets Drink On it, who along with McWicked won Adios eliminations last Saturday, drew post positions 5 and 7, respectively.
The draw was a mixed bag for horses with local connections. Meadows-based trainer Ron Burke drew 3 and 9 for his Adios pair, At Press Time and Carracci Hanover, while Cammikey, campaigned by Cam Land Inc. of Washington County, will leave from the rail. No. 1 is the fifth-winningest post position this year at The Meadows.
McWicked has won four of his last five starts—including the $500,000 final of the Hempt at Mohegan Sun at Pocono Downs—faltering only in the final of the North America Cup. The son of McArdle-Western Sahara is owned by Ed James' SSG Stables and conditioned by Casie Coleman, who is bidding to become the first female trainer to win an Adios final.
Several others have a chance to write their way into Meadows history. A win by Somewhere in L A would give trainer Jimmy Takter his third blanket of orchids in the last six years -- he won with Vintage Master in 2009 and Sunfire Blue Chip last year.
A victory by Lets Drink On It would make 21-year-old Tyler Smith the youngest final heat winning driver in the 48-year history of the race.
The Pace for the Orchids will go as Race 12 with an approximate post time of 4:00 p.m. It anchors a powerhouse 16-race card that features a total of six Grand Circuit stakes.
The Adios field from the rail out, with drivers and trainers:
1. Cammikey - Brian Zendt - Bill Zendt
2. McWicked - David Miller - Casie Coleman
3. At Press Time - Matt Kakaley - Ron Burke
4. Beat The Drum - Tim Tetrick - Staffan Lind
5. Somewhere In L A - Brett Miller - Jimmy Takter
6. Stevensville - Mark MacDonald - Ray Schnittker
7. Lets Drink On It - Tyler Smith - Joe Seekman
8. Bushwacker - Dave Palone - Chris Ryder
9. Carracci Hanover - Yannick Gingras - Ron Burke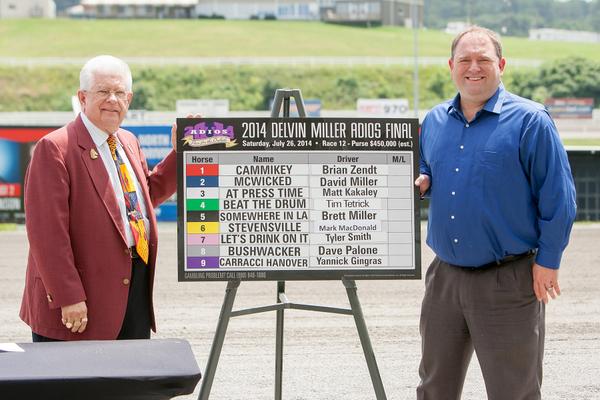 Roger Huston and Meadows GM Kevin Decker with the Adios Draw. Chris Gooden Photo.
(Meadows)