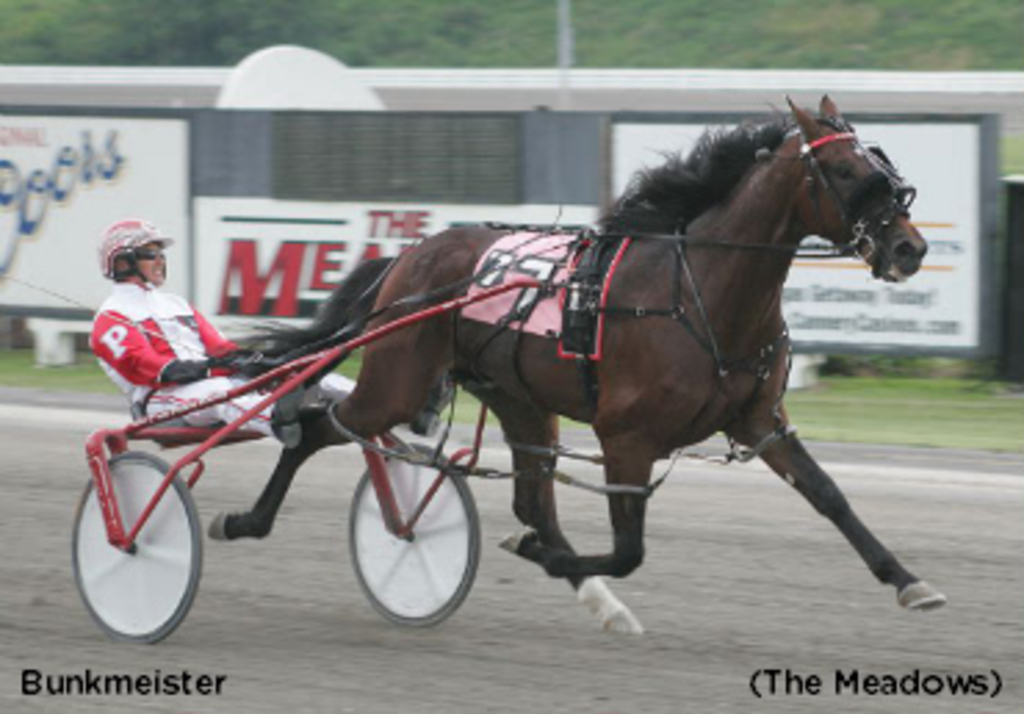 Published:
July 22, 2009 07:04 pm EDT
The horses won't step onto the track for the 2009 Delvin Miller Adios until Friday, but trainer George Teague, Jr. already has equaled an unofficial stake record. If all five of his horses go, he'll tie the Burke stable for most starters in a
single Adios.
The Burkes accomplished the feat in 2007, and it worked out pretty well for them. Not only did their May June Character win, but Burke horses also finished second and third for an unprecedented Adios sweep. Could similar results be in store for Teague and the 'Fab Five'?
"I'm hoping," he said. "I don't know if we'll see it, but I'm hoping. Well Said is on his game, and some of the others in there are top three-year-olds. There's plenty in there to keep you realistic."
Teague is represented in each of Friday's three $50,000 eliminations, which go as Races 9 to 11, with the top three finishers in each returning for the $677,665 final on Saturday, Aug. 1.
Actually, Teague would have had a Super Sixpack rather than a Fab Five in the "Pace for the Orchids" but for the recent illness of another of his sophomore colts, Barber Pole. A throat infection forced his scratch from the Meadowlands Pace and will keep him from the Adios.
Teague emphatically declined to predict which of his horses would fare best.
"That definitely would smack one of them in the face," he said. "I want to leave that conversation alone."
He did, however, provide these profiles of each of his Adios contenders:
Chasin Racin (Race 9, Post 7, David Miller). His streak of miserable post positions — no better than 7 four consecutive starts — continues. Teague said Lady Luck has given the son of The Panderosa-Contrapan, who has banked $311,410, the cold shoulder. "He got shuffled pretty good in the final of the Meadowlands Pace and raced well to be fourth. He's as good as he's been all year and doesn't seem the worse for wear."
Built To Drive (Race 10, Post 4, Randy Tharps). The son of Dragon Again-Faster Boots looked sharp in his July 16 PASS victory at The Meadows for Tharps. "He's been steppy a few times. We've done a little vet work on him, and he seems much smoother now. He won in 1:50.3 at the Meadowlands. That's why we keep entering him in these stakes."
Johnny Z (Race 10, Post 9, Tim Tetrick, coupled with Built To Drive) Began the year impressively, but the son of The Panderosa-Sepia Hanover went awhile without a win before his victory in a Reynolds division. "He's been knocking heads with the best all year. He's as good as he was earlier, but some of the others have improved. Remember, horses like Well Said weren't racing earlier in the year. Now, Johnny Z has to step up and beat them."
Mr Wiggles (Race 11, Post 2, Corey Callahan) He has $548,371 and some major wins, such as the Hoosier Cup, to his credit. The son of Badlands Hanover-Wiggle Hanover shows plenty of early speed but doesn't need the lead. "He's actually better off a helmet. Either on the front end or in the outer flow, that's his best game."
Bunkmeister (Race 11, Post 8, Andrew McCarthy) The son of The Panderosa-Pleasant Thoughts easily could be three-for-three in PASS events this year but was nailed on the wire twice. "He can get a little sleepy on the front end. With the draw, we're hoping he gets into the race. We're keeping our fingers crossed."
(The Meadows)