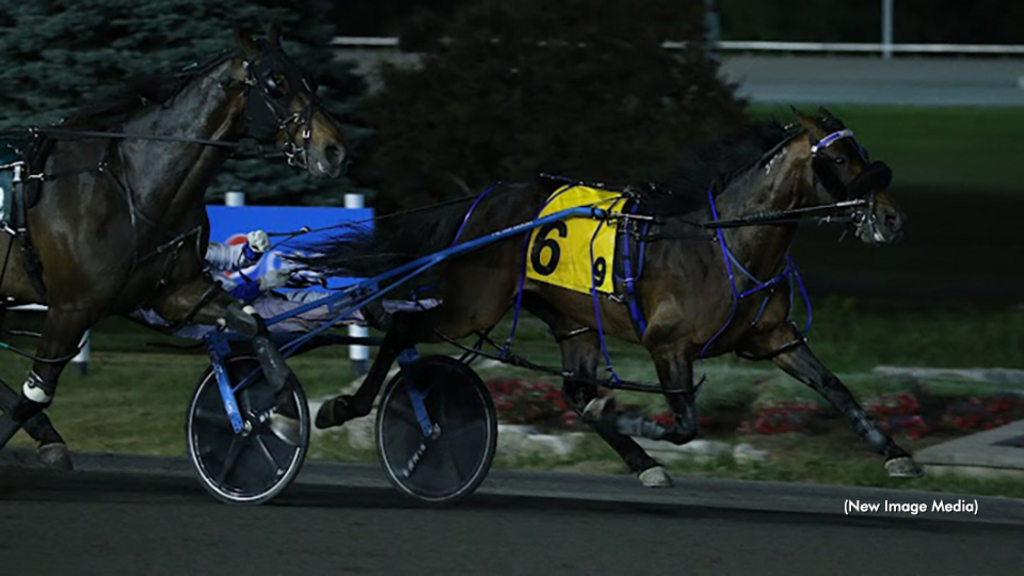 Published:
July 21, 2022 03:31 pm EDT
Wally Hennessey was contemplating whether to head to Saratoga Casino Hotel to drive Saturday in New York Sire Stakes action when he received a call that basically made the decision for him.
Hennessey was asked to drive Tattoo Artist in the $250,000 Joe Gerrity Jr. Memorial for older male pacers.
"When you get a call like that, it's a no-brainer," said Hennessey.
Tattoo Artist, trained by Chris Ryder, is the 3-1 morning line second choice in the Gerrity and will start from post three. Workin Ona Mystery, who starts from post one with Tim Tetrick driving for Ron Burke, is the 5-2 favourite. The field also includes Charles Juravinski Memorial Cup winner Linedrive Hanover, who is 4-1, and 2021 Gerrity champ This Is The Plan, who is 9-2.
"He's a very good horse," Hennessey said about Tattoo Artist. "But when you get to that level, they're all good. I don't know much about him, other than seeing him race a lot. I'm not in that [Grand Circuit] environment as much anymore, but I know the horses because they've been around a while. Any one of them is capable of winning.
"Horses like these, there's not a whole lot somebody can tell you about them. It's all there in the past performances, it's all there in black and white. These are the best Free-For-Allers in the country. These are the best of the best. The best horses, the best trainers and the best drivers. It's who gets the trip, or if there is a speed duel, who benefits from it."
Tattoo Artist is a five-year-old stallion owned by Let It Ride Stables, Frank Cannon and Diamond Creek Racing. The son of Hes Watching-Stylish Artist has won 24 of 60 career races and earned $1.46 million. He was an O'Brien Award winner at age three. Ryder trains Tattoo Artist in the U.S. and Ian Moore conditions the horse in Canada.
Last weekend, Tattoo Artist finished third in Bulldog Hanover's world record 1:45.4 victory in the William R. Haughton Memorial at The Meadowlands.
"I want to thank the guys for giving me this opportunity," said Hennessey. "I've been going over [to Saratoga] a little bit, a little here and there. A couple of guys asked me about going over because the two-year-old pacing colts are there that same night. I was thinking of going over anyway, but I received a call Sunday night from Eric Cherry [of Let It Ride Stables] asking me if I would be there Saturday night. That solidified where I would be."
Tattoo Artist has enjoyed success on half-mile ovals, such as Saratoga, hitting the board in 16 of 19 lifetime starts with seven wins.
Hennessey, who was inducted into the Harness Racing Hall of Fame in 2007 and ranks 10th all-time in North American wins with 11,334, is winning at a 27 per cent clip at Saratoga. Since arriving there April 23 after the conclusion of the Pompano Park meet, he is third in wins, with 50 in 184 starts. Jim Devaux, who leads the Saratoga standings, has 81 victories in 471 races during that timeframe.
A native of Prince Edward Island, Hennessey has competed at Saratoga since 1986 but doesn't believe familiarity is any advantage when it comes to the Gerrity.
"I might have 36 years, but I think the rest of those guys driving know where they're going too," Hennessey said with a laugh. "The main thing is I've got a competitor in there. I'm not a longshot by no means. He drew pretty good. I'm happy with everything. It just depends how the horse is that day and how things go. You just want to do the best job you can do."
The Joe Gerrity Jr. Memorial is race six on Saturday at Saratoga. Racing begins at 6:45 p.m. (EDT). For free programs, visit the Saratoga Harness Horseperson's Association website.
Here is a look at the complete Gerrity field in post position order:
$250,000 Joe Gerrity Jr. Memorial Pace
Post - Horse - Driver - Trainer 
1. Workin Ona Mystery    - Tim Tetrick - Ron Burke          
2. This Is The Plan - Yannick Gingras - Ron Burke          
3. Tattoo Artist - Wally Hennessey - Chris Ryder          
4. Nandolo N - Jason Bartlett - Shane Tritton          
5. Priceless Beach - Matt Kakaley - Jared Bako          
6. Leonidas A - Austin Siegelman - Steven Finkelstein          
7. Linedrive Hanover - Brian Sears - Anthony Beaton          
8. Dragon Said - Joe Bongiorno - Jennifer Bongiorno          
AE1. American Dealer N - Joe Bongiorno - Linda Toscano          
AE2. Charlie May - Tim Tetrick - Jody Riedel
(With files from USTA)