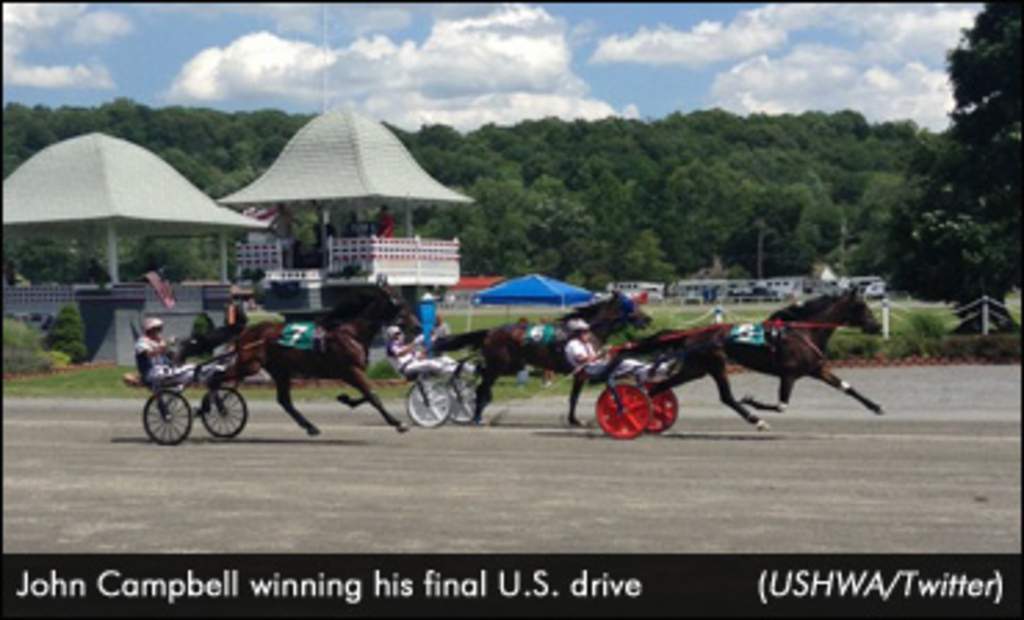 Published:
July 2, 2017 07:36 pm EDT
In his final U.S. drive, John Campbell won for the 11,058th time, adding a final win to his career as harness racing's top money-winning driver in the $10,000 Mr. and Mrs. Elbridge Gerry Memorial Trot at Goshen (N.Y.) Historic Track on Sunday (July 2).
The race, contested for Hall of Fame drivers, capped off a career of over 40 years for Campbell, with 38 seasons of more than $1 million in purse earnings and a total of approximately $300 million worldwide earned by horses he drove. Although Campbell's international earnings in countries other than Sweden are not known, his official Swedish earnings are $6,888,479 kronor. Using annual conversion rates that equates to approximately $979,656 in U.S. dollars.
Campbell, driving Pig Hunt from post eight, was well off the early pace set by driver Dave Palone and Keep It Sweet, who got to the quarter-mile marker in :28.4 and the half in :58.4 before yielding the lead to David Miller and Screaming Conway at the 1:29.1 three-quarters.
Campbell had Pig Hunt on the outside and moving up on the leaders and was second by the head of the stretch. He drew off to win by one and a quarter lengths in 1:59.
Pig Hunt is owned by trainer Janice Connor and Jennifer Connor. Screaming Conway (David Miller) was third and Toss Cartwright (Bill O'Donnell, also making his final U.S. drive) was third.
"Winning never gets old," said Campbell after the race. "I always want to win. I thought I had a chance to win this one at the three-quarters. She [Pig Hunt, the five-year-old daughter of Conway Hall] was strong throughout the race and from the three-quarters on, she stayed that way."
After the race, Campbell and other Hall of Famers, Dave Palone, Dick Stillings, Jimmy Takter and Bill O'Donnell, stayed for 90 minutes to sign photos and programs, pose for photos and greeted hundreds of fans.
(With files from Harness Racing Communications)