Published:
July 2, 2012 09:16 am EDT

"I don't really perceive myself as any spectacular athlete. I don't do the work, the horses do the work."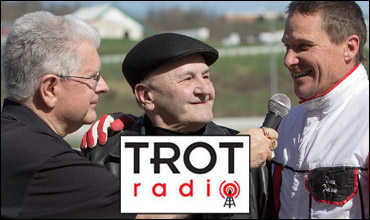 On today's episode of Trot Radio Norm Borg speaks to driver Dave Palone, who is on the cusp of harness racing history. As of this morning (Monday, July 2) Palone is just 10 wins away from passing Herve Filion and becoming North America's all-time dash-winning driver. Palone has racked up 15,171 victories to date in addition to purse earnings in excess of $104 million. The Washington, Penn. native doesn't see himself as unseating the legendary Filion, who has sat atop harness racing's win leaderboard since 1971.
"I don't think anyone's ever going to replace Herve, he was a legend in my eyes growing up as a kid and he mentored me early and gave me a lot of advice along the way. And he's been so supportive in this chase."
Palone, a native of Waynesburg, PA, was inducted to the Harness Racing Hall of Fame in 2011. He was the North American dash champion in 1999, 2000, and 2004, and he has won or has shared the Harness Tracks of America's Driver of the Year Award six times.
Five years ago, however, Palone was involved in a serious spill at his home track – and it was an accident that kept him on the sidelines for an extended period of time. In typical Palone fashion, it was more hard work and dedication that helped him scratch and claw his way back to the bike.
"In 2007 I broke my femur in a pretty severe accident here at The Meadows and in order to get back from that I had to do a lot of extensive therapy and got into a fitness kick. My wife's an occupational therapist by trade, so that really helped me and she made me put in the work. Once you get into a fitness kick it's a little bit addicting, and I felt better and do feel better now at 50 than I did at 30. I feel like I'm still pretty quick and have all my reflexes and if there's any advice I could give out there it's just like any other sport – the better you get in shape, the better you're going to feel and the better you're going to do."
To hear the full interview with Borg and Palone, click the play button below.
Episode 267 – Driver Dave Palone
Audio Format: MP3 audio
Host: Norm Borg
---
Please note that the opinions expressed in the featured interview are those of the participants and do not necessarily reflect Rideau Carleton Raceway and/or Standardbred Canada.