Published:
July 19, 2018 04:21 pm EDT
Bob Mondillo had no idea where to set his expectations when he began buying horses two decades ago, but chances are that wherever he set them he would be pleased with the results. Mondillo has enjoyed a number of successes, most notably with retired millionaire Nob Hill High and continuing with stakes contenders including the Joe Gerrity Jr. Memorial Pace-bound Rodeo Romeo.
Mondillo, an investment advisor from Ohio, was introduced to harness racing by his friend Don Robinson. The first horse they owned together was a claimer, who in turn got claimed from the duo after several starts. It was a result that spurred Mondillo to change his approach to the sport.
"I really didn't like that," Mondillo said, laughing. "If I was going to sell a horse I wanted to have some control over it and not just put it in a claiming race and lose him. I thought, 'why don't we up our game and get into the stakes competition?' That's what we did and we never looked back. It's been a great run."
In 2001, Mondillo and Robinson purchased then 18-year-old broodmare Anniecrombie, a Dan Patch Award-winner during her racing career, from a dispersal sale. Two years later, Mondillo watched McArdle win the Magical Mike at the Delaware County Fairgrounds in central Ohio. Those moments mattered because Mondillo and Robinson bred Anniecrombie to McArdle in 2005 and the result was stakes-winner Nob Hill High. He was Anniecrombie's final foal.
"At least on paper she saved the best for last," Mondillo said. "I really liked McArdle a lot, so we ended up breeding Anniecrombie to him. The rest is history, I guess. Watching 'Nobbie' do what he did, I never expected I would own a millionaire in the sport. When you first get started, you don't know how to set your expectations, how high or how low. He's a wonderful horse."
Other top horses for Mondillo have included stakes-winners This Is The Plan, Fraser Ridge, Thats The Ticket, National Seelster, Moonlit Dragon, Time On My Hands, and Martini Hanover. Two-year-old male pacer High On Paydaze, from Nob Hill High's first crop, is two-for-two on this year's Ohio Sires Stakes circuit.
And then there is the late-blossoming Rodeo Romeo, a six-year-old pacer who is having the best season of his career to date. The horse, trained by Chris Ryder, has won five of 15 races this year and earned $123,330 for Mondillo and Oompa's Farm Inc., which is headed by Pete Mazzella.
Mondillo first met Ryder when he trained McArdle.
"He's just a quality guy and he has a wonderful family," Mondillo said. "He's just a pleasure to work with. I probably talk with him daily and we talk about things other than horses. We just have that kind of relationship. It's been a great experience for me.
"Don is a very knowledgeable guy and Pete has a great deal of knowledge, too. I learn from all of them and I try to absorb it all like a sponge and hope that most of it is retained."
All five of Rodeo Romeo's victories have come in his past 11 starts, during which time he also posted three second-place finishes and a third. He has two wins and two seconds in the Great Northeast Open Series and was third in the Commodore Barry Invitational.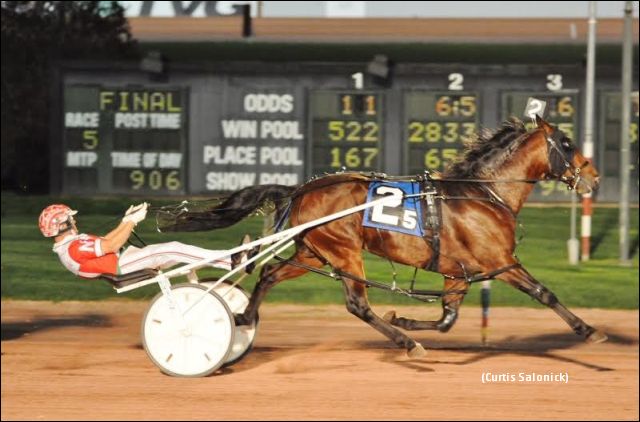 Rodeo Romeo pictured in victory (Photo courtesy Curtis Salonick)
"He's done very well," Mondillo said. "He did not race as a two-year-old; he was beset by a number of different ailments as a four-year-old and as a three-year-old. Finally those appear to be behind him and he's racing very well. Fingers crossed, he'll stay healthy and we'll continue to move forward.
"We've always had a horse we believe in, and knew he was talented, but we just couldn't keep him sound or healthy enough to show what he could do until this year. He's well cared for by his groom, Alexz Goldin. I think without her taking such good care of him, he might not be where he is right now in terms of his accomplishments."
Rodeo Romeo will start the Gerrity Memorial from Post 7 in an eight-horse field. The remainder of the group is defending champion Bit Of A Legend N, Evenin Of Pleasure, Killer Martini, Mach It So, Missile J, Rockin Ron, and Somewhere In L A.
"I think that given the right trip he can be in there," Mondillo said about Rodeo Romeo. "He can race from behind, he can race on the front end. Certainly he's not going to be on the front end in this race from that post position, at least not initially. We hope at the end he will be there. He's going to have to have some kind of a trip to do well, I believe.
"I like the fact there is no quit in that horse," he added. "I can't tell you how much he means to Pete and myself and certainly Alexz and the Ryder Stable. He's certainly been a bright spot. We're thrilled with him."
The Gerrity Memorial was created in 2009 to honour Joe Gerrity Jr., a highly respected figure in the area's equine development and an integral leader of Saratoga Harness. Gerrity was a breeder of horses in Loudonville and licensed harness driver before becoming chairman of the board for Saratoga Harness Racing Inc. in 1987. He later oversaw the expansion and development of the facility before it became the premier property to feature video lottery terminals in New York State. Gerrity passed away in 2005.
Racing begins at 7:05 p.m. (EDT) Saturday. Parking and admission are free.
Below is the field for the Joe Gerrity Jr. Memorial Pace.
Post-Horse-Driver-Trainer-Morning Line
1-Missile J-Brett Miller-Scott DiDomenico-9/2
2-Bit Of A Legend N-Jordan Stratton-Peter Tritton-5/2
3-Killer Martini-Wally Hennessey-Ricky Bucci-12/1
4-Evenin Of Pleasure-Joe Bongiorno-Jennifer Bongiorno-4/1
5-Somewhere In L A-Jason Bartlett-Richard Banca-6/1
6-Rockin Ron-Yannick Gingras-Ron Burke-3/1
7-Rodeo Romeo-Billy Dobson-Chris Ryder-8/1
8-Mach It So-Jim Morrill Jr.-Jeffrey Bamond Jr.-10/1
(USTA)