Published:
July 19, 2014 08:20 pm EDT

Intimidate closed off cover to catch heavy favourite Sebastian K in the final strides for a 47-1 upset in the 63rd edition of the $603,000 Maple Leaf Trot on Saturday night at Mohawk Racetrack in Campbellville, Ont.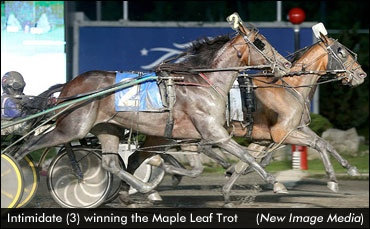 Intimidate prevailed in a photo finish, handing Swedish trotting star Sebastian K his first taste of defeat in his highly publicized North American campaign.
Sylvain Filion worked out the winning second over trip aboard the Quebec-bred son of Justice Hall, who is trained by Luc Blais and owned by Determination of Westmount, Que. and breeder Judith Farrow of Hemmingford, Que.
Sebastian K (Ake Svanstedt) left from the inside post position for the early lead while outsider Modern Family (Ron Pierce) blasted across the track and cleared to command into a :26.4 first quarter. Meanwhile, defending champion Market Share (Tim Tetrick) settled away third.
Sebastian K retook the lead down the backstretch and reached the half in :57.3. As he raced to the third quarter station in 1:26.4, Flanagan Memory (Chris Christoforou) began to advance first over from mid-pack with Intimidate following his cover after getting away sixth.
Sebastian K maintained a solid lead on the field into the stretch, but Intimidate rallied home off cover in :26.4 to get by for the 1:54.2 triumph over the sloppy track rated two seconds off. Market Share also closed well to finish just a quarter-length behind in third.
"I had a lot of confidence in my horse," said Filion. "He hasn't been exactly 100 per cent so far this year, but Luc's done a great job and he had him ready for tonight and he was just amazing. We had a perfect trip and I think the muddy track kind of helped us."
As the race unfolded and Filion was second over at the half, his thoughts were focused on the task at hand.
"I was just trying to keep my cover and keep focused, keep my horse flat, and I knew he was going kick home for me, but I just didn't know if I was going to go by that Sebastian K."
The victory was the first in the Maple Leaf Trot for Canada's reigning Driver of the Year, who faced his father, Yves Filion, in a major stakes race for the first time in many years. Yves Filion picked up the drive on seventh-place finisher Wheeling N Dealin, who drew in off the Also Eligible list when Undercover Strike was scratched sick.
"It was kind of neat looking at him in the post parade and all," said Filion. "We've raced a lot many years ago, but not lately, so that was neat."
Intimidate has won 24 of his 36 starts while earning just over $945,000 in purses. While his five-year-old campaign has been inconsistent, he won a pair of Preferred events at Mohawk in June and tonight rebounded from a disappointing fifth-place finish in his Maple Leaf Trot elimination last week.
"I didn't really like his last race," said Filion. "He kind of faded a bit late. We were a little bit disappointed, but like I said, I tip my hat to Luc Blais, he did a great job with this horse. He was in top shape tonight."
Intimidate paid $96.50 for the upset win.
Commenting on Sebastian K's runner-up finish, Svandstedt stated that, "It was a heavy track and when we opened that fast it took a lot of energy from our horse. It was too fast, a tough first quarter."
Trainer Linda Toscano praised Market Share's close third-place effort. "He had to turn right halfway down the stretch in order to find a clear lane," she said. "He probably cost himself two lengths when he had to do that. He raced as well as a horse could race."
The complete order of finish was: Intimidate, Sebastian K, Market Share, Modern Family, Flanagan Memory, Mister Herbie, Wheeling N Dealin, Creatine, Wishing Stone and early breaker Archangel.
Canadian Breeders Championships Featured On Undercard
The final Canadian Breeders Championships were featured on the Maple Leaf Trot undercard and included four finals for three-year-olds.
Favourite Harper Blue Chip swept to the lead into the backstretch and never looked back as he drew away from his foes to win the first $121,958 Canadian Breeders Championship for three-year-old trotting colts and geldings.
Harper Blue Chip and driver Sylvain Filion got away third but followed the pocket-pulling Muscle Matters (Mario Baillargeon) as he swept around early leaver Jack Litten (Doug McNair) after the :27.2 opening quarter and cleared to command down the backstretch. Harper Blue Chip led the field past the half in :57.2 and three-quarters in 1:27.1 before drawing away to a four length victory in 1:55.2 over the "good" track rated one second off due to the rainy weather. Muscle Matters finished second with first over Jitterbug (Tim Tetrick) edging out Entranced (Mike Saftic) in a photo for show.
Trainer Mark Steacy earned his third CBC trophy in the three-year-old trotting colt and gelding division. His first win was with Concher All in 1999 and he also won the 2006 edition with Harper Blue Chip's sire Majestic Son, who was driven by Trevor Ritchie, a special guest at Mohawk for the Maple Leaf Trot Night.
Harper Blue Chip now boasts six wins in 14 career starts and earnings of more than $350,000 for Ontario owners Landmark 6 Racing Stable, David McDonald, David Reid and George Judson.
Aside from his sweep of the CBC elimination and final, Hambletonian eligible Harper Blue Chip finished third in the Goodtimes Trot, which was won by Trixton, and fourth in the Earl Beal Jr. Memorial, which was dominated by Father Patrick and Nuncio.
"It's a tough year to have a really nice horse like 'Harper' because of those three nice [Jimmy Takter-trained] horses down south, but he's proving that he's just one of the best in Canada and that's wonderful," said co-owner Howard Pearce of Landmark 6 Racing, an ownership group that developed from the SBOA New Owner Mentoring Group.
Sent postward as the 1-5 favourite after winning his elimination last weekend, Harper Blue Chip paid $2.70 to win.
Favourite White Becomes Her dominated the three-year-old trotting fillies in the following $118,090 Canadian Breeders Championship to earn up her fourth straight stakes win.
Driver Mario Baillargeon pulled the 3-5 favourite around the leading Margie (Sylvain Filion) as they passed the :28.1 first quarter mark and then cruised through middle splits of :58.3 and 1:28.1 en route to the three length victory in 1:56.4 over a track surface downgraded to sloppy with a two second variant. Margie and Mayberry (Rick Zeron) followed in second and third, respectively.
The driver and trainer team of Mario and Ben Baillargeon have won now this event in back-to-back years. The brothers also won last year's CBC sophomore filly trot with Motown Muscle.
White Becomes Her was an elimination winner last weekend and was victorious in two Ontario Sires Stakes Gold events in her previous two starts. The streaking daughter of Angus Hall paid $3.30 to win.
"She's really matured," said Mario Baillargeon in a post-race interview. "Last year she was a little high strung and she wasn't sound. This year she's real sound and she matured a lot, she relaxed a lot more. I can do whatever I want with her. Last year I couldn't do that.
"I think this filly will probably be better this fall and next year," he continued. "I can't wait to race her with the American fillies and get a trip. She likes to follow a lot more than racing on the front. I'd like to get her on a helmet behind a filly like Shake It Cerry and see what happens in the lane."
White Becomes Her now has six wins in 15 career starts and earnings of nearly $230,000 for owner Vince Mastrangelo of Brampton, Ont.
Three-year-old pacing colt Silverhill Shadow was the star of the glamour boy division, front-stepping his way to victory lane in their $122,028 final.
Favourite Silverhill Shadow and driver Chris Christoforou emerged with the lead over insider Shadowbriand (Paul MacDonell) and the hard-leaving post eight starter, Hunch Man (Mike Saftic), into a :27-second opening quarter. He proceeded to lead to the half in :56.2 and three-quarters in 1:24. Meanwhile, Victor Bayama (Sylvain Filion) advanced first over from fourth to move within striking distance of the leader around the final turn, but Silverhill Shadow stepped away in the stretch to a three length victory in 1:51.2. Shadowbriand finished second over Victor Bayama.
"It's not a very nice night obviously and that track is just fair so he was really good the last quarter," said trainer Dr. Ian Moore in a post-race interview. "I saw Chris had to ask him a bit to get the front going to the quarter and I thought 'uh oh' because I thought he warmed up pretty good, but he was great the last half-mile and that's where it counted."
The bay colt is sired by Moore's superstar Shadow Play and is owned and bred by Casey Gavin's Silverhill Farms of Tignish, P.E.I.
Moore noted that Silverhill Shadow has the same heart and desire as his father. "He's a big, strong colt and he gives you all he's got every time out," he said when comparing the pair.
Silverhill Shadow began his career in P.E.I. where he was broke by Terry Gallant and then shipped to Paul MacKenzie to race in Ontario. He joined Moore's stable in October and was shut down early due to a leg injury. Tonight he earned his fifth win in his 15th career start and increased his bankroll to nearly $150,000.
An elimination winner last weekend, Silverhill Shadow returned $5.80 to his backers this time out as the 9-5 favourite.
Brescia Seelster pulled off the biggest upset of the night as she won the $122,343 Canadian Breeders Championship for three-year-old pacing fillies at long odds of 68-1. Mario Baillageon was aboard for his second CBC victory of the night.
Elimination winner Lady Shadow (Doug McNair) broke stride at the start before Performing Art (Billy David Jr.) grabbed the early lead with the inside post advantage. She clocked an opening quarter in :27.1, but favourite Sudoko (Jody Jamieson) swept by down the backstretch with My Secret Belle (Joe Hudon Jr.) hot on her heels and clearing at the half in :56.1. My Secret Belle continued on to three-quarters in 1:24.2, but gave way to a persistent Sudoku in the stretch. That filly was then swarmed from both sides as they approached the wire with Brescia Seelster charging off Artful Impulse's (Steve Condren) cover and Brookdale Shadow (Chris Christoforou) slipping through at the pylons. Brescia Seelster prevailed by a neck over Brookdale Shadow in 1:53.4 with Sudoku finishing a half-length behind in third.
The win was her fifth in 18 starts and more than doubled her bankroll, which is approaching $117,000.
"She was a little slow in maturing and Mario has been telling us all along as this horse gets older it'll be better," said co-owner Norman Keyes of Mississauga, Ont.
Keyes shares ownership of the Camluck filly with his son David, who handles the training duties.
Brescia Seelster was a fourth-place finisher in her elimination and paid $138.70 to win the final.
Ellis Park Prevails In Preferred
This week's $34,000 Preferred Pace was won by a hard-closing Ellis Park, who sprinted his final quarter in :25.4 for the 1:51.3 two-length triumph. The five-year-old Rocknroll Hanover gelding is trained by Brad Maxwell and owned and bred by the David Goodrow Stable of Cambridge, Ont. Christoforou worked out the ground-saving trip in which Ellis Park followed third along the rail before angling out in the stretch. Captive Audience (James MacDonald) and Dapper Dude (Randy Waples) finished second and third, respectively.
To view Saturday's harness racing results, click on the following link: Saturday Results - Mohawk Racetrack.