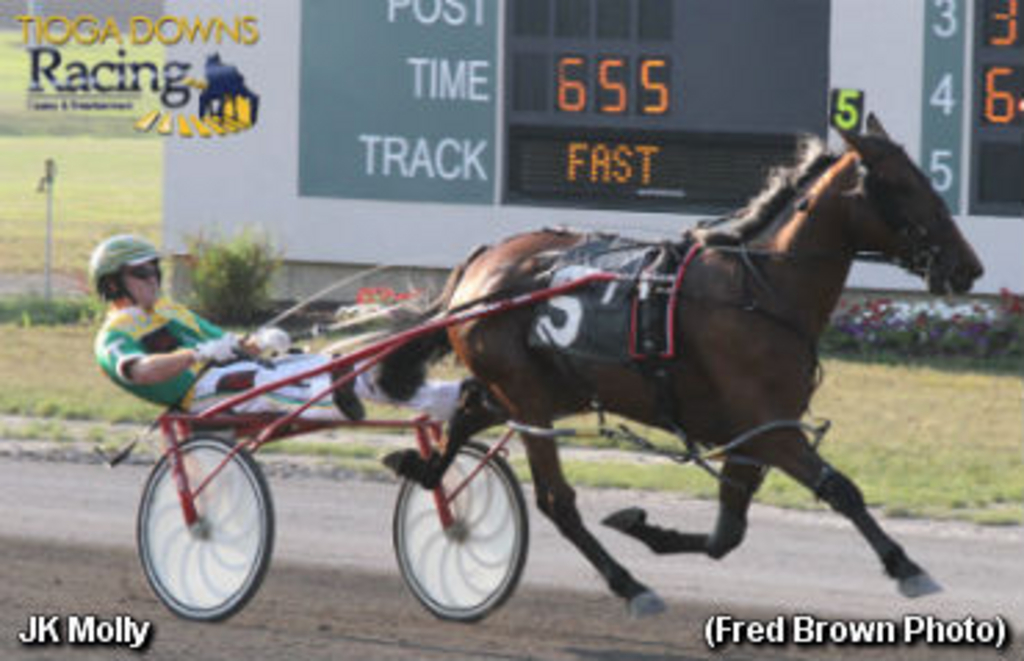 Published:
July 19, 2013 11:00 pm EDT
The Tompkins-Geers grand circuit stakes for two-year old pacers took center stage at Tioga Downs on Friday night. Three divisions of freshmen filly pacers and three divisions of freshmen colt pacers were the co-featured events on the night's twelve-race card.
In the first $26,040 division of the night, the filly pacers showed off their stuff and Linda Toscano's JK Molly opened some eyes in her second lifetime start.
Getting away in fifth from post position number five, Tetrick settled JK Molly in as Expose cut through fractions of :26.4 and :55. As the field headed down the backside, JK Molly was positioned second over as Dottie Major tried a first-over assault through a third quarter in :28 (1:23). Around the final turn Tetrick tipped JK Molly three high off fading cover and the daughter of Art Major–Heathers Western responded by pacing away from the field to win by three lengths. The mile of 1:52.2 eclipsed the previous track record that was held by Drop The Ball from 2010 of 1:52.4. Linda Toscano trains JK Molly for the 3 Brothers Stable of New York, New York.
Other division winners for the pacing fillies went to Anegada and Jim Morrill Jr. in 1:55.1 and Ravinia Hanover and Yannick Gingras in 1:54.
On the colt side of the grand circuit stakes, it was a Linda Toscano sweep as she trained the winners of all of the two-year old colt pacers, all for different owners.
Posting the fastest mile of the hot and humid evening for the colt pacers, was Murder He Wrote, who stayed a perfect two-for-two in his young career. Tetrick quarter poled to the front by the quarter in :28.3 and then reeled off fractions of :57.4 and 1:25.4 before sprinting home a winner in 1:53.1. Toscano trains the son of Kenneth J–JK Dancing Queen for herself, as owner of the Camelot Stable Inc of Freehold, NJ.
Other division winners were El Bloombito in 1:54 and Winds Of Change in 1:53.3. Both were driven to victory by Tim Tetrick.
Sophomore trotters take to the track in the Tompkins-Geers Grand Circuit stakes on Saturday night at Tioga.
(Tioga Downs)