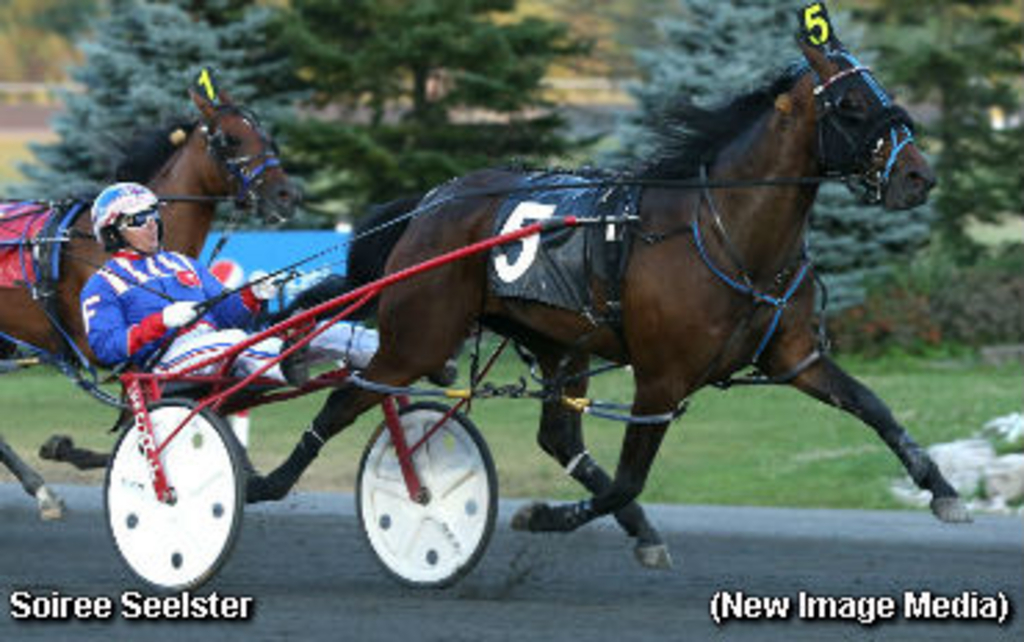 Published:
July 18, 2016 10:29 pm EDT

Loads of two-year-old pacers were in action Monday evening at Mohawk Racetrack, as the Campbellville oval hosted a trio of $70,000 OSS Gold Series divisions in addition to the opening leg of the Dream Maker Series.
Future Headlines captured the opening OSS Gold Series division in 1:55 for the tandem of driver Randy Waples and trainer Colin Johnson. The highly-regarded filly got away fourth before advancing first-over in the backstretch. She rushed to the lead at the three-quarter pole in 1:24.1 before stepping home in :30.4 to seal the deal by 1-1/2 lengths over Windy Sport. Bid Writer was third.
Johnson co-owns the daughter of Sportswriter-Tomorrowpan with Thomas Kyron and David Heffering. It was the first lifetime start for the full-sister to the stakes-winning filly, Maniana (1:53.3 - $110,370).
Soiree Seelster was treated to a third-over trip in her $70,000 assignment, and she didn't let the trip go to waste. Sylvain Filion got away fifth with the Tony O'Sullivan pupil before grabbing cover behind the tandem of Sir Native and Thorne Seelster. Filion flipped his charge off cover in the lane and the filly roared home in :27.4 to win by two lengths over Thorne Seelster in 1:54.2. Royal Point, who set fractions of :27.3, :57.1 and 1:25.4, was third.
The daughter of Big Jim-Smilesplace races for owners Domenic Chiaravalle, Lorne Keller and Osullivan Racing Inc. The $53,000 purchase from last year's Forest City Yearling Sale has banked $47,600 to date.
Blameitonthenight was a heavy favourite in the final division, and she didn't disappoint the army of backers that made her the 3-5 choice. Randy Waples got away third with the Tony Alagna trainee, but he had her on the move to the lead in the backstretch. She cleared and proceeded to cut out middle panels of :56.3 and 1:25.1 before using a :28.1 final quarter to fend of pocket-sitter Yaris Bayama by a neck in 1:53.2. Out Of Sight was third.
The daughter of Mach Three-What Could Be raced for Alagna Racing LLC, Crawford Partners LLC and Donna Ozment. She's 2-for-2 and owns a bankroll of $42,000.
Monday's card also featured the opening round of the Dream Maker Series for two-year-old pacers. Odds-on favourite Bettors Dream extended his winning streak to two-in-a-row in the lone division worth $14,000.
Doug McNair had the gelding parked and pressing at the quarter pole in :27.4 before eventually working to the front. Officer Blue Chip swept to the lead in the backstretch and provided cover to the public's top choice through fractions of :56.2 and 1:25.4. Officer Blue Chip tired and drifted off the rail as the field turned for home, and that presented Beyond Delight with a clear path to victory lane. He shot through and fired home in :28.2 to win by two lengths. Soccer Hanover edged out Beyond Delight in the race for runner-up honours.
Trainer Scott McEneny co-owns the son of Bettors Delight-Enduring Dream with John Fielding and Domenic Chiaravalle. The undefeated youngster was a $45,000 purchase from last year's Lexington Select Yearling Sale. He has a pair of $400,000-winning siblings in McClelland (1:49.4) and Enduring Delight (1:51).
The undercard also featured a $34,000 Preferred Handicap Trot, and for the second straight week it was Flanagan Memory winning in dominant fashion. Fresh off a 1:51.2 score one week ago, the OSS graduate was parked past the quarter pole in :28.1 before being released to the top. He cruised through middle splits of :57.1 and 1:25.4 before storming home in :27.2 to win by three lengths in 1:53.1. Intimidate was second, with Whiskey Tax taking home third prize.
Trainer Rene Dion co-owns the homebred with Liette Flanagan of Repentigny, QC. It was the fourth win of the season – and the 17th to date – for the career winner of $1,07,271.
To view results for Monday's card of harness racing, click the following link: Monday Results – Mohawk Racetrack.