Published:
July 18, 2013 01:57 pm EDT

It's one of the few races that has eluded him over the years, but trainer Jimmy Takter comes into the the 2013 Maple Leaf Trot with a pair of highly-talented world-record setting individuals that could give the Hall Of Fame trainer his first win in Canada's richest event for older trotters.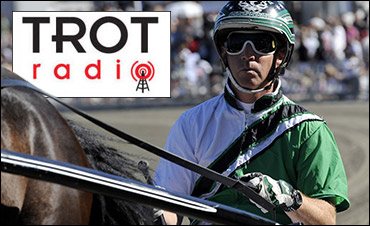 Takter will send out last year's Hambletonian runner-up Guccio (PP7, 15-1) and two-year-old Breeders Crown champ Uncle Peter (PP5, 8-1) in Saturday's 61st edition of the Maple Leaf Trot. Both horses have set world records at Mohegan Sun Pocono already this year, and Takter feels both horses will be a factor in the $543,000 event.
"I think Uncle Peter is maybe a notch better than Guccio," Takter told Trot Radio's Norm Borg. "I always brag about him and he's been racing super his last couple of starts and I expect him to have a better shot in the Maple Leaf than Guccio. But it's an eight-horse field and Guccio is a little slow out of the start so with that eight-horse field it's going to be a little bit shorter field and he has such a good brush coming home."
With the likes of former Maple Leaf Trot champs Arch Madness and Mister Herbie, speedsters Burning Money, Knows Nothing and Wishing Stone also trying to knock off morning-line choice Market Share, Takter isn't counting on a tepid tempo.
"I expect that race is going to have high fractions in it because you've got a couple of Canadian horses that can leave real hard, 'Peter' can leave hard, and I don't think Market Share after his qualifier he'll want to sit too far either so it's going to be high pace and that race maybe could fit Guccio," continued Takter. "I like both of my horses going into this race . They qualified very well Saturday at The Meadowlands so with a little racing luck I think they can be right there."
In discussing the recent success of this crop of four-year-olds in the older ranks, Takter feels this group has benefited from circumstance and timing as well as talent.
"If you bring a four-year-old back against this crop [in 2014] and they're going to race against these horses as five-year-olds. It's going to be a lot harder."
With the busy stakes schedule on Saturday forcing fuel tanks to be filled for destinations in New York (Yonkers Trot elims), Ohio (Battle Of Lake Erie), Ontario (Maple Leaf Trot, Roses Are Red, Canadian Breeders Championships) and Pennsylvania (Adios elims), the catch-driving ranks are certainly spread thin. Takter has horses at three of those location so he had to make a choice on where he would drive and who would handle the others.
"We have such a messy day on Saturday, I have three horses racing at the Meadows -- two in the Adios -- and also the Yonkers Trot and these horses, so I have to go to Yonkers myself to race Dontyourforgetit. I'm flying up David Miller and Ron Pierce, Ron Pierce is going to drive Guccio for me and Uncle Peter is going to be driven by David Miller."
While he's not sure if it will be broken this weekend, Takter is "almost certain" that the 1:50 mark will be broken again this year on the trot. Last year, Mister Herbie established the stakes record for the MLT at 1:50.4.
"They'll be flying up there...it's very possible," stated Takter. "Most of the time when they have those big races, five-hundred, six-hundred thousand dollar races, rarely they actually break the world records in those."
To listen to the full interview with Takter and Borg, including how he trains his stable in times of extreme heat and whether he'd race a filly like Pampered Princess in the Hambletonian if it was two heats, click the play button below.
---
Trot Radio - Episode 300 - Jimmy Takter
Audio Format: MP3 audio
Host: Norm Borg
---