Published:
July 18, 2012 09:38 am EDT

If laughter is the best medicine, one trainer has the sense of humour to get well quickly and seeing his three-year-old filly pacer defeat the top ranked horse in harness racing might help as well.
Sophomore standout Major Look put trainer Bob Riddle out of commission on July 8 when she accidentally stepped on the trainer at his stable in New Jersey and ended up fracturing his left knee. Six days later, as if to atone for her misstep, Major Look upset heavy favourite American Jewel to win the $190,850 Mistletoe Shalee at the Meadowlands Racetrack.
"As long as she's sounder than me, we'll be in good shape," Riddle joked Tuesday from a rehab facility as he recuperates from his injuries. "She's a nice filly. I knew she had a lot of ability."
Riddle said he was improving "slowly, but surely," and expected to be out of action for two to three months.
Major Look has won four of six races this year and earned $172,765. She won three divisions of the New York Sire Stakes to start the campaign, then finished fourth in her elimination race for the Lynch Memorial (beaten by only a half-length) and was fifth in the $250,000 Lynch final from post eight.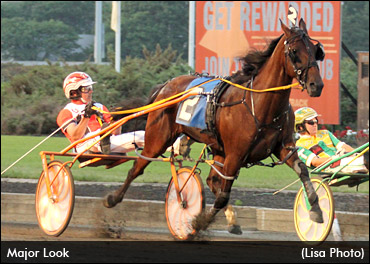 Following his accident, Riddle turned over the training duties of Major Look to longtime friend Kevin McDermott. In the Mistletoe Shalee, Major Look and driver Andy Miller overtook American Jewel, sent off at 1-9 odds, in the stretch and posted a three-quarters of a length win in 1:49.3.
"I was absolutely thrilled with her," McDermott said. "She beat a great mare and it was a lot of fun. When she warmed up the other night she was tremendous. I didn't know if I could beat American Jewel, she's a great horse, but Bob had her ready and I thought she'd be first or second for sure."
Riddle tried to watch the race from the rehab facility on a laptop, which failed to pick up an adequate signal, and a cell phone, which lost the streaming video just as the horses entered the final quarter-mile. Riddle called McDermott to find out what happened.
"It was very emotional," McDermott said. "Bob lives with this horse. He has two horses; you come back here at 5 o'clock and he's out grassing her. He lives for her.
"It was a lot of fun. On Sunday morning I brought him the blanket from the winner's circle and the video and the program. He was pumped. He was really happy."
Major Look is a daughter of Art Major out of the mare Band Of Emeralds. Her maternal family includes a number of stakes-winning pacers, but also the trotter Volo Song, who won the 1943 Hambletonian, as well as 1957 Hambletonian runner-up Hoot Song, who holds the distinction of being the only horse to win two heats of the Hambletonian but not the trophy. (She was second to Hickory Smoke in a third-heat race-off.)
Joseph Balkunas, Mark Giordano and Anthony Pancella own Major Look and also are part of the Band Of Brothers Stable, which bred the filly. She has won seven of 21 career races and earned $289,570.
Last season, Major Look won a division of the Tompkins-Geers at Tioga Downs and two legs of the New York Sire Stakes before finishing fifth in the sire stakes championship.
Major Look's next start is expected to be Sunday in a division of the Tompkins-Geers at Tioga. Major Look has handed American Jewel her only losses this year; the first came in a sire stakes division in a track-record 1:50 at Vernon Downs.
"She's always had the ability and this year she grew up and is so much stronger," Riddle said. "Nothing she's done has ever shocked me."
---
This story courtesy of Harness Racing Communications, a division of the U.S. Trotting Association. For more information, visit www.ustrotting.com.