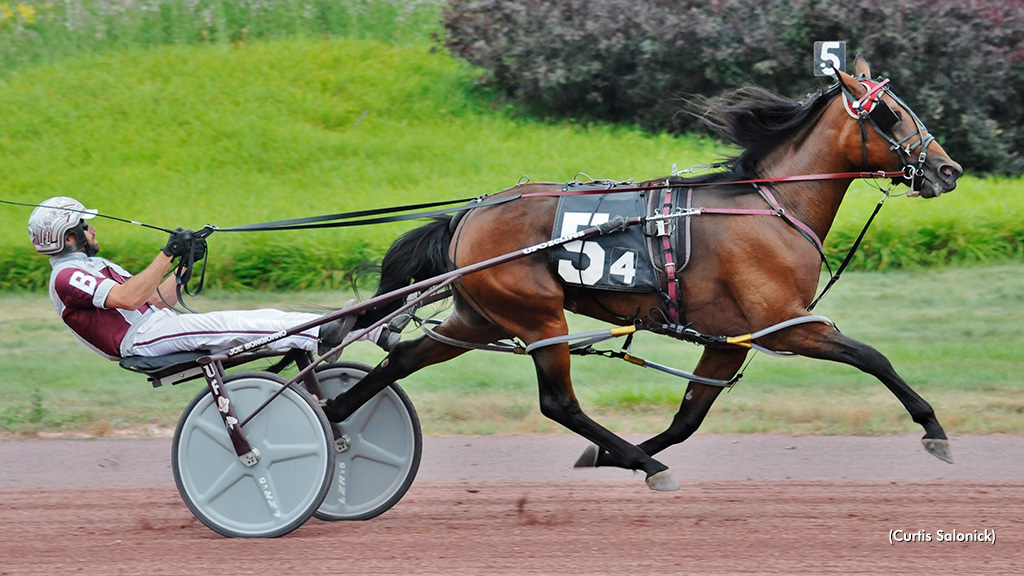 Published:
July 17, 2022 10:33 pm EDT
Beach Cowgirl, a two-year-old pacing daughter of Captaintreacherous-Stonebridge Sundae, was astounding in winning her $54,986 division of the second Pennsylvania Sire Stakes (PASS) prelim for her division during the Sunday (July 17) card at The Downs at Mohegan Sun Pocono in 1:50.2.
Let's take care of all the speed notes for Beach Cowgirl. The 1:50.2 clocking was a fifth of a second short of the track and world record set by Allstar Rating when winning a 2013 Breeders Crown elimination. She is now the fastest freshman filly on any size of track this year and ranks behind only two 1:50.1 Kindergarten winners at The Meadowlands from Friday (July 15) for babies of either sex.
And she did that in her second start, which followed a 1:51 stake record at The Meadows in her debut also in a PASS.
Joe Bongiorno was content to wait third with his brilliant filly as Proud Mary rolled to the quarter in :26.3 and Ginger Tree Coco went around that one to the half in :55.1. Beach Cowgirl roared out of the hole near the five-eighths, blasted to the lead at the 1:22.4 three-quarters and finished in :27.3 under only mild coaxing for a 2-1/4-length win over 29-1 closer Hello Yes Hi. Trainer Jennifer Bongiorno and the ownership of Joseph Di Scala Jr., Zippett Racing Stables, Scarlett Stables LLC, and JAF Racing LLC have themselves a filly for whom the sky is the current limit.
Also notching a second Sire Stakes win was My Little Captain, who shares with Beach Cowgirl a two-for-two life record and sire Captaintreacherous (shes out of My Little Delight). My Little Captain was moved out on the far turn by driver Mike Wilder behind Absolute Power, whose uncovered move had carried her to the lead, and ran down that foe by 1:53.2 for trainer Andrew Stafford and EVM Racing LLC.
The third PASS winner was the Stay Hungry-Four Starzz Meliss distaff Racin Hungry, who challenged front-stepping favourite Dole Whip in the last quarter and was game late to catch that one by a neck while posting a speed mark of 1:53.3. Racin Hungry is now two-for-three in her brief career for trainer Charlie Norris and the ownership of Scott Mceneny (her developer in Canada), Teresa Davidson, and Floyd Marshall. Her driver Matt Kakaley, Pocono's leading driver, won five times on the night.
Doublers in the five $20,000 Stallion Series divisions were driver David Miller, sires Stay Hungry (top stakes sire on the night with three wins) and A Rocknroll Dance, and three first-round Stallion Series winners. David Miller handled one by each sire, and both posted their second Stallion Series wins: the Stay Hungry-Arodast baby Ginger Tree Lena took a mark of 1:55 for trainer Steve Cook and owners Sam Beegle, Ginger Tree Ventures LLC, Knollview Stable, and Robert Reber Jr.; and Little Lady J, an A Rocknroll Dance-Monets Lilly filly who already has five wins including stakes at Butler Fair, The Meadows, and now Pocono after reducing her standard to 1:54 for owner-trainer Mitchell York.
The fastest Stallion Series winner and the other double winner, the Always B Miki-Sweet Body filly Ambushed, was ironically the only Stallion Series winner Sunday who did not take a mark despite pacing in 1:53.2, fastest of the five cuts. A winner earlier is 1:53.1 at The Meadows, Ambushed won handily for driver Braxten Boyd, trainer Hunter Oakes and the partnership of D Racing Stable Inc. and Donald Mac Rae.
The second Stay Hungry winner in the Stallion Series was Nevertellmetheodds (dam Armbro Cinnamon), who debuted after two qualifying wins and tasted success at first asking while taking a mark of 1:54.4 for Matt Kalaley and trainer Christopher Beaver, who co-owns with Anastasia Meshkoba. A Rocknroll Dance got a second winner in Frondeur (dam Redhots Memory), a winner of half her four starts and possessor of a new mark of 1:54.3 for driver Marcus Miller, trainer Erv Miller and the ownership of Shim Racing LLC.
In a $25,000 pace for fast-class mares, Sly Eleanor N won by a flared nostril over No Win No Feed A in 1:51.2. No Win No Feed A took the field to the quarter in :26.4, but Matt Kakaley moved Sly Eleanor N to the lead in front of the stands and put up middle splits of :56 and 1:23.4. The race boiled to a stretch sprint between these two, with the McArdle mare Sly Eleanor N edging her Pocono Pike opponent by the smallest of margins for trainer Travis Alexander and owner Gary Lance.
Four divisions of two-year-old trotting fillies will headline the Monday 1:30 p.m. (EDT) card at Pocono as they compete in $30,000 sections of their Pennsylvania All-Stars event. Program pages are available at the PHHA website. 
(PHHA / Pocono)